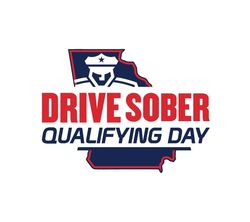 The Georgia Governor's Office of Highway Safety (GOHS) will serve as the title sponsor of the NASCAR Sprint Cup Series qualifying day at Atlanta Motor Speedway on Friday, Feb. 27. The event will be named the Drive Sober Georgia Qualifying Day.
GOHS's "Drive Sober or Get Pulled Over" campaign is a safe driving program that targets impaired drivers through concentrated patrols and sobriety checkpoints. The zero tolerance campaign reminds motorists that if they get caught driving with a blood alcohol concentration of .08 or higher, they will be arrested and go to jail.
"NASCAR and Atlanta Motor Speedway are such an important part of Georgia," said GOHS director Harris Blackwood. "We want everyone at the race and everyone watching at home to remember that Georgia is a zero tolerance state. Drunk driving is a serious offense that can cost you the loss of your license, your job or even your life."
The Drive Sober Georgia Qualifying Day will feature a full day of high-speed NASCAR action on the Atlanta Motor Speedway oval. NASCAR's Camping World Truck Series, XFINITY Series and Sprint Cup Series teams will each take part in practice sessions during the day before Sprint Cup Series qualifying begins at 5:45 p.m. to determine the pole winner and the starting order for Sunday's Folds of Honor QuikTrip 500.
Official logos for the Drive Sober Georgia Qualifying Day, the Hisense 250, the Folds of Honor QuikTrip 500 and Atlanta Motor Speedway are available now for download at http://www.gospeedway.com/logos/ams/. For more information or to purchase tickets, contact the Atlanta Motor Speedway ticket office at (770) 946-4211, (877) 9-AMS-TIX or visit www.atlantamotorspeedway.com.