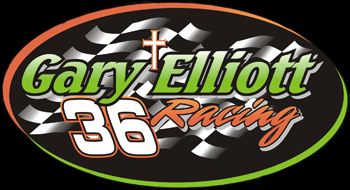 We finished 3rd in the points this season and won the Media Award at Sunset Speedway for promoting, the track, our sport and sponsors. Last night, at the OSCAAR banquet we won the very prestigious Sportsman of the Year award.
Press release by Ashley McCubbin
Most Sportsmen Modified Driver – Gary Elliott
A gentleman on and off the track, Gary Elliott races you clean at each turn, while offering respect and fair conversation off of the track. He also goes out of his way to promote the series, displaying his modified a various number of events throughout the season.
"I wasn't expecting this at all," Elliott commented. "It's great. I love racing. A lot of times over the years I've been accused of not driving hard enough, I back out when I should go in harder. I do that for two reasons. First, if I go in harder, I could wreck my car. Second, if I don't wreck my car, I wreck the car in front of me and the next week he's looking for me, so it's better not to do that. I love racing and will be back in 2015 for our 47th season. Congratulations to Gary and Andrew, what a great club this is. I'm so thankful I joined OSCAAR. Thank you."
Special thanks to my crew and sponsors for making 2014 a great season
Please visit our web site, click on the sponsor icon to see the wonderful products and services they offer