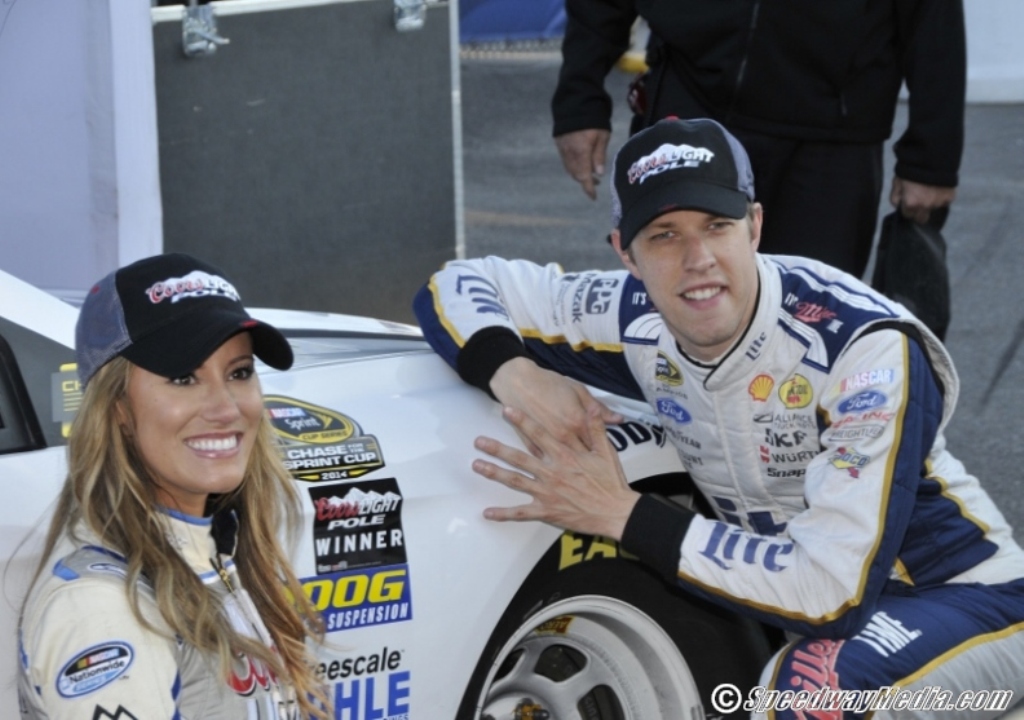 Monday's Goodyear tire test at Las Vegas Motor Speedway took on added importance for drivers Matt Kenseth and Brad Keselowski because of a slew of rules changes put in place this year by NASCAR.
Kenseth and Keselowski were joined by fellow Sprint Cup Series drivers Kurt Busch and AJ Allmendinger for the one-day test on the 1.5-mile LVMS speedway. Although all Cup drivers will have to adjust to a number of changes this season, including a reduction in horsepower and a modified aero package, the biggest change will be NASCAR's ban on all private testing in 2015.
"I think any track time you get is really important with the new testing rules, banning all off-season testing, which I think we all like, but you've really got to take advantage of the tests when you get them and try to gather as much information as you can – hopefully useful information that you can use down the road," Kenseth said. "For us, we didn't run particularly well last year and we've got a new nose on the Camry this year and new rules changes and aero package and all that stuff, so we're just trying to get it sorted out and try to find a baseline and hopefully find something that drives good so we've got something decent when we come back here (March 6-8)."
Keselowski, the defending winner of both the Kobalt 400 Sprint Cup Series race and the Xfinity Series Boyd Gaming 300 at Las Vegas Motor Speedway, said he agreed with Kenseth.
"More so than the changes to the car, the testing ban makes every test you do have that much more critical because you have so much less," Keselowski said. "In that light, a lot of what testing is isn't always developing the car, but you're developing your people, developing your techniques. We added two or three more people to our team so we're trying to develop them and get them up to speed, so it's really a great time for us as a team to have a test."
Paul Wolfe, Keselowski's crew chief, said the lone test before the teams head to Daytona for the season was a productive one for Team Penske, but didn't answer all of his questions.
"It was a very important test for us," Wolfe said. "I feel like Goodyear got what they needed and hopefully we can come back here and have a good race. It's still hard to tell (how the changes will impact us). It'll take some different style tracks and different style tires because that's one of the big factors for us in how our car handles. There are certain tracks and tire combinations that favor us and that we run really well with and there are others where you could say we're not as strong. It's hard to say, just based off this one test, if we feel like we're where we need to be."
Even though Keselowski and Kenseth are coming off vastly different seasons, both said it is important to have a good test at Las Vegas to set them up for a successful start to the 2015 season. Keselowski won a series-best six races in 2014 but finished fifth in points after struggling in the Chase and Kenseth finished seventh in points without a victory in 2014.
"(Last year) was pretty much everything you could ask for out of a season – other than winning the Sprint Cup championship," Keselowski said. "We were right there and that's certainly something we're proud of, but we can't look back; we've got to look forward. We've got a massive challenge in front of us to try to have a year as successful as we did in 2014 and be even more successful to run for a championship (in 2015). In that light, we have to keep looking forward and keep developing and that's why we're here at Las Vegas Motor Speedway today, to develop our cars, develop our team to hopefully be the best."
Kenseth said that success on an intermediate track such as Las Vegas can carry over to the rest of the season.
"Las Vegas is one of the early races and … you want to run good that first month or two at all those different racetracks and then you kind of look at your program and see where you're at," he said. "It's important to come here and run good; I think if you run good here and you start off the year decent, it certainly should apply to the rest of the intermediate tracks."
The 2015 NASCAR Weekend at Las Vegas Motor Speedway kicks off on Friday, March 6 with Stratosphere Pole Day and Sprint Cup Series qualifying. The Boyd Gaming 300 Xfinity Series race will be held Saturday, March 7, and the Kobalt 400 Sprint Cup Series race will cap the weekend on Sunday, March 8.
Weekend and individual-race tickets, as well as passes for the fan-friendly Neon Garage and driver introductions, are on sale now by calling 1-800-644-4444 or by visiting www.lvms.com.