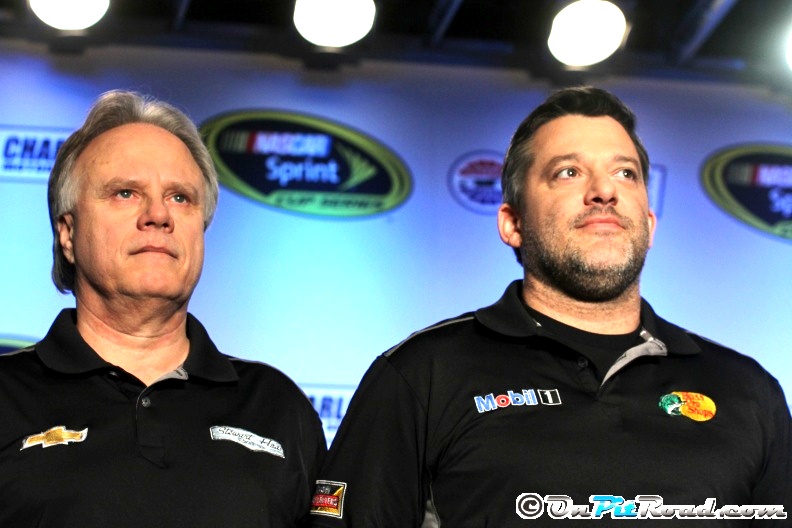 When the driver line-up was put together for Stewart-Haas Racing, everybody believed that it was a ticking time bomb ready to blow up. However, that wasn't the case as SHR was able to have success, including a championship with Kevin Harvick.
"I think Tony (Stewart) and I, we have a philosophy," Haas offered. "We hire very confident people and we let them do their job. I really think that's the secret of the DNA to Stewart-Haas Racing. We demand perfection, results, but we let people achieve it in their own way."
He also added that the differing teams allows them to have diversity, resulting in multiple approaches at trying to deal with the challenges that a team is faced with.
Though while they completed their goal and won the championship, Haas admits that it was a surprise with having a brand new driver on the team – Kevin Harvick – and a brand new crew chief brought from another organization that hadn't worked with Harvick before – Rodney Childers.
"I think Kevin and Rodney have that magic, and we were fortunate that it came to win so quickly," he commented. "So for that, we're very grateful. It's not easy in this sport. I think every other team has that potential to win, too."
He also went on to say that he feels the other teams did well as Stewart had some strong runs among his drama, Danica Patrick improved on what she wanted to improve on and Kurt Busch won a race to get into the Chase.
"One thing about the four teams is everybody does things a little differently and coming up with the right combination that every driver and crew chief is looking for is not easy," he offered. It was that reason why Patrick and Busch have switched crew chiefs entering the new season in hopes that the combination works better.
Beyond his ownership in NASCAR, though, Haas is looking to expand his motorsports ownership to Formula 1. He stated that he likes the challenge of taking on something that normally wouldn't be done.
"I was actually surprised venturing into Formula 1. I thought there'd be more people interested in it because even though Formula 1 has a lot of distractions and problems just like NASCAR, it is Formula 1," he added. "t is the world championship sport and everybody looks at it that way and it has a lot of history to it, and I like that. It has a lot of characters in it, and I like that. It's incredibly challenging and it's not going to be easy to do well in it. All those things combined, make it the kind of sport that I'm interested in it. Plus it has a little bit of oil, grease and iron so I think all those things make it something that I'd want to do."
Haas was asked whether he will continue to expand his horizons, but says other sports aren't on the radar because he doesn't really understand them, and "tweaking on a basketball player has got to be tough".
"Tweaking on cars is easier to understand; hard to build parts for a player," he continued. "Other than that, I don't have a lot of concrete reasons, but it's a challenge and anybody – just like these guys that drive these cars – it's part of the excitement in doing something that other people don't do."