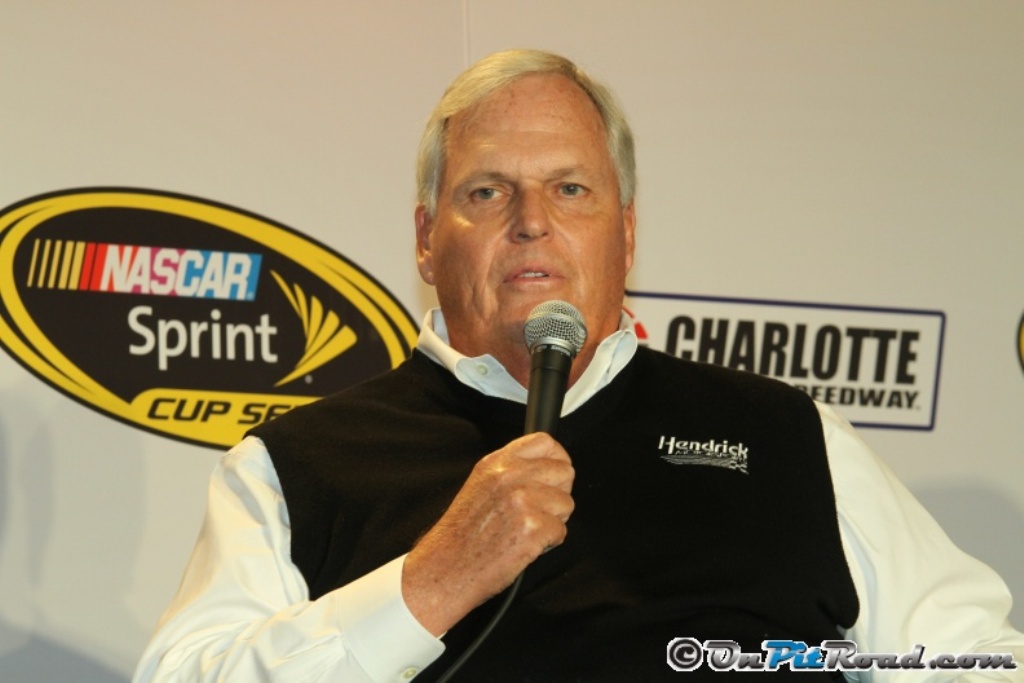 The National Corvette Museum has announced the following inductees to be recognized as part of the 18th Annual Corvette Hall of Fame Ceremony in 2015: Herb Fishel in the category of Racing; Rick Hendrick in the category of Enthusiast; and Russ McLean in the category of GM/Chevrolet. These three individuals will be recognized with the highest honor bestowed by the Museum for their contributions to the past, present and future of Corvette.
The 2015 Corvette Hall of Fame recipients will be inducted into the Corvette Hall of Fame during a ceremony and banquet on Friday, September 4, 2015. Their induction will take place as part of the Museum's 21st Anniversary Celebration September 3-5, 2015.
Herb Fishel knows a lot about setting goals and accomplishing them. Growing up in the 1950's, he listened to races on the radio and read hot rod magazines. That's where he learned about a man named Zora Arkus-Duntov, the Father of Corvette. By 1964, he was an engineer working with Zora, at a time when racing was a covert operation at GM. Herb would lead the charge to change all of that, going from engine design, to working in the Buick Special Products Group, then as the Director of Chevrolet Racing, and finally as the Executive Director of GM Racing.
In addition to starting the factory Corvette Racing team that won the overall victory at the Rolex 24 Hours of Daytona, cars powered by Chevrolet under Herb's watch have won 20 NASCAR Manufacturers Championships (11 consecutive); 12 Indy 500s; and class wins in the Baja 1000, Pikes Peak Hill Climb, the 24 Hours of Le Mans, and the Daytona 500 and Indy 500 races.
"I didn't want to just coast through a career. I wanted to leave something substantial behind me that was significant and noteworthy. The Corvette's success in racing was a key chapter in the story of Corvette. I had the vision and provided the leadership to make it happen, but I didn't do it alone. It took a team of people to do that. To be inducted into the Corvette Hall of Fame now for that contribution and to be placed in the same framework as people like Zora Arkus Duntov, who I'd looked up to as a kid, is humbling. I'm very grateful."
Raised on a farm in the 1950's, Rick Hendrick raced and wrenched on cars at an early age. His love for automobiles led him to open a small used car lot with another car dealer at the age of 23. Hard work and his devotion to the automotive world led to the purchase of a dealership of his own that became the precursor to the Hendrick Automotive Group which now consists of more than 120 franchises over 13 states, employing over 10,000 people.
In 1984, Hendrick Motorsports was founded and has grown into a facility that spreads out over 430,000 sq. ft., employing 600 people to support four full time Chevrolet teams in the NASCAR Sprint Cup Series. With a NASCAR record of 14 national series owner's championships and 15 overall, its roster of stock-car drivers includes Kasey Kahne, Jeff Gordon, Jimmie Johnson and Dale Earnhardt Jr.
Today he owns a large collection of Corvettes that includes many of the first and lasts in models and generations. His most recent addition being the VIN 1 Z06 Stingray Corvette that he paid $1 million for at auction in support of the Karmanos Cancer Institute.
Having accomplished so much, Rick is grateful and humbled to be inducted into the Corvette Hall of Fame.
"I can't tell you how excited I am to be selected for the Corvette Hall of Fame. My love for Corvettes goes back to when I was a teenager, and it was the love for the car that got me into racing and the automobile business. To be honored at a place where so many of the Corvette greats are honored — it's just humbling. I never dreamed that I'd be recognized in such a way."
Russ McLean had a reputation at GM for turning around operations where quality and/or cost was an issue. So in the 1990s, when the Corvette program was in trouble, he was brought in to turn it around. While he was able to achieve his goal of decreasing cost and improving quality, a change in power at GM resulted in a radical change of instructions to Russ, who was told to "let the Corvette die."
At this point Russ was confronted with a dilemma. While he was a company guy who built his career on his solid work ethic, he decided that he couldn't let the Corvette fail.
Risking his job and reputation, he joined forces with other rebels within the company to continue working "in the shadows" to keep the Corvette program going and moving forward into the next generation.
"I was still doing my job, just not following instructions," he says laughing.
Of course, the success of the 5th generation Corvette validated their activities and propelled Corvette to even greater heights since. Being inducted into the Corvette Hall of Fame is just one more confirmation that he had done the right thing.
"This honor is really for the Corvette people working with me who did their jobs extremely well; who interphased and cooperated with each other; who were so dedicated and supportive of each other. My job was to let the Corvette die, but together we did all we could do to improve the C4 and keep the C5 viable. I'm very happy to be representing all of those people in the Corvette Hall of Fame."
The National Corvette Museum established the Corvette Hall of Fame in 1998 to confer the highest honor and recognition upon the most influential individuals in the history of the Corvette. The award recognizes those who have made significant contributions to their respective fields, each having reached the highest level of accomplishment. Inductees must also reflect the highest standards of integrity and character to positively enhance the prestige of the Corvette and the National Corvette Museum.
Additional information on reserving a spot at the prestigious Corvette Hall of Fame banquet will be available in the coming months via our website at: www.corvettemuseum.org or can be obtained by subscribing to our weekly eNewsletter "NCM eNews" at:www.corvettemuseum.org/ncmenews/. Corporate tables are available for the dinner and can be reserved by contacting Karen Renfrow in the Events Department at 270-467-8804 or emailkaren@corvettemuseum.org.
The National Corvette Museum is a member-driven, non-profit foundation dedicated to educating the public through the preservation of the Corvette's past, present and future heritage. Open daily from 8 a.m. to 5 p.m. CT, the Museum is located at Exit 28 off I-65 in Bowling Green, KY.