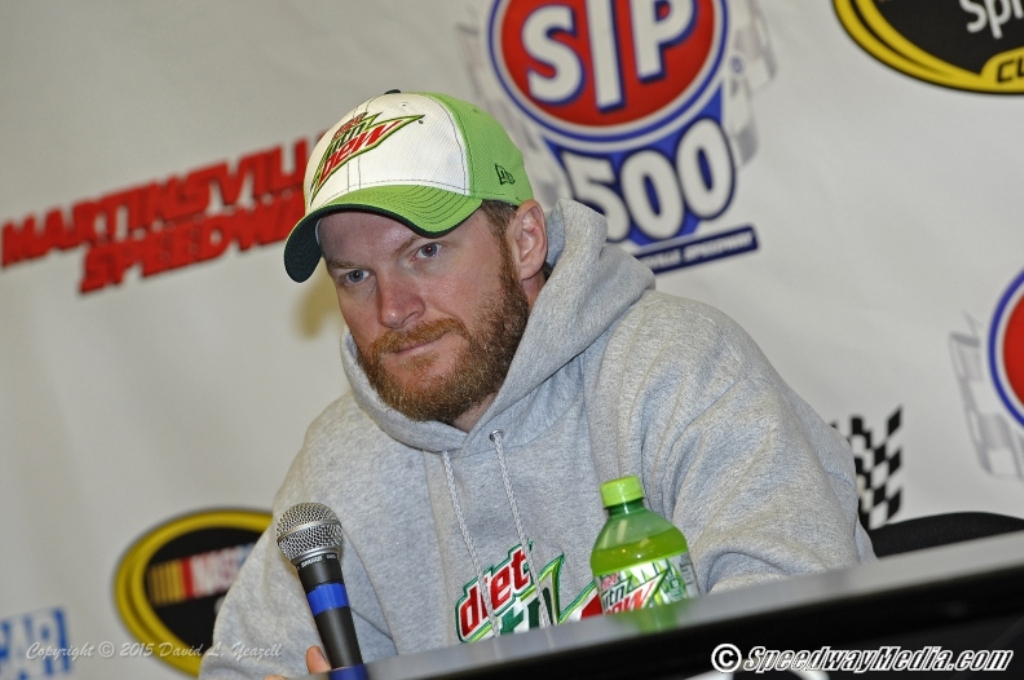 Over the last 10 to 15 years, NASCAR has made a lot of safety changes within the sport -and that's something that's appreciated by the driver. From making the HANS device mandatory, to improvements to the cars and the seats, to the SAFER barriers. So far this year, those SAFER barriers have been a highlight of discussion following Kyle Busch's injury at Daytona International Speedway where Busch hit a non-SAFER barrier. There have been other instances over the past couple of years where drivers have hit non-SAFER barrier walls, resulting in heavy crashes.
"We put barriers where we felt like were common places the cars hit. But as we found out over the last couple of years, specifically, we'll find all the empty spots where there aren't any barriers," Earnhardt commented.
Since Daytona, tracks have been announcing that they will continue to implement SAFER barriers, as well as temporary tire barriers till that can be done. Earnhardt admits that the tire barriers are better than a concrete wall, but they're still risky and can be a problem.
"There's no telling what direction that car is going to go when it hits a tire barrier," he said. "It's better than the wall, for sure, but nothing's better at this point than a SAFER barrier. So I guess their intent, over time, is to get SAFER barriers where they feel like they need it. And until then, we'll have these tires in those areas."
Safety is something that is always of high discussion, especially since the drivers are going excess of 180 mph. For that reason, Earnhardt states that you can never be safe enough, and you can never stop trying to be even more safer to keep the fans and competitors safe.
"But unfortunately, it takes an accident like that to wake everybody up and make things happen," he added. "I know that NASCAR was very disappointed that there wasn't a SAFER barrier on the wall at Daytona and that Kyle (Busch) was injured. And it's real unfortunate to have to go through that whole process to really fire this thing kind of back up and get people moving on it."
The problem, as Earnhardt says, is over time with adjustments made, you get complacent and think that you're safe enough – when in reality, you can never be safe enough.
"There are all kinds of things that we can improve on as far as the protocol and the steps we take to understand as drivers and understand with NASCAR what the best scenario is for us as drivers," he commented. "Everybody wears something different and everybody likes a different harness. Everybody has their head rest cut and shaved differently and in a different position left to right and height wise. Everybody does it to their own comfort."
Earnhardt added that in going through the process of learning, he applauds NASCAR in the steps that they take in bringing the drivers together at the beginning of the year to show them what they've learned, and why certain measures are being taken for safety. With that added research, Earnhardt says there's a possibility that they're using now could become completely foreign in 20 years because it shouldn't stay the same as they learn more.
"I think we should always try to improve it, like I said." he continued. "One day we will look back at what we have now and go 'man that is crazy! Do you believe we raced with that?' Because it will be so much better 20 years from now, so much more improved, so much more understood about it. We just got what we have in there now because it's the best option until we get something else. Until we learn more, understand more, study and something else comes out. Then we will be doing that. Then this old stuff will go in the junk."
Though despite the recent concerns and focus, reflecting over the past 10-15 years, there's one thing that stands – things have come a long way since the 1990s.
"We've got headrests wrapped around us, and harnesses and six, seven, nine-point harnesses," Earnhardt commented. "We've got straps going everywhere. We can hardly be comfortable in the cars with so many damn straps down there. But you've just got to keep trying, I guess, is the message that we are all learning. We've got to keep trying to improve all the time and never really let it plane out; and always keep trying to improve."