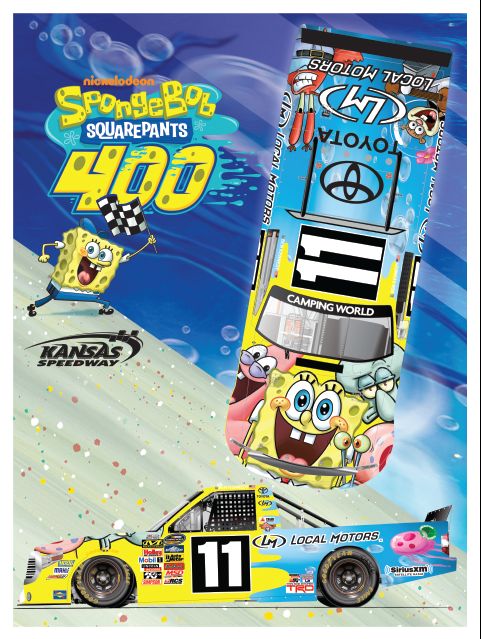 SpongeBob SquarePants joins the field for the NASCAR Camping World Truck Series race at Kansas Speedway on May 8, 2015, — on NASCAR driver Ben Kennedy's No. 11 Local Motors Toyota Tundra.
Nickelodeon is the entitlement sponsor of the NASCAR Sprint Cup Series race on Saturday, May 9 at Kansas Speedway dubbed the SpongeBob SquarePants 400. The SpongeBob SquarePants 400, which will be broadcast at 7:30 p.m. ET on FOX Sports 1, will feature a weekend of Bikini Bottom-themed activities and fun for the entire family.
"I'm really excited to drive the Local Motors/SpongeBob SquarePants Toyota Tundra at Kansas Speedway," said Kennedy. "I grew up watching SpongeBob and this is an awesome opportunity to have some fun with a special paint scheme."
Kennedy's No. 11 Local Motors/SpongeBob SquarePants Toyota Tundra will feature SpongeBob and his friends Patrick and SquidWard on the hood, while Mr. Krabs and Sandy Cheeks float in the sea on the rear deck lid. Kennedy campaigns the truck for Red Horse Racing and primary sponsor Local Motors.
Kennedy has one previous start at Kansas Speedway in 2014, where he finished in the top 20. Overall, he has 30 career starts, with three top-five finishes, nine top-10 finishes and one pole award.
Also at the speedway, attendees on Saturday will be able to enjoy some pre-Mother's Day fun in the Nickelodeon Kids Zone, which will be located in the Kansas Speedway Fan Zone. The area will feature appearances from the SpongeBob SquarePants costumed characters, a SpongeBob SquarePants photo station and more.
Since its launch in July 1999, SpongeBob SquarePants has emerged as a pop culture phenomenon. The series has been the most-watched animated program with kids 2 – 11 for more than 13 consecutive years, and over the past several years, it has averaged more than 100,000,000 total viewers every quarter across all Nickelodeon networks. SpongeBob is seen in over 185 countries and translated in more than 50 languages. The character-driven animated series chronicles the nautical and sometimes nonsensical adventures of SpongeBob, an incurable optimist and earnest sea sponge, and his undersea friends.