NSCS: Kurt Busch Finds Victory Lane at Richmond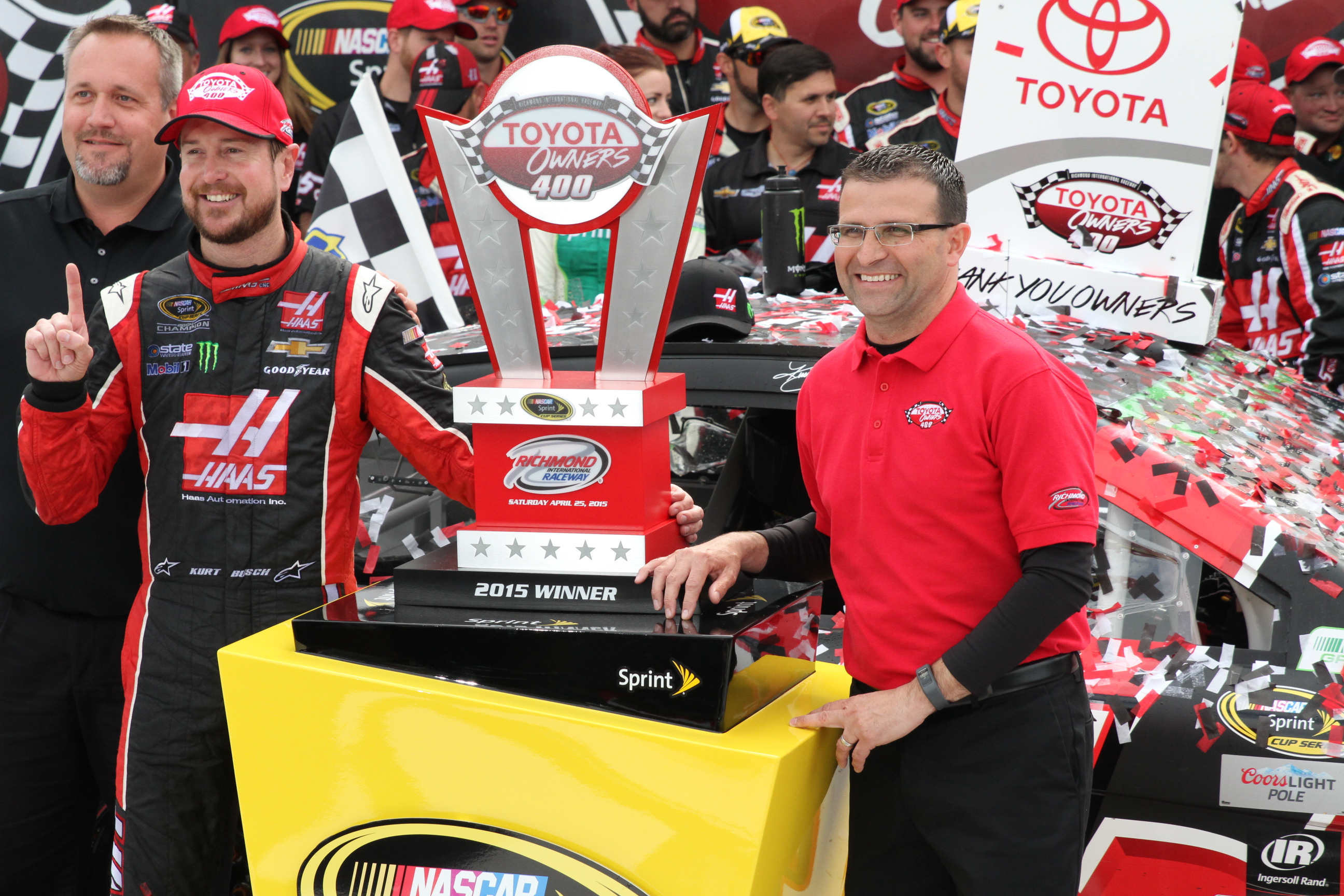 As the 2015 NASCAR Sprint Cup season began, Kurt Busch was forced to watch from the sidelines due to being suspended by the sanctioning body for "off-track" issues. Busch missed the first three races of the season before completing a reinstatement program set forth by NASCAR. Once he was allowed to return to the track, he wasted no time proving the suspension did not slow him down one bit. Busch opened the season with a top-five at Phoenix. He backed that up with a pole and a third place finish at California.
It was Sunday at Richmond where Busch completed his triumphant return to NASCAR's elite series. Busch led a career high 291 laps in his Haas Automation Chevrolet, en-route to a dominate victory in the Toyota Owners 400.
Not only was it the most laps Busch has ever led in a race, he has also led 520 laps so far this season, an impressive feat considering he missed the first three races.
When asked what this win means to him, Busch replied, "It's an incredible feeling. It's a total team effort. And the way that everything came together just seemed like we were building and building and building towards a great finish like this. And I have this opportunity because of Gene Haas and everybody that's part of our family at Stewart-Haas. It's an unbelievable feeling when you pull deep from within and you go through troubles and you know, when you're accused of something and things go sideways, your personal life doesn't need to affect your business life. And I'm here in Victory Lane. It feels great to do it here in Richmond and to do with Haas Automation, Chevrolet, Monster Energy, Mobil 1, Rush Truck Centers and everybody that's part of our family, and all these guys back here. But Tony Gibson is just an amazing crew chief and I'm glad I've got the chance to work with him. Thanks to everybody, we got it done today. The car was pretty good."
Busch's Stewart-Haas teammate, Kevin Harvick, continued his strong season scoring yet another second place finish, giving him eight top-ten's in none starts. Harvick, who has secured himself a spot in the Chase via two wins this season, leads the series points standings by 33 points over Penske driver, Joey Logano.
Jimmie Johnson would rally from a poor qualifying effort to finish third, with Jamie McMurray and pole-sitter, Joey Logano, rounding out the top-five.
Quick notes:
Martin Truex Jr continues to have a career best season scoring another top-ten finish.
Late race contact between Tony Stewart and Dale Earnhardt Jr., sent Stewart to the garage, and left Earnhardt to wonder why the three-time champion got into his left rear on the front stretch.
Rookie driver, Chase Elliott, made his second career Cup series start this weekend, scoring an impressive 16th place finish. Elliott will be taking over the driving duties in the Hendrick Motorsports No. 24 for the retiring Jeff Gordon.
The NASCAR Sprint Cup Series heads to Talladega Superspeedway for the Geico 500 on Sunday, May 3rd.