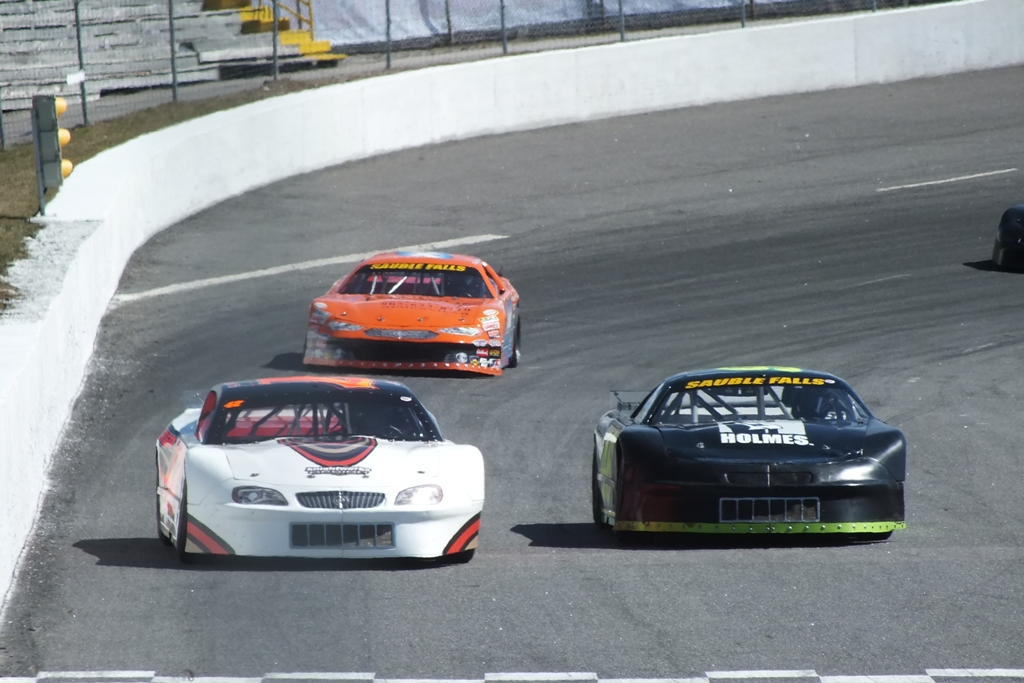 Entering the upcoming season at Sunset Speedway, the anticipation is higher than ever with the oval becoming NASCAR sanctioned during the off-season. Many fans have eyed the Sauble Falls Tent and Trailer Park Late Models with sights set on top notch competition with multiple past champions registered.
The unique factor in the interest is the new format due to the sanctioning. The Late Models will time trial, before running a pair of features. The first feature will be set by time trial results, while the second features a 14 car invert. The challenge will be for drivers to do well in both to maximize point gain while staying out of trouble. A bad wreck in the first feature could easily bring a double whammy for any driver.
Looking over the 36 registered drivers, here's who you should keep an eye on.
Multi-time feature winner Jason Witty looks to build on his success over the past two seasons. The driver of the No. 19 has visited victory lane multiple times over the past two years. Coming off a top five finish in points, he should be strong once again.
2014 Sunset Speedway Champion Dwayne Baker was originally set to focus primarily on the new APC Auto Parts United Late Models of Ontario tour presented by Grisdales. However, with NASCAR in the picture, he has decided to return and try to defend his championship. He has experience with the double feature format before, having won a previous championship at Barrie Speedway with the format. His solid consistency each week should help in making sure his 18 counted finishes are top notch. A factor to note is he will not have the same car this year, having sold it at season's end. He will be driving the chassis that led him to the Barrie title, which hasn't shown the same speed at Sunset in the past.
Eight-time Champion Chris Morrow enters the year off of one of his strongest seasons in recent memory, having finished runner-up to Baker. Morrow is fast each week so hr should be a front running contender. The question will be whether he can stay out of trouble as it seems wrecks have a way of finding Morrow in the middle.
2014 Canadian Limited Late Model 125 winner Taylor Holdaway (pictured left, No. 41) ended the year with momentum on his side. 'Hollywood' was top five each night throughout the last two months, winning the season finale feature before a podium at Velocity. Needless to say, if he starts off where he ended, it could be a very sweet year. The problem for Holdaway, though, is he normally starts off the year on a slow note. That wont bold well for trying to score maximum points.
Holdaway's success has been attributed to the setup work by Scott Wylie. The New York based modified driver will be driving a second late model for Holdaway Motorsports this year. Being a Sunset rookie, it will be interesting to see how he does behind the wheel since his setups have been proven already.
30-time Champion Tom Walters (pictured above, No. 47) is looking to bounce back this year after failing to win a feature last season. He did come close, leading over half the feature laps mid-summer. No doubt Stompin Tom will find his way there, as you can't keep a multi time champ out forever.
Each season behind the wheel, Billy Zardo has continued to grow as a driver. The third generation driver won a couple times last year, and finished solidly in the points. Perhaps this year will be his breakout year into true championship contention.
Nick Goetz has also continued to grow as a driver, going from top 10 to top five contention. The 2014 Chase for the Colors winner hopes to turn the speed into his first sunset win, having announced a commitment with McColl Racing Enterprises that will see MRE's Rick McColl in the pits each night.
Gord Shepherd has won multiple championships at Barrie Speedway, but now makes the move to Sunset following the closure of Barrie. Shepherd has ran upfront at Sunset before in the ivitationals, scoring a couple podium finishes. The experienced Ridge Road Racing team should find the hot ticket for Shepherd and get him to victory lane early.
Rick Walt is coming off an impressive season at Barrie Speedway that saw him win eight features en route to finishing second in his rookie year. The past Thunder Car Champion hasn't shown speed at Sunset yet, but their hard work and plans for intensive testing should have him running upfront early in the year.
With each lap on the track, Thayne Hallyburton continues to get stronger and work his way into winning contention. Expect that growth to continue and perhaps the top fives to start flying. Also, keep an eye on little brother Travis as he was following the same route last year.
Andre Pepin is another driver making the switch. Pepin was strong at Barrie, having won a couple of features. However, he does not have experience at Sunset Speedway so he may struggle with the learning curve.
Brittney Gresel (pictured right) put her first Sunset season in the books last year, having a solid year in points. Now with a brand new MRE car under her belt, she looks to run
even stronger, breaking into the top 10.
Jordan Latimer enters his rookie season in the late model division, looking to carry on the family success. The third generation driver is coming off his rookie thunder car season at Barrie, where he impressed with some strong runs, including a victory. The adjustment period to not only car but track will dictate his feature.
Marcus Keeler has spent a long time as a lead crew member with Ridge Road, but now shifts to driving. He had a decent run in the Velocity 250, and will look to get quicker.
Frank Davey returns to Sunset Speedway this season and will look to crack the top 10. He has had success before, but in super stocks.
Paul Maltese enters his sophomore season after a rough rookie year that featured wrecks and mechanical failures. Hopefully the new year brings expanded success for the driver that will have backing from a series of sponsors, including Paragon Office Installation Services Ltd., The Landing Strip and AutoTrim of Barrie.
A.J. Emms will get behind the wheel of a full bodied stock car for the first time in his career after driving a series of different open-wheel cars through the years. Emms had a solid test, and looks to crack the top 15 with help from Mike Westwood and Allen Adams.
Ian Bourque and Allen Inglis both join the Sunset Speedway field after running Barrie. Both have shown speed at Barrie, but neither has seen success at Sunset. Certainly both will look to improve their chances.
Ernie Fumerton has ran a couple seasons of late model, seeing limited success. The small team effort will hope to grow this year, and perhaps produce a surprise moment with the unique format.
With these drivers just touching the surface, this year promises to see a multitude of faces in victory lane. Out of approximately 20 features, there could be 10 winners easily.
The question is – who will win? Who will be the division champion?