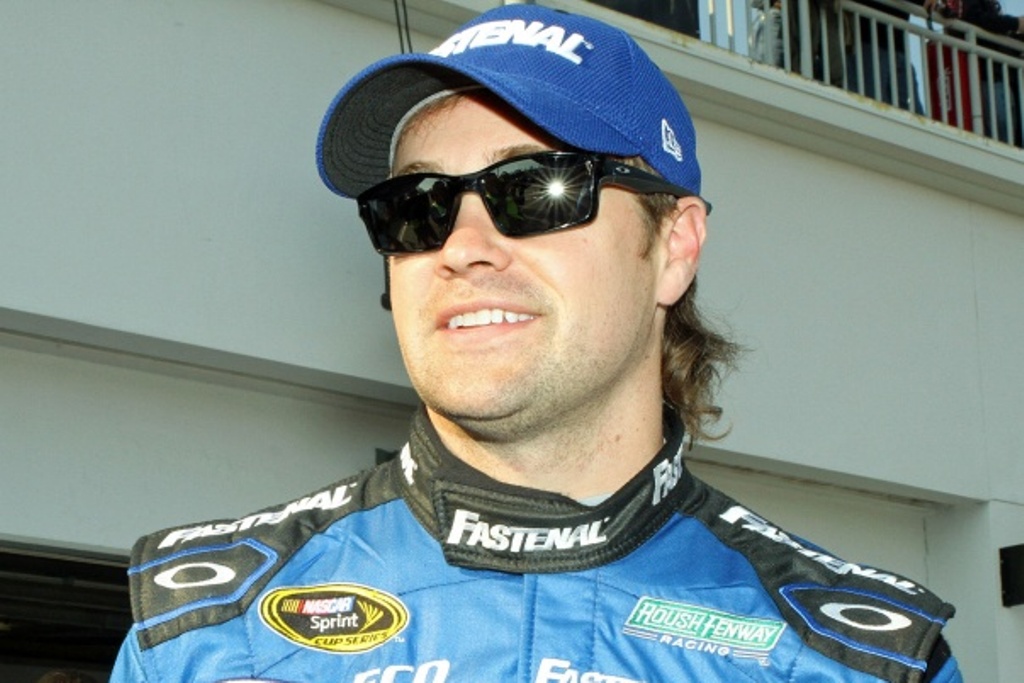 At the end of the first practice for the Geico 500 at Talladega Superspeedway, it'd be Ricky Stenhouse Jr. topping the charts. The Roush Fenway Racing driver is looking for a good run this weekend following a 28th place finish at Richmond International Raceway.
Michael Waltrip was second quickest as he fills in for Brian Vickers behind the wheel of the No. 55 Aaron's Dream Machine Toyota this weekend. Chris Busecher was third quickest as he continues his role of interim driver with Front Row Motorsports in the No. 34 CSX/Play it Safe Ford. Denny Hamlin was fourth quickest, followed by David Ragan. Ragan has driven the No. 18 Toyota for Joe Gibbs Racing since the second race of the season, filling in for Kyle Busch. This marks Ragan's final weekend in the ride, though, as he will be shift over with Michael Waltrip Racing's No. 55 while Erik Jones steps behind the wheel of the No. 18.
Danica Patrick was sixth quickest after sponsor Go Daddy announced earlier this week they will not return for 2016, followed by Kasey Kahne, Clint Bowyer, Trevor Bayne and Michael McDowell.
2015 NSCS GEICO 500 First Practice Session Speeds
Pos
Car
Driver
Team
Time
Speed
Lap #
# Laps
-Fastest
-Next
1
17
Ricky Stenhouse Jr.
Fifth Third Bank Ford
47.694
200.78
23
32
—.—
—.—
2
55
Michael Waltrip
Aaron's Dream Machine Toyota
47.703
200.742
13
13
-0.009
-0.009
3
34
Chris Buescher(i)
CSX/Play It Safe Ford
47.816
200.268
22
29
-0.122
-0.113
4
11
Denny Hamlin
FedEx Express Toyota
47.958
199.675
22
33
-0.264
-0.142
5
18
David Ragan
Pedigree Toyota
47.961
199.662
6
28
-0.267
-0.003
6
10
Danica Patrick
GoDaddy Chevrolet
47.966
199.641
6
21
-0.272
-0.005
7
5
Kasey Kahne
Farmers Insurance Chevrolet
47.971
199.621
6
32
-0.277
-0.005
8
15
Clint Bowyer
PEAK Commercial & Industrial Toyota
47.99
199.542
8
17
-0.296
-0.019
9
6
Trevor Bayne
AdvoCare Ford
48.008
199.467
18
28
-0.314
-0.018
10
95
Michael McDowell
Thrivent Financial Ford
48.139
198.924
10
11
-0.445
-0.131
11
47
AJ Allmendinger
Kroger/Hungry Jack Chevrolet
48.155
198.858
13
13
-0.461
-0.016
12
27
Paul Menard
Quaker State/Menards Chevrolet
48.16
198.837
21
31
-0.466
-0.005
13
19
Carl Edwards
ARRIS Toyota
48.167
198.808
13
20
-0.473
-0.007
14
2
Brad Keselowski
Miller Lite Ford
48.213
198.619
14
32
-0.519
-0.046
15
22
Joey Logano
Shell Pennzoil Ford
48.215
198.61
15
27
-0.521
-0.002
16
88
Dale Earnhardt Jr.
Nationwide Chevrolet
48.305
198.24
15
32
-0.611
-0.09
17
42
Kyle Larson
Target Chevrolet
48.331
198.134
14
28
-0.637
-0.026
18
14
Tony Stewart
Bass Pro Shops/

Tracker

Boats Chevrolet
48.339
198.101
3
26
-0.645
-0.008
19
24
Jeff Gordon
Drive To End Hunger Chevrolet
48.395
197.872
15
22
-0.701
-0.056
20
20
Matt Kenseth
Dollar General Toyota
48.463
197.594
9
22
-0.769
-0.068
21
46
Michael Annett
Bene-fit Chevrolet
48.498
197.451
12
23
-0.804
-0.035
22
41
Kurt Busch
Haas Automation Chevrolet
48.525
197.342
7
25
-0.831
-0.027
23
16
Greg Biffle
Ortho Ford
48.554
197.224
18
23
-0.86
-0.029
24
38
David Gilliland

Farm

Rich Ford
48.562
197.191
7
22
-0.868
-0.008
25
21
Ryan Blaney(i)
Motorcraft/Quick Lane Tire & Auto Center Ford
48.569
197.163
7
20
-0.875
-0.007
26
35
Cole Whitt
Speed Stick Ford
48.579
197.122
7
18
-0.885
-0.01
27
43
Aric Almirola
Fresh from Florida Ford
48.592
197.069
11
15
-0.898
-0.013
28
51
Justin Allgaier
Brandt Chevrolet
48.598
197.045
15
23
-0.904
-0.006
29
1
Jamie McMurray
McDonald's Chevrolet
48.65
196.835
4
25
-0.956
-0.052
30
78
Martin Truex Jr.
Furniture Row/Visser Protection Chevrolet
48.659
196.798
9
14
-0.965
-0.009
31
4

Kevin Harvick

Outback Steakhouse Chevrolet
48.669
196.758
18
24
-0.975
-0.01
32
40
Landon Cassill(i)
Chevrolet
48.695
196.653
11
17
-1.001
-0.026
33
31
Ryan Newman

Caterpillar

Chevrolet
48.723
196.54
12
17
-1.029
-0.028
34
3
Austin Dillon
Bass Pro Shops Chevrolet
48.772
196.342
9
14
-1.078
-0.049
35
48
Jimmie Johnson
Lowe's Chevrolet
49.869
192.023
9
20
-2.175
-1.097
36
9
Sam Hornish Jr.
Medallion Bank Ford
50.086
191.191
9
9
-2.392
-0.217
37
33
Brian Scott(i)
Shore Lodge Chevrolet
50.186
190.81
4
12
-2.492
-0.1
38
98
Josh Wise
Phoenix

Construction

Ford
50.342
190.219
8
8
-2.648
-0.156
39
32
Bobby Labonte
C&J Energy Services Ford
50.469
189.74
4
12
-2.775
-0.127
40
7
Alex Bowman
Golden Corral Chevrolet
50.494
189.646
6
6
-2.8
-0.025
41
13
Casey Mears
GEICO Chevrolet
50.497
189.635
9
14
-2.803
-0.003
42
23
JJ Yeley(i)
Dr Pepper Toyota
50.806
188.482
5
5
-3.112
-0.309
43
62
Brendan Gaughan(i)
Dia Thrive Chevrolet
50.847
188.33
2
4
-3.153
-0.041
44
83
Matt DiBenedetto #
Dustless Blasting Toyota
51.17
187.141
2
2
-3.476
-0.323
45
26
Jeb Burton #
Maxim Fantasy Sports Toyota
51.202
187.024
12
12
-3.508
-0.032
(i) Ineligible for Driver Points in this Series
# Denotes Rookie
Source: Timing and Scoring provided by NASCARMedia/NASCAR Statistics