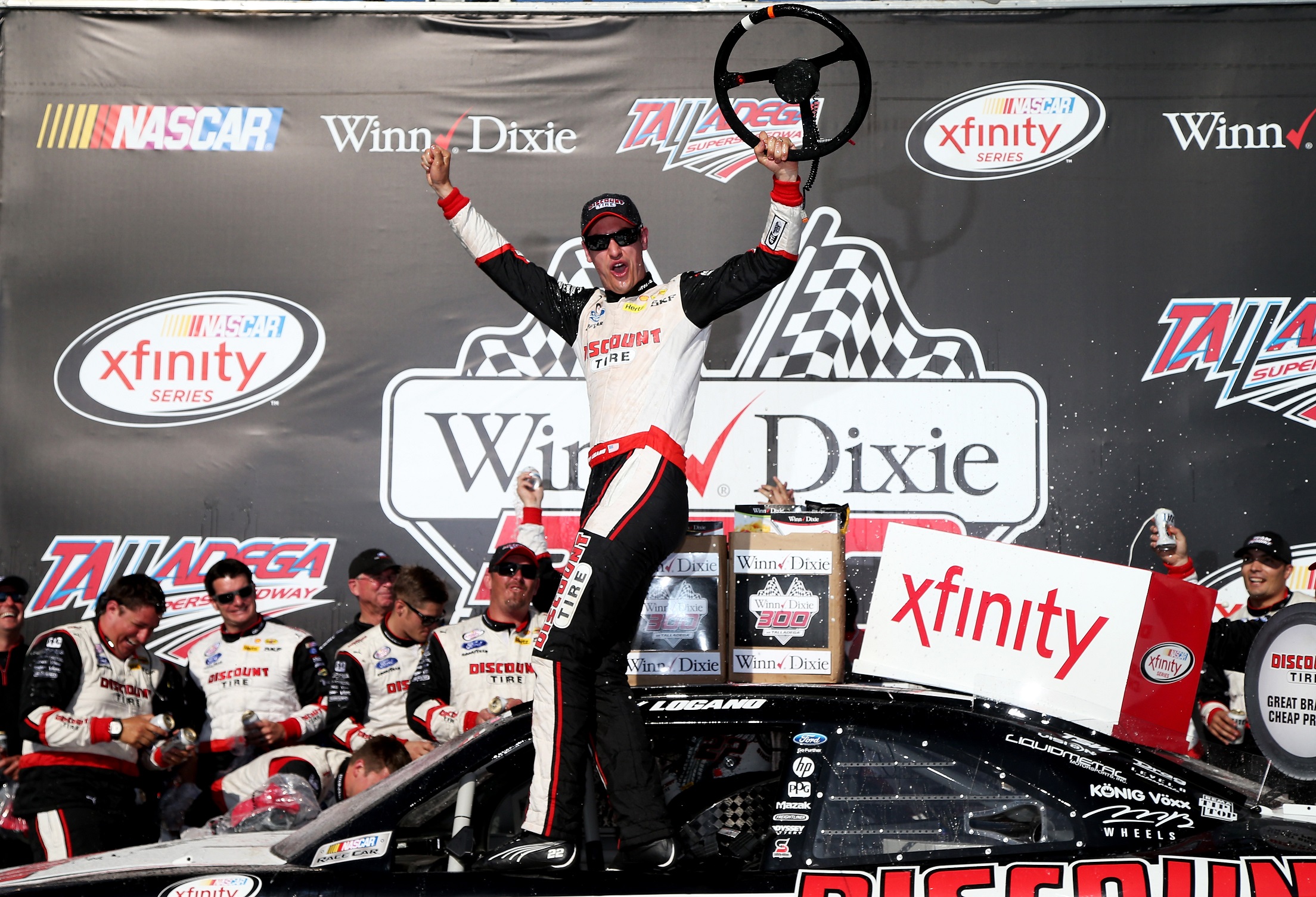 TALLADEGA, AL – With cars bouncing off each other like bingo balls for the final eight laps, Joey Logano emerged from the fray to claim victory in the Winn-Dixie 300 NASCAR XFINITY Series race Saturday at Talladega Superspeedway.
Drivers jockeyed for position throughout the closing laps following a restart with eight to go. When the packed roared out of Turn 4 and toward the checkered flag, the cars fanned out four wide across the trioval, with Logano barely leading the way. He crossed the finish line 0.130 seconds ahead of Brian Scott, giving him his 24th victory in 140 XFINITY Series starts and his second win at Talladega.
"That was crazy," Logano declared in Victory Lane. "It's a combination of the old-school draft and the cars hooking up and bumping. It's so fun and so intense the whole time out there. There is never a Talladega win that comes easy, or that isn't intense at the end of the race. You never know you have it until the end."
That was the case once again on Saturday, as Logano and Chris Buescher were running side-by-side coming off Turn 4, with another half-dozen or so cars close behind in hot pursuit. Logano managed to inch just far enough ahead of Buescher heading into the tri-oval that he was able to move up the track and slow Buescher's momentum.
"We were close," said Buescher, who got shuffled back to a sixth-place finish. "He blocked us when we had that final run that we needed there at the end. We just couldn't do anything with it. We had a good chance out there, it just didn't quite work out.
Scott was running in sixth place coming out of Turn 3, but managed to stick close enough to the lead group and then took advantage of the chaos at the end to sneak into the runner-up position.
"I thought I was doomed when the top four started to break away, but I got a great run off Turn 4," Scott said. "It's a lot like a chess match out there. You have to be so careful not to put yourself in a bad spot. Because you can make one bad move and go from the top five to 10th real quick. I've done that before. So at least I feel like I'm getting smarter at the end of these things to be able to make the moves to gain positions."
The final few laps were so intense that Austin Dillon, who finished third, said he actually cut his wrist because he was gripping the steering wheel so hard. "That was fun right there. I had a blast," Dillon said. "It was definitely exciting there at the end."
Or, as fifth-place finisher Joey Gase said, "Talladega, man. That was insane."
J.J. Yeley was fourth. Sixth through 10th included defending Winn-Dixie 300 champion Elliott Sadler, followed by Ty Dillon, Regan Smith and Aric Almirola. Ty Dillon is the series point's leader, ahead of Buescher by nine points.
There were six cautions for 31 laps. Logano averaged 126.901 mph.
Talladega's incredible weekend continues Sunday with the GEICO 500 NASCAR Sprint Cup Series race, scheduled for a 12 Noon CST time start. Jeff Gordon, in his final spring Cup Series start at Talladega, will start from the pole position. For tickets, call 1-877-Go2-DEGA.