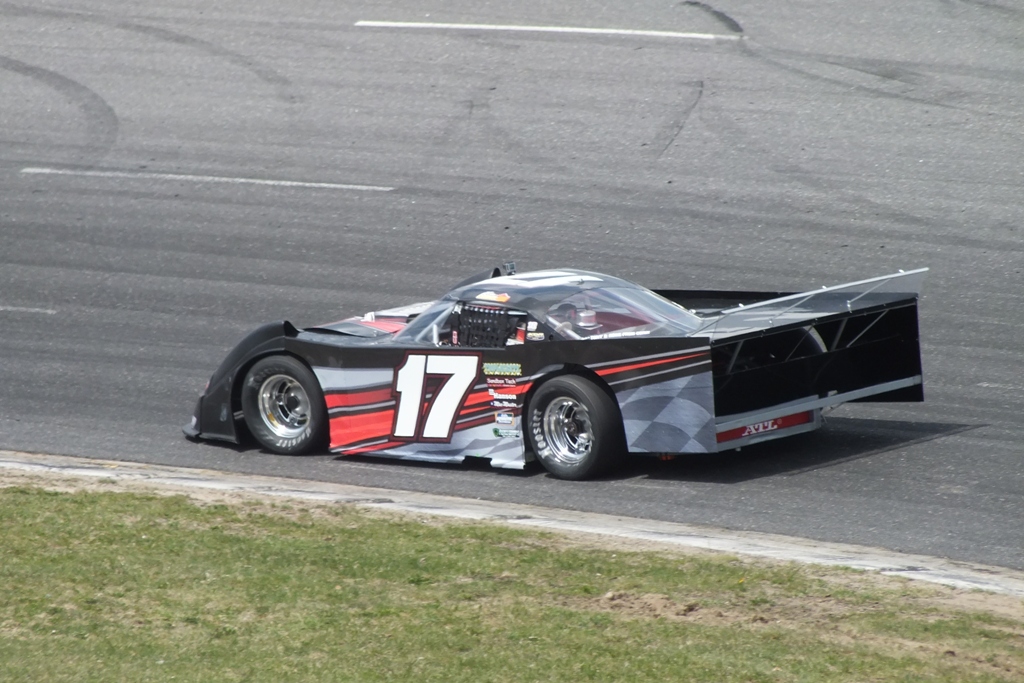 As we enter each OSCAAR season, there's always a lot of excitement from drivers, teams and fans alike. However this year, that excitement is even higher. The 2015 season will mark the 25th year for OSCAAR competition in Ontario. The top division, the Super Late Models, look to celebrate this feat in style. A list of drivers, a combination of past champions and rookies, all look to cement their name in the history books during the historic season. The only question remains – who will get that honor at Peterborough Speedway in October?
2014 OSCAAR Super Late Model Champion Andrew Gresel announced earlier this year that he will return to the series in 2015, but only a partial basis, as he focuses on the newly formed APC Auto Parts United Late Models of Ontario Tour presented by Grisdales. In the races that Gresel will run, though, expect him to be a race winning contender after a solid season that featured multiple wins en route to scoring the championship.
With Gresel's plans announced, a lot of people shifted focus to 2014 runner-up Kevin Cornelius. In his sophomore season in the series, Cornelius scored two victories, highlighted by the Don Biederman Memorial in June. He proved to be fast at each of the tracks week-in-week-out, but fought mechanical issues that took him out of contention. Entering this year, he looks to have the speed to win the championship. The unknown, though, is sponsorship. Following last season, the KDR Motorsports team lost their primary sponsor. With funding as a question mark, there is a possibility that the full schedule won't be in the cards for this year.
Four-time series champion Glenn Watson is hoping to get back to victory lane this year. Watson came close last year, finishing in the podium throughout the season, but couldn't crack the door open to reach feature victory lane. It's certainly a surprise to followers of the series as Watson has ran up front throughout the years. There's no doubt that the Watson Racing team will be working hard to end their drought this year.
After seeing his season ended early last year due to a hard crash at Kawartha Speedway, Derrick Tiemersma is set to make his return to the series. The past champion is looking to return to victory lane in his familiar white No. 7 SLM early in the year. No doubt a return trip to victory by Tiemersma will be a welcome sight for many fans.
Following a successful rookie season, Kelly Balson is hoping to turn some heads this year with a couple additions to the crew. Balson showed his potential to be a race winner, highlighted by a couple podium finishes throughout the year. Based on a strong test at Sunset Speedway last weekend, expect Balson to reach victory lane this year and be a top-five contender all year long.
Shawn Chenoweth ran the last two events of last year's schedule, posting a top-10 finish in both events. He will join the tour full-time, returning after a couple year haitus. Based on his proven ability behind the wheel as witnessed by success in style of car he has driven, and the speed of his No. 89C entry, Chenoweth will be a tough competitor this year. No doubt he'll be fighting hard to reach victory lane, and probably do so. Keep an eye on him especially when the tour makes a trip to Flamboro Speedway, as he has had tons of success there over the years.
Tyler Hawn has gotten stronger with each season behind the wheel, finishing ninth in points last year after some strong top-10 runs over the season. If the progress steadily continues, Hawn could very likely pick up a win when the tour heads to Peterborough Speedway following a couple strong runs there last year.
Mike Beyore and Corey Jones also fall under the category of drivers who have showed steady improvement over the past couple of seasons, breaking into the top-10, and top-five at times. Both should be ones to keep an eye on as they may sneak up and steal a victory.
After taking a year off, Jim Bowman is set to return to OSCAAR competition this season. Bowman was a strong top-10 contender in his last season behind the wheel, and if he can pick up where he left off that should continue. Considered a gentleman by those in the series, keep an eye on Bowman to see how he adjusts.
Each new season brings new faces. One of those new faces – Sean Grosman. After putting some experience under his belt behind the wheel of a limited late model, Grosman is set to make the move up the ladder. With the knowledge of Ryan Kimball in his back pocket, as well as a couple late model victories, Grosman has the tools to make this season successful. It will just depend as to how well he adapts.
J.R. Fitzpatrick has dabbled in the series over the past couple of seasons, running a couple races in the No. 27 for Passer Racing. A shift in focus away from the NASCAR Canadian Tire Series will see Fitzpatrick run the full schedule in 2015, in a brand new chassis for McColl Racing Enterprises. Fitzpatrick has proven that he can drive a super late well, having ran in the top-five. If he can get the new car handling quick outta the box, expect him to be a contender each week.
With Fitzpatrick behind the wheel of his brand new car, Roy Passer is set to rejoin the OSCAAR fold this year as he returns full-time to the No. 27. Passer has shown over the years that he can get the job done, but fell out of top contention in his latter starts. Now working alongside Fitzpatrick, he should have the car up to speed and that combined with his talent should bring success this year.