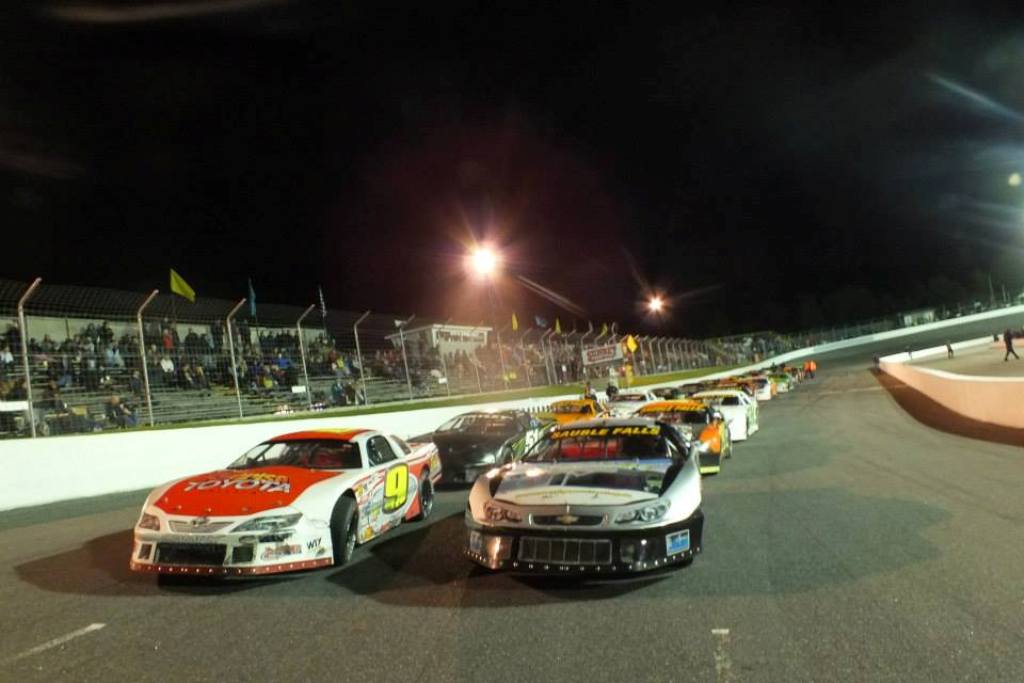 #ItsBeenTooLong was the hashtag that Ontario race fans saw throughout the winter. Then, it was announced. The return of a Pro Late Model tour for Ontario race fans to enjoy that would feature the top drivers of the division touring from track to track putting on a show. The APC Auto Parts United Late Models of Ontario Tour presented by Grisdales will kick off their inaugural tour on Saturday at Sunset Speedway with the Canusa 100.
Joshua Stade has already been to Sunset Speedway once this year as part of NASCAR Whelen All-American Series Sauble Falls Tent and Trailer Park Limited Late Model competition. The night went well as he picked up his first Sunset Speedway feature victory in the second feature of the night. He returns now in a different car, a newly purchased pro late model as part of a partnership with Brian McDonald. If McDonald can get the No. 17 Upper Canada Title, FLO Enterprises, Nicol Insurance, Barclay Wholesale, Jim Cavil Fuels, MEI Paving, Bruce Service Sales and Rentals, APC and Kunkel Bus Lines PLM set-up, Stade could be off to victory lance once again.
"Naturally we just wanted to get involved," Stade told OnPitRoad.com in March. "It's going to be the next best thing in Ontario so obviously, with all the names that are going into it, we want to be apart of it."
Matt Lockwood is set to make his first ever trip to Sunset Speedway as he comes off of his rookie season at Flamboro Speedway. With the line-up of drivers expected, he told OnPitRoad.com in March that this is going to be a crazy season.
"Some of the best names are coming out to the series," he added. "It's only my second season in a pro late, so I mean, we're just out here for experience right now, but I'm hoping to accomplish something this year."
Delaware Speedway standout Jamie Cox is set to contend for success this weekend at Sunset Speedway. He has won multiple events at Delaware, while running strong at Peterborough Speedway in the season-ending Autumn Colors event. So far, though, the weekend hasn't gone as he would've hoped.
https://twitter.com/itsspencerlewis/status/601985895323934720
He'll be joined by fellow Delaware Speedway stand-out Matt Pritiko, who won the track championship last year after finishing second in the track's points standings three straight seasons. He also proved that he isn't a one-track guru, winning the Grisdale Triple Crown Championship at Flamboro Speedway.
"I think we've ran everywhere that this series goes, but it's nice to have the same class going to each facility to race in short track racing," he commented on the series in March. "Each of us has a track that were familiar with, though, so I think it's going to mix things up with guys this year. We're looking forward to it."
Another pair of Delaware Speedway regulars to watch will be Jay Doerr and Justin Demelo. Given the fact that the aforementioned drivers run pro late models on a weekly basis at Delaware, they should be used to their cars and may have the upper hand in the early going. The question will be how they adjust to the track.
Nick Goetz enters this weekend's event with momentum on his side after scoring his first Sunset Speedway feature victory a couple weeks ago, and finishing strongly in the Spring Velocity last weekend. He has continued to get better as a driver over the years, and has the support of McColl Racing Enterprises right in his pit. Oh, and he led the Friday evening practice with a lap of 14.037 seconds. Keep an eye on the No. 24 on Saturday night.
After dabbling in the United States, Brandon Watson is set to return to Canadian late model competition, running the full series schedule in 2015. Watson has proven that he can be a champion, winning the OSCAAR Super Late Model Championship in 2013. He has also won a previous Pro Late Model event at Sunset Speedway, proving that he can get around the 1/3 mile oval.
Peterborough Speedway standout Chris Mitchell will be on hand for the event on Saturday night as he steps up his racing game. He has won features in the past at Peterborough Speedway, and has traveled to other tracks in the province with success. Depending how he adjusts to Sunset will depend on the success that he has. Another pair of Peterborough stand outs to watch will be Craig Graham and Linc Brown.
Matt Box has competed in Sunset Speedway's weekly program over the years, but is best known for his pro late model competition days at Delaware Speedway. Returning to the pro late model routes, combined with his Sunset knowledge, he could be one to watch in the final stages of the 100 lap feature.
For most, Shaun McWhirter is known for his chassis building with Streamline Race Products. However, he is a driver as well, and can run at the front with the best of them. He is most known for his success at Sauble Speedway over the years. However, he has helped set-up late models for Andy Kamrath and Mike Bentley at Sunset Speedway; that partnership led to success for Bentley as he has won features and a championship. We know McWhirter can build and set-up a car – but can he drive it to the front on the 1/3 mile oval?
Shawn McGlynn has ran the Lucas Oil Sportsman Cup Series most recently, having success with a championship. Before that, though, he was a late model competitor and knew how to run at the front. It will be interesting to see how he adjusts to getting back behind the wheel of a late model this year.
Fresh off of his NASCAR Canadian Tire Series debut, Cayden Lapcevich is set to make his first career Pro Late Model start this weekend, driving for Terry Baker Racing. Lapcevich has previous experience at Sunset, winning the Super Stock Championship last year. He also ran a limited late model last season, posting a top-10 finish right out of the gate. He also was the second quickest car in Friday evening practice, two hundreths off of Goetz's quick time.
Sauble Speedway regular Tom Gibbons is set to make the step up to pro late model competition and will be interesting to watch on Saturday night. He knows his way around Sauble, but his previous trips to Sunset Speedway haven't resulted in much success. Can he get the ship turned around?
He'll be joined by last year's Sauble Speedway track champion Jason Parker, who is committed to running the full schedule this year with an intent on competing for the championship. He knows his way around Sunset Speedway, as evident by a pair of victories last year.
"I was looking for something different in my career, something like this," he commented in March. "An eight race series is perfect for me because I have a family and business that keeps me busy. A couple of weeks off in-between races are ideal for me. I like the bigger events. It turns into a big weekend when you show up for the races, and by the time you get through tech and practice, you know it's going to be a good show. The competition level – you have all the top guys from all of Ontario in the series."
He'll be joined by fellow Sauble Speedway regulars Junior Farrelly and Marvin Freiburger.
Dan McHattie knows his way to victory lane, as well. He is a multi-time Kawartha Speedway track champion and has won multiple features at Peterborough Speedway, including the Autumn Colors Classic. A veteran of the division, you can never count the No. 71 out of competition.
2014 Sunset Speedway track champion Dwayne Baker will be in attendance as he is running the full Sunset Speedway schedule, along with as many of the tour races that he can fit in. He is always one to watch when it comes to Sunset Speedway competition. Not the quickest out of the gate, the longer races play into his favor as he knows how to save tires and always seems to sneak up on his competitors in the final stretch. Watch for the No. 48 to be at the front in the final 25 laps.
2013 Sunset Speedway track champion Mike Bentley will debut a brand new pro late model this weekend. He ran the full Dickies OSCAAR Outlaw presented by London Recreational Racing event last weekend as a test session, coming home in the sixth spot against the outlaw super late models. If he has the same speed on Saturday night, look for him to be near the front all night long and perhaps heading to victory lane.
2014 Dickies OSCAAR Outlaw presented by London Recreational Racing Champion Andrew Gresel is focusing on the APC tour full-time in 2015, and should be one to watch. Before jumping behind the wheel of a super late, he drove a pro late model – and knew his way to victory lane, scoring victories at both Delaware Speedway and Sauble Speedway. Considering he got more used to Sunset with each OSCAAR event last year, he now knows his way around and should be near the front.
2014 Flamboro Speedway Champion Dale Shaw will be in attendance on Saturday night.  The second generation driver hopes this trip to Sunset Speedway goes much better than the previous one that saw him struggle throughout the night. He is off to a good start this year in Flamboro Speedway weekly competition, running near the front of the field.
After success in the super stocks ranks at Delware Speedway, Trevor Collver is taking the next step in his racing career as he moves up to the late model division this season. Collver has yet to travel to Sunset Speedway in his career, so it'll be interesting how he adapts to his new ride on a new track.
Another driver that is moving up the racing ranks this year is Billy Schwartzenburg. Schwartzenburg has won a ton of races in the Mini Stock division, highlighted by over 15 feature victories last season. He is making the big move up to Late Model this season. Coming off a victory in the Mini Stock last week at Hoosier Spring Velocity, he is hoping to have a good run in a car that he has only ran at Flamboro twice previously.
Given initial photos from practice, it looks as though Sunset Speedway regular Tom Walters will be in attendance. He has won the pro late model races in the past at Sunset Speedway, including a very dominant performance a couple years ago. A solid run would be welcome by Stompin' Tom Motorsports after struggles in weekly competition over the past two weeks.
Steve Laking was at Sunset Speedway during pre-season testing, getting his ride tuned up for this event. He has experience in the United States behind the wheel of a late model, and has had success at Flamboro Speedway. Now the question will be whether that success carries over to Sunset.
Shawn Chenoweth is hoping his previous winning success carries into this weekend. He has had a ton of success behind the wheel of a pro late model, winning races at Flamboro Speedway and Sauble Speedway, while running strong at Delaware. He has yet to enter a pro late model event at Sunset Speedway so it'll be interesting to see how quickly he can adapt this weekend.
Steve Cashmore and Willie Reyns are both making the jump from Super Stock competition to Late Model competition this weekend. Cashmore had limited success at both Flamboro and Sunset, while Reyns won a championship at Kawartha Speedway. To compare the two, the advantage would go to Reyns. However, it's anybody's guess once they hit the track on Saturday night.
Fresh off of a third place finish in the ARCA race at Talladega Superspeedway at the beginning of the month, Cole Powell will enter this weekend's event at Sunset Speedway. Powell has ran in Ontario Pro Late Model competition before, having success at Delaware Speedway. However, he has yet to run a pro late model race at Sunset. With that said, though, he did run an OSCAAR event a couple years ago, posting a solid top-10 finish.