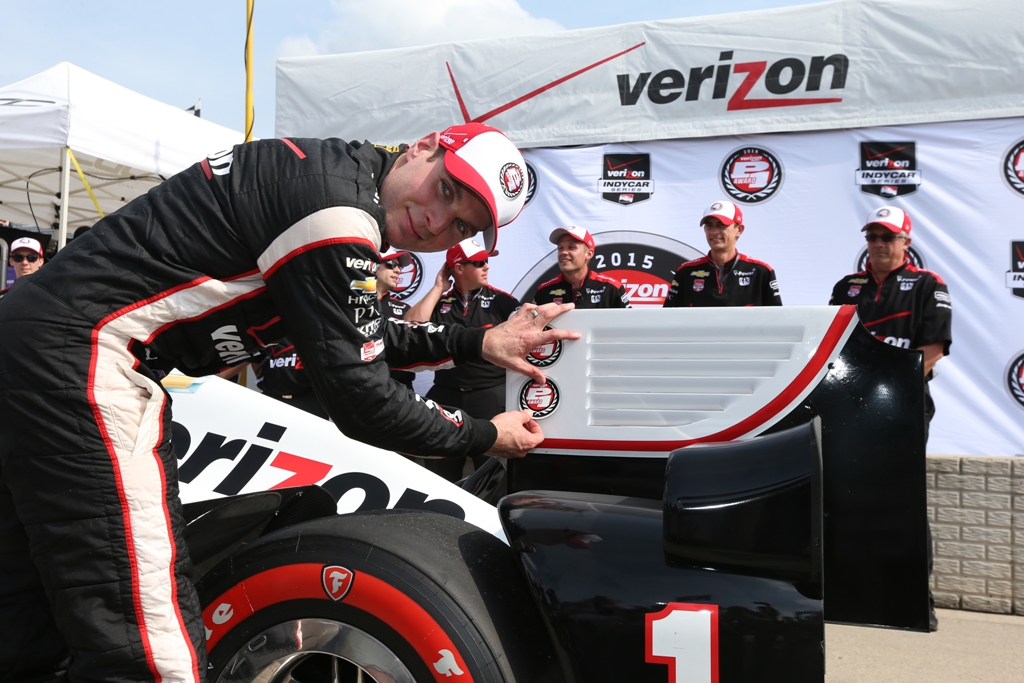 Even the break created for the Indianapolis 500 could not break the string of dominance shown by Team Penske in road course racing trim as the Captain's quartet claimed four of the first five places on the grid for Saturday's first half of the Chevrolet Duel In Detroit. After going 1-2 in the 500-mile race last weekend, Juan Pablo Montoya and Will Power swapped their order on Friday. Power, the reigning Verizon IndyCar Series champion has long been tabbed as the best road racer in the American open wheel scene and backed up the billing by claiming pole position in track record time.
The Australian's one minute, 16.0941 second run of the 2.35 mile layout, was three one hundredths of a second faster than Montoya, who will look for his first top ten finish in Detroit on Saturday, with Helio Castroneves qualifying third, and new team member Simon Pagenaud lining up fifth. After being off the pace of the Chevorlet-powered machines for most of the early 2015 campaign, Honda Performance Development managed to place one car in the Firestone Fast Six, as AJ Foyt Racing's Takuma Sato will start fourth.
KV Racing Technology's Sebastien Bourdais, also with Chevy power took the final spot in the Fast Six, while 2015 Indy 500 pole sitter Scott Dixon just missed out on the third phase of Friday qualifying and will start seventh. KVRT has an additional entry in the first ten as Monaco-based rookie Stefano Coletti had his effort to date in an IndyCar Series qualifying session and will begin Saturday's first leg of the Duel in Detroit in eighth. Two Hondas, featuring Andretti Autosport's Marco Andretti and Schmidt Peterson Motorsports' James Jakes rounded out the first ten.
Dale Coyne Racing also managed to get a car into the second phase of qualifying for the first time in 2015, as Tristan Vautier will start 11th on Saturday, while Conor Daly struggled in place of the injured James Hinchcliffe and will lineup 21st.
DETROIT – Qualifying Friday for the Chevrolet Dual in Detroit presented by Quicken Loans Race #1 Verizon IndyCar Series event on the 2.35-mile Raceway at Belle Isle Park, with qualifying position, car number in parentheses, driver, chassis-engine, time and speed in parentheses:
1. (1) Will Power, Chevrolet, 01:16.0941 (111.178)
2. (3) Helio Castroneves, Chevrolet, 01:16.1200 (111.140)
3. (2) Juan Pablo Montoya, Chevrolet, 01:16.4428 (110.671)
4. (14) Takuma Sato, Honda, 01:16.5363 (110.536)
5. (22) Simon Pagenaud, Chevrolet, 01:16.6656 (110.349)
6. (11) Sebastien Bourdais, Chevrolet, 01:17.0406 (109.812)
7. (9) Scott Dixon, Chevrolet, 01:16.9768 (109.903)
8. (4) Stefano Coletti, Chevrolet, 01:17.3638 (109.353)
9. (27) Marco Andretti, Honda, 01:17.3785 (109.333)
10. (7) James Jakes, Honda, 01:17.5158 (109.139)
11. (19) Tristan Vautier, Honda, 01:17.8140 (108.721)
12. (8) Sage Karam, Chevrolet, 01:17.9046 (108.594)
13. (15) Graham Rahal, Honda, 01:18.2239 (108.151)
14. (41) Jack Hawksworth, Honda, 01:18.7504 (107.428)
15. (10) Tony Kanaan, Chevrolet, 01:18.3144 (108.026)
16. (28) Ryan Hunter-Reay, Honda, 01:19.3634 (106.598)
17. (83) Charlie Kimball, Chevrolet, 01:18.3303 (108.004)
18. (67) Josef Newgarden, Chevrolet, 01:21.4632 (103.851)
19. (20) Luca Filippi, Chevrolet, 01:18.4404 (107.853)
20. (26) Carlos Munoz, Honda, 01:21.4796 (103.830)
21. (5) Conor Daly, Honda, 01:18.4937 (107.779)
22. (18) Rodolfo Gonzalez, Honda, 01:21.8208 (103.397)
23. (98) Gabby Chaves, Honda, 01:19.2306 (106.777)
Stay tuned to OnPitRoad.com for continued updates from Detroit.