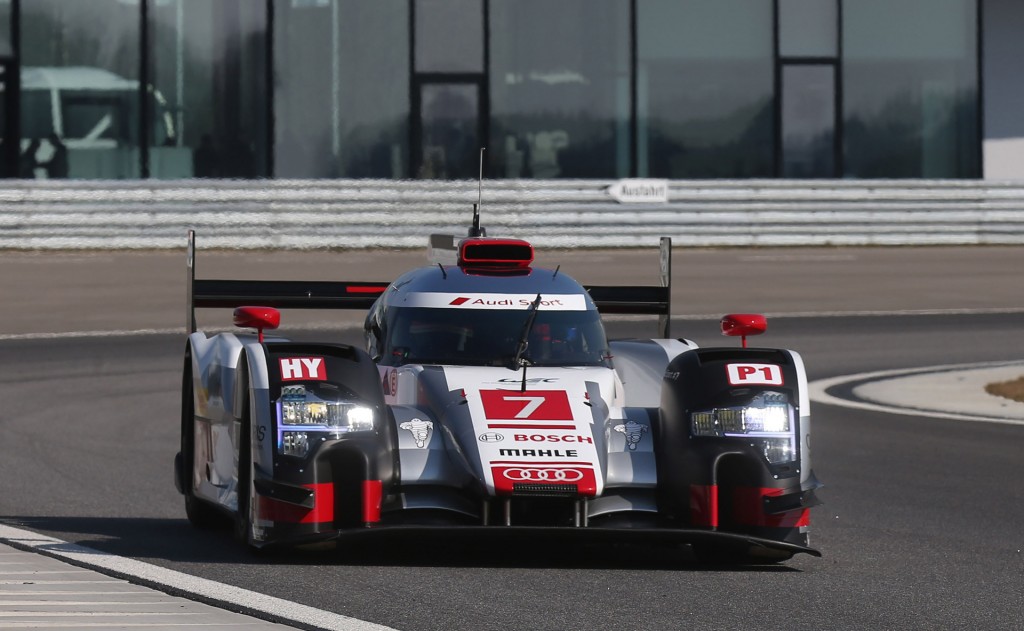 With less than 24 hours separating the LMP-1 and LMP-2 runners from the opening window for qualifications for the 2015 24 Hours of Le Mans endurance race, there are a lot of unknowns in play. With rain showers a probable scenario on both Wednesday and Thursday, the balance of getting drivers eligible to participate in the race may be overshadowed early on by the desire to get a quick time on the board Wednesday night, if weather intervenes and closes the door on the chance to move up on the grid in the remaining two opportunities Thursday.
One thing is for sure though, there are two major manufacturers in the hybridized world of LMP-1 who are more than capable of winning the pole position for this weekend's twice around the clock classic and in the LMP-2 division there are multiple possibilities in the queue for the class' top grid position.
The pre-qualifying and race talk in the LMP-1 battle for overall victory honors has been centered on two candidates for pole, with a third possibly joining the party in the race ahead. A week and a half ago during the official test day at the 8.45 mile Circuit de la Sarthe, Team Porsche in running plagued by limited dry running time, managed to out gun German rival Audi for the top time with the Porsche 919 Hybrid in the 3:21 bracket, marginally faster than last year's pole time set by Toyota Motorsports.
The 919 Hybrid has undergone a complete revamp since closing out the 2014 FIA World Endurance Championship with a victory in Brazil. The 2015 season's first two showings have left the Weissach-based runner empty handed so far, with a noticeable concern of reliability woes showing at both Silverstone and Spa Francochamps where at least one of their entries failed to make the checkered flag after six hours of running. While pace currently favors  Porsche, as the race focuses in, the Audi Sport Team Joest squad starts to take over.
The R18 E-Tron Quattro coupe has not been as bulletproof as some of the Dr. Wolfgang Ullrich-overseen cars that have won recently at Le Mans, but it has been strong enough to hold back a common set of foes. Up until 2011, that foe was Peugeot. Then Toyota took over in 2012, with Porsche joining the fight last year. In terms of all out pace for qualifying, keep a close eye on Brendan Hartley and Neel Jani as the biggest threats from Porsche to take pole, while Audi's star driver Andre Lotterer, has almost single handedly willed the team to victory last year at Le Mans and in each of the first two FIA WEC events in 2015, which they also won.
While Porsche has taken over the role as the lead hunter, Toyota has surprisingly regressed in terms of pace in 2015. After claiming pole last year at Le Mans with a 3:21 pace, the team's TS040 Hybrid could do no better than a 3:25 during the 2015 test day, over four seconds off last year's pace. While Anthony Davidson and Stephane Sarrazin have had strong efforts in qualifying mode in recent runnings of the event, it appears that a high grid position may not be possible with both Audi and Porsche running three-car efforts. However, the pace cut could allow for a better chance at a trouble free 24 hour race, something that Toyota has not achieved in several tries at Circuit de la Sarthe.
Toyota has been somewhat of a disappointment early in 2015, but they are well ahead of a hope-filled, but yet to breakthrough debut effort from fellow Japanese manufacturer Nissan. Going out of the box with their GT-R LM NISMO Hybrid, using a front-engine design as opposed to a rear one for their coupe, the team has had a tougher road to gain pace and more importantly, data. Based on a fast lap at the test day, that was out-shined by even some LMP-2 entries, it is clear Nissan is not a contender for victory in 2015. The focus is on gathering information and making the finish with each of its three cars entered, in preparation for a major challenge in 2016.
While non-hybrid LMP-1s had their own division last year, a lack of interest led the ACO to re-combine them with the hybrids for 2015. Due to this and a lack of running from both entrants, don't expect many fireworks from either Colin Kolles' CLM-AER coupe, or from Rebellion Racing who have adopted the AER engine with their Oreca designed R-One chassis this year. Reliability and a lack of pace has held up development work on the CLM machine, while delays in making the R-One able to house the new AER engine have kept the Swiss-challenger off the track for most of the 2015 calendar prior to Le Mans itself.
With direct manufacturer support disallowed in the baby prototype division, aka LMP-2, there a load of different entities capable of claiming the pole position over the next two days. However, due to the newness of several marques ahead of race weekend, the fight for class honors come Sunday afternoon could become a survival of the fittest. In terms of qualifying, OAK Racing's Ligier coupe appears to be an early pole favorite, based on posting the top time during the test day. Canada's Chris Cumming has had a strong start to 2015 in the TUDOR United SportsCar Championship, competing in Prototype Challenge for Paul Gentilozzi, and despite a team lacking in professional driving talent, the technical skill of Onroak could be enough to put them on top after the qualifying window closes on Thursday night and even keep them in the running in the race itself.
Two other teams, Signatech Alpine and Murphy Protoypes are also within range of the pole, with quick pace scenarios coming from Nelson Panciatici and Nathaniel Berthon respectively. The speed shown from these two entries is impressive considering both teams continue to rely on the aging Oreca 03 open top cars as opposed to the new Oreca 05 coupes being run by Thiriet by TDS Racing and KCMG. The older car could however, be a boon on race weekend with its reliability a little more of a proven quantity.
However, it is another open top runner, who could claim the accolades come the checkered flag on Sunday. Jota Sport won the LMP-2 race at Le Mans last year, claiming a top five overall finish to boot. Although not a regular in the FIA WEC, the British Gibson 015S challengers, outperformed all the world tour regulars last month in Belgium to claim victory. Simon Dolan returns from last year's winning team to provide leadership, yet the speed quotient could come from impressive young gun Oliver Turvey.
THE FINAL VERDICTS:
Porsche will provide an even stronger challenge when compared to their near miss in last year's race. However, I have to go with the experience and success of Audi Sport to once again trump all comers and claim yet another overall triumph at Le Mans.
While there are a lot of impressive new runners in LMP-2, I like the returning entrants to best challenge for the win at the end of the day on Sunday. Although they did not win either of its races in the European Le Mans Series to date this year, the win in Belgium by Jota Sport is enough to convince me that they, like Audi, are ready to successfully defend their Le Mans victory from a year ago.