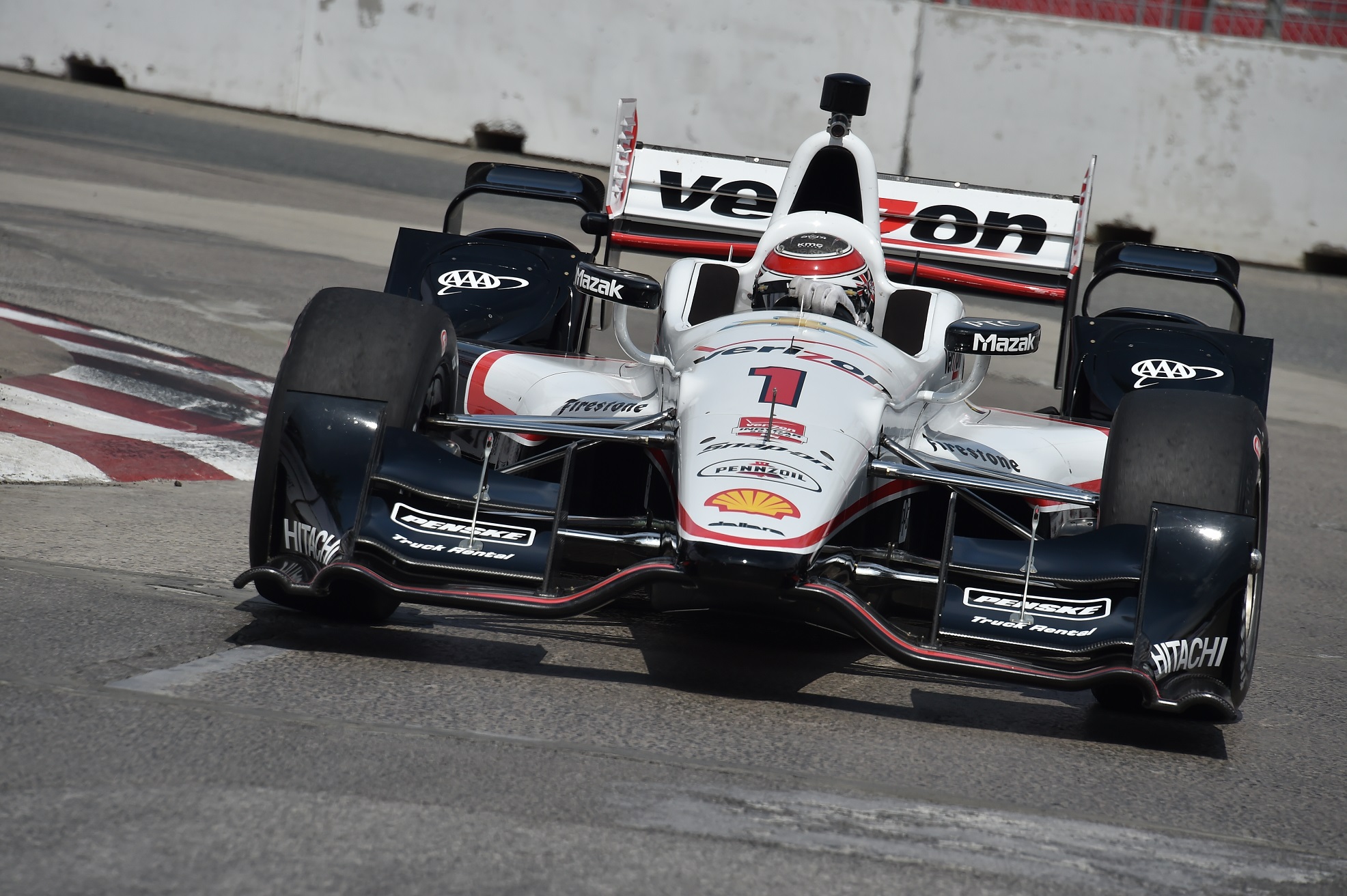 TORONTO (June 13, 2015) – Reigning Verizon IndyCar Series champion Will Power earned his second consecutive Verizon P1 Award and fifth of the season by recording the quickest lap of the Firestone Fast Six during qualifications for the Honda Indy Toronto.
Power crossed the start-finish line to complete the lap of 59.4280 seconds on the 11-turn, 1.755-mile Exhibition Place street circuit with five seconds left in the final segment of knockout qualifications. He will lead the field of 23 to the green flag for the 85-lap race on June 14, the 31st Indy car event in Toronto dating to 1986.
Driving the No. 1 Verizon Team Penske Chevrolet, Power overtook Rick Mears for fifth on the all-time Indy car list with his 41st career pole position. Teammate Helio Castroneves is the active leader with 43 and Mario Andretti holds the all-time standard with 67.
"Starting on the pole is great to keep out of any messes, and obviously Indy car races are never straightforward, so it's just awesome to get the pole. It's a long (race) day and we'll see what we can do," said Power, who has also won at Toronto in 2007 and 2010.
"You've got to drive around here. It's all man-handling because you've got those slippery surfaces in the middle of the corners, so you've got to be on the wheel a lot."
Four Verizon IndyCar Series teams were represented in the Firestone Fast Six. Simon Pagenaud's best lap in the No. 22 Avaya Team Penske Chevrolet was 0.1815 of a second back for his second front-row start in a row and fourth this season.
"Qualifying has not been an issue. We've been in the fast six every session since the beginning of the season, but it's executing in the end where things haven't gone our way," said Pagenaud, who has secured three top-five finishes in those six road/street course races this season and is 11th in the standings. "I think we had it but just made a little mistake when the tires were at their peak. But I'm happy with front row. I'm happy for Team Penske."
Verizon IndyCar Series championship points leader Juan Pablo Montoya and Scott Dixon, the winner in the most recent race June 6 at Texas Motor Speedway, will be on Row 2. It's the best start at Toronto for Montoya, who turned the quickest lap of the weekend of 59.4137 seconds in the second qualifying segment in the No. 2 PPG Automotive Refinish Team Penske Chevrolet.
Sebastien Bourdais, who won Race 1 of the Toronto doubleheader last year from the pole, qualified fifth in the No. 11 Team Hydroxycut-KVSH Racing Chevrolet. Luca Filippi qualified sixth in the No. 20 Fuzzy's Vodka CFH Racing Chevrolet.
Only four-tenths of a second separated the drivers in the Firestone Fast Six, with Power bumping Castroneves out of the top six by 0.0018 of a second in the second round. Castroneves, who posted the quickest lap in the morning practice session in the No. 3 Hitachi Team Penske Chevrolet, will start a season-low seventh.
INDYCAR Eliminates Push-to-Pass Monitoring
In an effort to promote more overtaking at Verizon IndyCar Series road- and street-course races, INDYCAR announced it will no longer display entrants' push-to-pass counts and usage via indicators in its timing and scoring software.
Until now, teams were able to monitor all Verizon IndyCar Series competitors' push-to-pass (P2P) count and when they are being used via the INDYCAR timing and scoring system available in each pit box.
"Unfortunately, the information given to the teams on the push-to-pass function has tended to be used as a defensing measure," said Derrick Walker, INDYCAR President of Competition and Operations. "The driver being overtaken activates his or her own P2P to defend, which defeats the intention of P2P, obviously. We will limit the availability of that information, which will make things interesting, particularly late in the race."
The change begins with Sunday's Honda Indy Toronto and remains in effect at the remaining road-course events on the 2015 schedule – the Honda Indy 200 at Mid-Ohio Sports Car Course and season-ending GoPro Grand Prix of Sonoma at Sonoma Raceway.
Each car will still receive its full allotment of push-to-pass opportunities that produce approximately an added 50 horsepower per use to promote passing other cars at strategic points in a race. For the Honda Indy Toronto, the push-to-pass count remains at 10 opportunities for each car in the race, with each engagement lasting 20 seconds.
The push-to-pass parameters are controlled by each car's engine electronics and are preset to the count, time per use and reset time between uses prior to each race. INDYCAR officials retain the ability to monitor each car's push-to-pass functions in Race Control.
Sato's Chief Mechanic Enjoys Annual Homecoming
For 30 years, Tom Howatt has been working on Indy cars, and making an annual visit home for "the Indy" for nearly as long. Chief mechanic for the No. 14 ABC Supply AJ Foyt Racing Honda driven by Takuma Sato, Howatt grew up in Mississauga, Ontario – 14 miles northwest of the Exhibition Place circuit. Visiting with friends and family even for a few minutes during the busy Honda Indy Toronto weekend is a highlight.
"It's always fun to come home, though as busy as we are, you get to see friends and family for a short time," Howatt said. "It's interesting growing up with the Indy cars and it's still a staple here.
"It's a really good race for the city and it's a good race for (the race teams). Ever since we came here (1986), it's been a good event, the racing is good. People love it."
Howatt joined the Canadian Tire team with driver Jacques Villeneuve – the uncle of the 1995 Indy 500 winner by the same name – for the 1985 Indy car season. Howatt has also worked with teams led by Pat Patrick and Vince Granatelli, with Truesports, Panther Racing and Rocketsports. He's been with AJ Foyt Racing since 2008.
"If it wasn't fun, I wouldn't be doing it," Howatt said. "It's the people. The racing is great, the cities are fun, but it's the people that make this thing up."
Hinchcliffe Keeps Honda Indy Toronto Streak Alive
James Hinchcliffe may not be driving in this weekend's Honda Indy Toronto as he recovers from serious injuries sustained in a May 18 practice crash at Indianapolis Motor Speedway, but the native Canadian is keeping his streak alive of attending every Indy car event at Exhibition Place since 1988.
Back then, Hinchcliffe was 18 months old and came with his parents from their home in nearby Oakville. He attended with his family every year until he first raced on the street circuit in the Atlantics championship in 2006. His first Toronto event as a Verizon IndyCar Series driver came in 2011, but Conor Daly is driving the No. 5 Arrow/Lucas Oil Schmidt Peterson Honda as Hinchcliffe recuperates.
The "Mayor of Hinchtown" was cleared to travel to Toronto from Indianapolis earlier this week, and is the Grand Marshal for Sunday's race. Hinchcliffe said he's "happy to be back at the track" as he signed autographs and greeted hundreds of well-wishers in the paddock today.
"I couldn't miss this one," Hinchcliffe said.
Mazda Road to Indy Race Winners
All three rungs of the Mazda Road to Indy ladder series are conducting doubleheader race weekends in Toronto. Winners today of the first race in each series were: Jake Eidson (Pabast Racing) in the Cooper Tires USF2000 Championship Powered by Mazda, Florian Lattore (Cape Motorsports with Wayne Taylor Racing) in the Pro Mazda Championship Presented by Cooper Tires.
POST-QUALIFYING QUOTES:
WILL POWER (No. 1 Verizon Team Penske Chevrolet, Verizon P1 Award Winner): "I was just hoping I would be like fourth or third, something like that. I did not expect to be on pole, so I'm very happy." (About how tough the track is to drive): "You've got to drive around here. It's all man-handling because you've got those slippery surfaces in the middle of the corners, so you've got to be on the wheel a lot." (About whether there will be passing opportunities in the race): "There is going to be a lot of moving into Turn 3 and obviously into Turn 1 there's always a lot of action. Starting on pole is great. It keeps me out of the mess early on. Obviously Indy car races are never straightforward, so it's just awesome to get the pole because I really wasn't expecting it, so I was really happy with that. It's a long day tomorrow, we'll see what we can do." (About his hand injury): "It's sore but it's fine. You've just got to mentally switch it off when you hit a bump. It's fine. It's cracked or fractured, so I can't do any more damage to it. That's the good thing."
JUAN PABLO MONTOYA (No. 2 PPG Automotive Refinish Team Penske Chevrolet): "It's OK. We've been doing a good job. Today I made too many mistakes at the end. Thought I had a really good car, didn't put good luck together when it counted. Still qualified third, so I'm happy with that."
STEFANO COLETTI (No. 4 KV Racing Technology Chevrolet): "We were really unlucky in our qualifying session. The team gave me a great car, which I think could have put me in the top 10 on the starting grid, but unfortunately a red flag was shown with two minutes to go. I was running 10th in my group before I pitted for the alternate tires and was then unable to put a quick lap together because it went checkered. It's a shame because the guys have worked hard and would have been nice to show the car's potential. We have a good race car for tomorrow, so hopefully some luck finally comes our way and we can have a good result."
CONOR DALY (No. 5 Arrow/Lucas Oil Schmidt Peterson Honda): "It was just a pretty hectic session. We got the yellow in the last lap, which feels usual with my luck. So sadly, we didn't get that last lap, which would've been better. The No. 5 Arrow Electronics car was feeling better with each lap, but I've got so much to learn and I need to learn faster, so it's a shame."
JAMES JAKES (No. 7 Schmidt Peterson Motorsports Honda): "I'm a little bit disappointed, really. I think we had a better pace than that in the No. 7 SPM MediaTech Honda but we were using an extra set of reds in the first round of qualifying. I think that cost us a little bit, but we're not in a bad position for tomorrow to start the race. It looks like it's going to rain and anything can happen so we'll just try to keep our nose clean and go from there."
SEBASTIAN SAAVEDRA (No. 8 AFS Chip Ganassi Racing Chevrolet): "I'm extremely disappointed that we weren't able to advance out of the first round because of what happened. I'll take this as a learning experience that just proves there is no room for errors. I knew we had a lap time that would most likely move me onto the next round. So, on the last lap I went behind the barrier to get out of traffic. I did not know that a yellow would come out because of what I did, but it ultimately ended our day. We'll just focus on our race car now. We have an amazing car, so I'm looking forward to the race tomorrow."
SCOTT DIXON (No. 9 Jurassic World Chevrolet): "This weekend it feels like I've been driving a dinosaur. It's been a little bit rough out there. It's been a rough start. We had an electrical issue at the start of the weekend, had to come in and change batteries every two laps. We made wholesale changes even through qualifying. Each session we've been changing a lot. It's not been a smooth weekend for us. But I think the car has potential speed. We were up pretty good on the last lap, and I cooked it in a couple spots. We'll see how it goes. But Chevy is doing a fantastic job– dominance right now. It's cool to be driving a Chevy right now."
TONY KANAAN (No. 10 NTT Data Chip Ganassi Racing Chevrolet): "I think the No. 10 NTT DATA Chevrolet was much quicker than our starting position shows. We definitely had a top six car, but in that second round we just weren't ever able to get up to speed and get the fast lap at the right time on the tires. Obviously I wish we could have finished at least in the top six, but it just didn't happen and we'll just have to work with where we're at and make some big moves tomorrow in the race."
SEBASTIEN BOURDAIS (No. 11 Team Hydroxycut-KVSH Chevrolet): "When the car hits the ground and takes off, it's pretty difficult to keep control. I didn't do a really good job. It's a shame. The guys did a good job. The car is there. It's just difficult to be accurate and not make mistakes. At least we made the Fast Six. We put ourselves on the map to have a decent run tomorrow. Conditions seem to be forecasted pretty complicated, so we'll see.
TAKUMA SATO (No. 14 ABC Supply AJ Foyt Racing Honda): "I was satisfied with my lap but it's just so close, the field is so tight. We only needed five-hundredths to make it to the Firestone Fast Six, and I was temporarily fifth until the very few last corners in the final seconds and then two guys overtook me. It is what it is and that's racing. I think the ABC Supply boys did a great job to put everything together. Yesterday it was positive but this morning it was a little bit disconnected feeling but we came back strong. It's a shame it wasn't a little bit higher but P8, I'll take it. It's a good place to start, and the weather looks good, so hopefully we have a sweet Sunday afternoon."
GRAHAM RAHAL (No. 15 Rousseau Metal Honda): "All in all, the Rousseau Metal car has been pretty good this weekend. We have just got to keep working hard. We are trying to find a way to get the car to do one particular thing a little more consistently. It's kind of throwing everything at me, which is fine, but, for the race, we would like to settle the rear down a little. We are struggling to make a little bit of everything better but the rear (of the car) is where I would like to improve for the race. We need to keep the tires underneath us, which has been one of our strengths this year. For us to be able to beat the Chevys up front, we're going to need some good rear tire wear."
LUCA FILIPPI (No. 20 Fuzzy's Vodka CFH Racing Chevrolet): "Our guys have to work so much during the month of May. As the drivers, we didn't deliver what we're supposed to do. I think it's now time to turn the season around. Today I think we all did a good job. Also we had an issue in Group 1. The guys were so quick to fix the car, give me the opportunity to run again. Very pleased with that. Really thankful to them. I think the performance has been good since the beginning of the season. (This is the) first time I go to a racetrack that I raced before. You know what to expect, you know the lines, braking zones. Makes everything easier. I just hope to have more experience to go faster everywhere."
SIMON PAGENAUD (No. 22 Avaya Team Penske Chevrolet): "I don't like to be 11th in the championship, but it is what it is. It's a new era for me. It's definitely a new era for Team Penske with the fourth car so we're building as a team. Qualifying has not been an issue. We've been in the fast six every session since the beginning of the season, but its executing in the end where things haven't gone our way. But sometimes you have a season like that. And it was a good time to take some risk with the tire choice, which we did. Thanks to my engineers for pushing me in that direction and I just pushed it too hard. I think we had it, but just made a little mistake when the tires were at their peak. But I'm happy with front row. I'm happy for Team Penske."
CARLOS MUNOZ (No. 26 AndrettiTV Cinsay Honda): "Again, it was a really weird qualifying session with all the yellow flags. We had some issues in the first part of our qualifying, so had to give a shot from our second time out. We're starting 13th tomorrow. We've been struggling a little bit this weekend, so let's hope for some rain tomorrow and a bit of a crazy race, because to go to the front, we need something."
MARCO ANDRETTI (No. 27 Dr Pepper Honda): "Circumstance didn't go our way. We didn't get to do a full run on reds (alternate Firestone red tires) due to the red flag. My out lap on reds was awesome so I think the Dr Pepper car would have been well in the top 10 – maybe in the Firestone Fast Six."
RYAN HUNTER-REAY (No. 28 DHL Honda): "It's kind of just been the way this season has been rolling, but we're proud to be representing DHL here and looking for a good weekend. I thought we had a good shot at advancing there – the car felt good. I just never really got a lap to bank and then the red (flag) came out as we just put on new (Firestone) red tires. It's the way it is sometime. You just have to deal with it and keep soldiering on. We're going to go out and hopefully have a great race tomorrow."
JACK HAWKSWORTH (No. 41 ABC Supply AJ Foyt Racing Honda): "We had just put the red tires on and the red flag came out and we couldn't do a time, so it's starting to sound like a broken record. The car was as good as it's been in qualifying all year so I'm disappointed. It would have been nice to have seen what we could have done."
JOSEF NEWGARDEN (No. 67 Hartman Oil CFH Racing Chevrolet): "Qualifying wasn't what we were hoping for. We just struggled and didn't quite get what we needed. We should have a good racecar though. I am excited to work with the guys more and see what we can get out of it. We have a long race day ahead of us tomorrow. It's hard to complete a race around here without any incidents. As long as we stay clean, we should be good to go."
CHARLIE KIMBALL (No. 83 Levemir FlexTouch Chevrolet): "It's a little disappointing, especially with how choppy our round was with the yellow flags and the car in the run-off. Overall I feel good about the Levemir FlexTouch car for tomorrow's race. We'll have to keep an eye on the weather to see if it's going to shower or not – that might change a little bit of what we do in the warm-up. I think my engineers and I have a good direction for tomorrow's race and I have a lot of confidence in the Novo Nordisk Chip Ganassi Racing crew in pit lane to make sure that we have good stops."