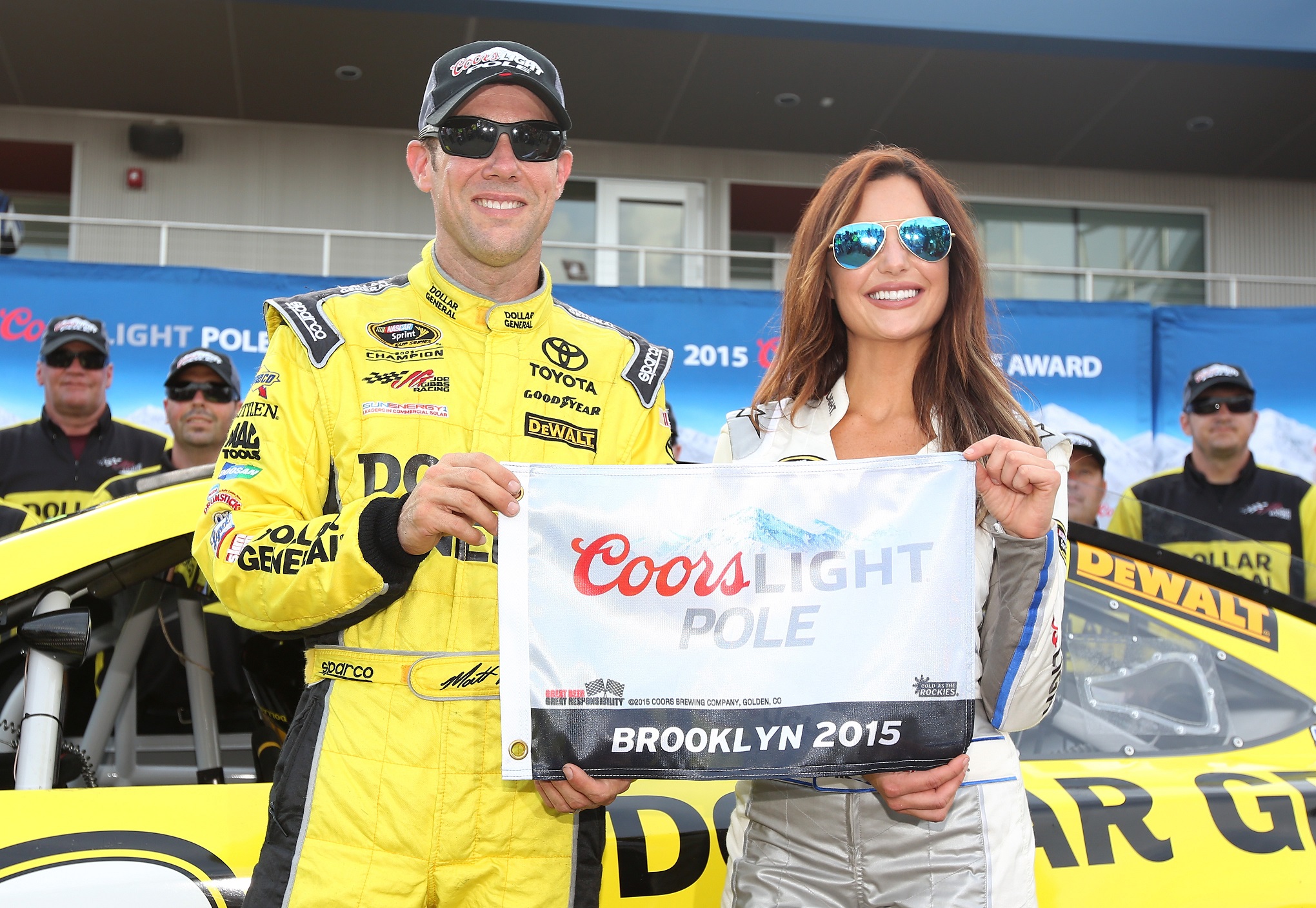 Joe Gibbs Racing driver, Matt Kenseth, scores the fifteenth pole of his Sprint Cup Series career scoring the pole for the Pure Michigan 400 at Michigan International Speedway. Kenseth posted a lap of 197.488 m.p.h in his No. 20 Dollar General Toyota Camry.
Qualifying was dominated by Joe Gibbs Racing. JGR drivers, Kenseth, Denny Hamlin, and Carl Edwards captured the top-three spots, with Kyle Busch qualifying sixth. JGR has been the hottest team in NASCAR recently, led by Kyle Busch, who has won four of seven races in recent weeks, including three in a row.
Kenseth commented on the qualifying results and barely edging out his teammate, Edwards, "We were a long ways off Carl in practice, and I don't even know what changes they made, but they changed a lot of stuff that really woke this thing up and had some speed," Kenseth said. "I knew I got through (Turns) 1 and 2 good, but Denny put up such a fast lap, and I got into (Turn) 3, and I was bound and determined that I was going to make it wide open."
The Pure Michigan 400 is scheduled to begin at 2:30pm, Sunday.
NASCAR Sprint Cup Series Qualifying – Pure Michigan 400
Michigan International Speedway
Brooklyn, Michigan
Friday, August 14, 2015
(20)  Matt Kenseth, Toyota, 197.488 mph.
(11)  Denny Hamlin, Toyota, 196.990 mph.
(19)  Carl Edwards, Toyota, 196.276 mph.
(3)  Austin Dillon, Chevrolet, 195.918 mph.
(14)  Tony Stewart, Chevrolet, 195.477 mph.
(18)  Kyle Busch, Toyota, 195.450 mph.
(4)  Kevin Harvick, Chevrolet, 195.249 mph.
(48)  Jimmie Johnson, Chevrolet, 195.228 mph.
(88)  Dale Earnhardt Jr., Chevrolet, 194.884 mph.
(22)  Joey Logano, Ford, 194.405 mph.
(5)  Kasey Kahne, Chevrolet, 194.133 mph.
(15)  Clint Bowyer, Toyota, 193.606 mph.
(55)  David Ragan, Toyota, 193.632 mph.
(2)  Brad Keselowski, Ford, 193.554 mph.
(9)  Sam Hornish Jr., Ford, 193.476 mph.
(41)  Kurt Busch, Chevrolet, 193.309 mph.
(31)  Ryan Newman, Chevrolet, 193.309 mph.
(1)  Jamie McMurray, Chevrolet, 193.149 mph.
(21)  Ryan Blaney(i), Ford, 193.128 mph.
(16)  Greg Biffle, Ford, 193.029 mph.
(24)  Jeff Gordon, Chevrolet, 193.009 mph.
(78)  Martin Truex Jr., Chevrolet, 192.921 mph.
(10)  Danica Patrick, Chevrolet, 192.771 mph.
(27)  Paul Menard, Chevrolet, 192.622 mph.
(6)  Trevor Bayne, Ford, 192.005 mph.
(47)  AJ Allmendinger, Chevrolet, 191.826 mph.
(17)  Ricky Stenhouse Jr., Ford, 191.586 mph.
(51)  Justin Allgaier, Chevrolet, 191.367 mph.
(26)  Jeb Burton #, Toyota, 190.713 mph.
(43)  Aric Almirola, Ford, 190.527 mph.
(40)  Landon Cassill(i), Chevrolet, 190.049 mph.
(83)  Matt DiBenedetto #, Toyota, 190.049 mph.
(7)  Alex Bowman, Chevrolet, 189.384 mph.
(42)  Kyle Larson, Chevrolet, 189.230 mph.
(35)  Cole Whitt, Ford, 189.091 mph.
(38)  David Gilliland, Ford, 188.927 mph.
(23)  JJ Yeley(i), Toyota, Owner Points
(34)  Brett Moffitt #, Ford, Owner Points
(46)  Michael Annett, Chevrolet, Owner Points
(13)  Casey Mears, Chevrolet, Owner Points
(32)  Josh Wise, Ford, Owner Points
(33)  Travis Kvapil(i), Chevrolet, Owner Points
(98)  Timmy Hill(i), Chevrolet, Owner Points