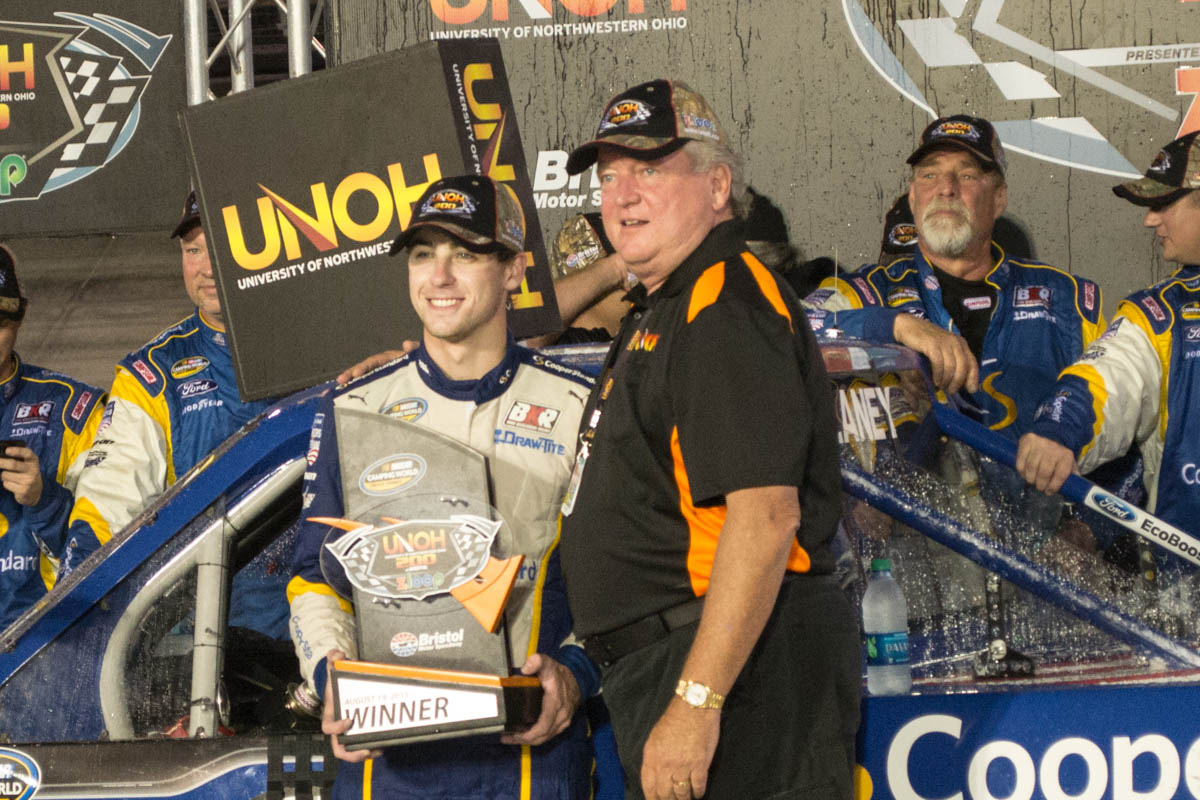 On a late race restart with two laps to go, Ryan Blaney would get the restart that he needed, grabbing the lead and not looking back en route to scoring the victory on Wednesday night in the UNOH 200 at Bristol Motor Speedway.
"Everybody did a great job working on great pit strategy and getting back up through there," Blaney said. "I think we were both spinning our tires and I couldn't stay off of him. I don't know if I cut the left rear, but if I did, I apologize."
It wasn't an easy victory as he went down a lap early after serving a penalty for jumping a restart. Blaney led the first 41 laps of the event after starting second, but jumped the restart at lap 41. He then headed down pit road, serving a pass-thru penalty, going a lap down. He got the lucky dog at lap 80 and worked his way back to the front, taking the lead on the green-white-checkered restart.
"I don't have much to say and obviously we didn't like that – obviously its NASCAR's jurisdiction and we can clear that up in the future," Blaney said of the restart.
Kyle Busch would finish second after charging from sixth to second on the late race start. He struggled through the first half of the race with the splitter hitting the track and a tight truck. He made the decision to pit at lap 113, when the rest of the leaders stayed on track, and was able to climb his way back to the front.
John Hunter Nemechek finished third for his best career truck series finish.
"I don't know if the 88 (Matt Crafton) got loose there or whatever," Nemechek said. "All I know is there was a lane on the bottom and we took it. Finishing up front like this, we've had the finishes and came close – now it's coming together."
Nemechek added that he couldn't thank his father Joe Nemechek enough, saying that "he's been great through this whole deal on the education side, getting classes done so I could graduate early".  Daniel Hemric finished fourth, continuing his strong rookie season with NTS Motorsports.
"We had a really fast Chevrolet tonight," Hemric commented. "We had a good truck all night and wanted to come down pit road to make one more adjustment, but track position was key. We made positive gains all weekend. It was great to get a top-five for Brennan Newberry in the 125th start for NTS."
Brandon Jones rounded out the top-five for GMS Racing, followed by Erik Jones and Matt Crafton. Crafton took the lead with 41 laps to go from Cole Custer, after Custer got hung up in a wreck with a lapped truck. The two-time champion sat through the 40-minute red flag for rain with the lead, and led till the caution with two laps to go for Ty Dillon and Ben Kennedy. It was then on the restart that he lost the lead. Tyler Reddick finished eighth to hold a six-point advantage over Crafton with nine races left on the schedule.
Cole Custer led 107 laps on the night, but with 41 laps to go, Spencer Gallagher would spin ahead of Custer, leaving him nowhere to go, getting into the side of Gallagher and causing heavy front end damage to his No. 00 Haas Automation Chevrolet. Custer pitted once the caution came out to address the damage and sat 16th when the rain fell. He would finish the race 16th.
"I really don't know what happened," Custer summarized under the red flag for rain. "I don't know if someone got into him or if he spun out. I was already committed to the top, as hard as I could there, so I couldn't do anything. It wouldn't turn it all. It's disappointing. We had a great truck.
"Rain was going to fall in two minute so we would've won the thing. Just a shame. We had a really good Haas Chevrolet, but just didn't get the finish again."