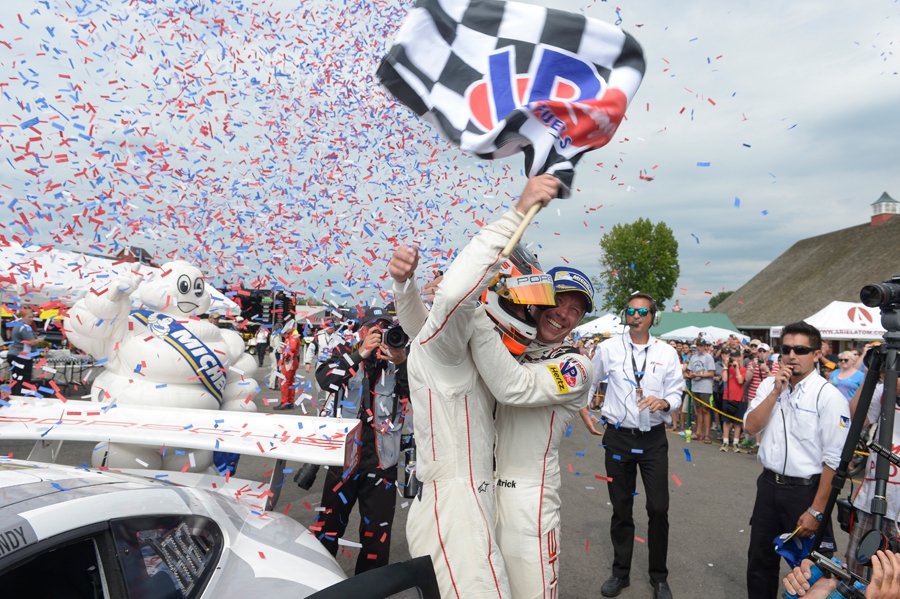 Although news has recently shifted towards the new year for sports car racing where a new series name (IMSA WeatherTech SportsCar Championship) and multiple new cars in the GT Le Mans division are among the headlines, the teams from what is currently the TUDOR United SportsCar Championship are headed to the very long, fast, and technical layout known as the Circuit of the Americas in Austin, Texas for the third running of the Lone Star Le Mans Grand Prix this weekend. Although the Hermann Tilke-designed track was built specifically to host the Formula One United States Grand Prix, the undulating course has proven a sound test for the competitors of both IMSA and the FIA World Endurance Championship. For this article, the attention is based on the North American runners, where fights for the season-long championships are all tightly bunched entering the Lone Star state capital.
In the Prototype class for instance, the top three teams on the points table are separated from top to bottom by a difference of only two points. For now, the Visitflorida.com Racing Corvette DP squad of Michael Valiante and Richard Westbrook lead the points table on the strength of wins at Laguna Seca and Watkins Glen, but have given back ground in the two most recent events, finishing no better than fourth. Taking advantage of the missed podiums has been reigning champions Action Express Racing, who have two legitimate chances to defend their crown this time around. Joao Barbosa and Christian Fittipaldi won the title for Gary Nelson's group last season, however it is the second entry driven by Eric Curran and Dane Cameron who have had the majority of positive momentum as of late. The up and coming Cameron, who dominated the GT Daytona division in 2014, has won twice in Prototype action in 2015, including the most recent round last month at Road America in Wisconsin.
The fight for title honors in Prototype Challenge has been twofold for most of the season with PR1-Mathiasen Motorsports' Tom Kimber-Smith and Mike Guasch claiming the opening two long endures at Daytona and Sebring, while 2014 champions Colin Braun and Jon Bennett of CORE autosport finished second in the first three rounds and then finally scored their lone victory to date in Canada. Entering Texas, Braun and Bennett hold a five-point lead in the title race, meaning any kind of podium result will allow to enter the season finale next month at Road Atlanta with at least a share of the top spot. However, there is a third team that is hoping to join the fight at the top in PC. That entry is Paul Gentilozzi's RSR Racing brigade of Bruno Junqueira and Chris Cumming. The duo have won twice this year at Laguna Seca and Road America. Inconsistency hurt them at the start of the year, yet they have played catchup well in the last few races.
One race after wresting away the GT Le Mans points table lead with their third straight win at Virginia International Raceway, the task to stay there has become tougher this weekend for Porsche North America. With Patrick Pilet leading the championship by five points, the team's 911 RSR will have to run at both Circuit of the Americas and at Road Atlanta carrying an extra 20 kilograms of weight. Such increases have slowed down other GT cars in the past and the with the long straightaways a plenty in the final two events of 2015, Porsche may not be the heavy favorite entering Texas that they may have once been. One team that could take advantage of the Balance of Performance change is Risi Competizione Ferrari, the essential home team this weekend with their shop based in nearby Houston. Giancarlo Fisichella and Pierre Kaffer placed best of the rest behind Porsche at both Road America and Virginia International Raceway and are only 15 points out of first.
Also hoping to become factors upfront are Corvette Racing and BMW's Rahal Letterman Lanigan Racing team. Although second and third in points, both makes have been badly outclassed by both Porsche and Ferrari in the last two rounds. Corvette's Antonio Garcia and Jan Magnussen won at Daytona and Sebring, while BMW fired back by winning at both Long Beach and Laguna Seca. Since then the tide has been on Porsche's side, with independent Team Falken Tire winning at Watkins Glen, and Porsche's factory team winning the last three. Based on the trending factors, Risi Ferrari's chances to shine could come in the final two rounds, but whether that can vault them from fourth in points to first remains to be seen.
Finally in GT Daytona, TRG-Aston Martin Racing's Christina Nielsen's hopes to become the first female driving champion in United SportsCar history is within two rounds of becoming a reality. Although she and co-driver Kuno Wittmer have yet to win an IMSA race in 2015, a consistent batch of results has given the Danish-based pilot a six-point lead on her closest pursuer. That hunter is Scuderia Corsa Ferrari, fresh off their maiden 2015 victory in Virginia. This is the second straight year pilots Townsend Bell and Bill Sweedler have had a shot at the crown after finishing second in 2014 with AIM Autosport. Although also winless in 2015, Paul Miller Racing's Audi tandem of Dion von Moltke and Christopher Haase have also relied on consistency to stay near the top throughout 2015 and are capable of a title run likewise. While not a contender for the 2015 GTD crown, reigning champions Turner Motorsport and regular frontrunner Riley Engineering are also worth a follow this weekend as their full time drivers each seek their second win of the 2015 campaign at COTA.
Stay tuned to OnPitRoad.com for full coverage of all the action from the Lone Star Le Mans Grand Prix.