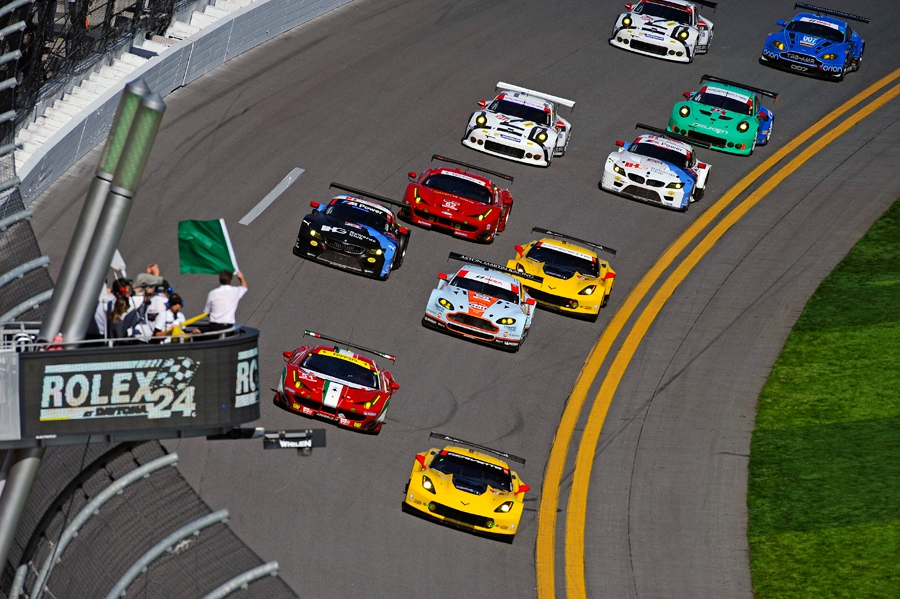 Well friends, things are starting to take form for the 2016 IMSA WeatherTech Sports Car Championship, the third season since the unification of this racing type in North America. So far at least during the silly season process to date, the 2016 changes in the GT Daytona regulations have done what was forecast. A boost in interest and players have started to come, so the mission has been accomplished at least on paper.
However, with that interest has also seen several teams start to break ranks with long-time partners. As was last revealed two weeks ago, the first of those to make a swap was Paul Miller Racing, who have parted ways with Audi to join Lamborghini in 2016, as the Italian make introduces its new Huracan challenger. However, never fear four-hoop lovers, as we begin our look at the newest info on the sports car table, there appears to be a good chance that the new Audi R8 LMS will be present at some point next season.
At this point, the most mentioned places for the German marque to make its presence in 2016 are Magnus Racing and Stevenson Motorsports. Magnus is an interesting destination since the John Potter-run and driven squad has called upon Porsches for several seasons in both the Rolex Sports Car Series and IMSA. Stevenson, which has dominated the Continental Tire Sports Car Challenge circuit the past two seasons with its pair of Chevrolet Camaros, has been eager to return to the top circuit and this may offer their best chance to do so if it comes to fruition.
So with Magnus looking elsewhere, where does this leave Porsche in the GT Daytona group? For now at least, they are still in decent form in terms of numbers. GT powerhouse Alex Job Racing/Team Seattle will enter two of the new Porsche 911 GT3-Rs, while if funding can be secured expect more to come via the return of Patrick Lindsey's Park Place Motorsports outfit and Black Swan Racing, another team looking to return to top level competition after a recent absence.
As for Lamborghini, their strength in numbers pursuit does not just include Paul Miller Racing. Two other teams from the Super Trofeo USA Championship will move over to IMSA in 2016, utilizing the new Huracan. One is O'Gara Motorsport, who have reportedly acquired the services of Bill Sweedler and Townsend Bell, who have each played a role in the GT Daytona class championship fight the past two seasons, despite driving for three different teams during that period of time. Change Racing, another new name for IMSA, is believed to be another suitor for the Italian manufacturer.
As for Bell and Sweedler's former team Scuderia Corsa, the team is expected to continue in 2016 with the older Ferrari 458, until the new GT3-spec Ferrari 488 is ready to roll into competition. An interesting driver could be in the team's plans for 2016, as Denmark's Christina Nielsen, just weeks removed from a near championship season in 2015 is being mentioned as a possible driver target. Also among other 2015 runners, Viper Exchange's Ben Keating is hopeful to possibly enter two Dodge Vipers full-time in GTD next season, so far only one is a lock at this point. Also setting its plans this week is TRG who will continue with Aston Martin, but Kevin Buckler will need to find new drivers as both his 2015 pilots will be headed elsewhere for 2016.
Moving over from GTD to the professional and factory-backed efforts in the GT Le Mans divsion, a few driver changes have been added to what appears to be a pretty much locked in car count two months out from the Rolex 24 at Daytona.
The biggest news is of course involving the new team on the block, Ford Motor Company, who with aid from Chip Ganassi Racing and Multimatic have continued their work to get their new GT challenger into competitive form. At this point, it appears likely that both Joey Hand and Richard Westbrook are almost certain to be included in some form with the project next season, while Marino Franchitti and Ryan Briscoe, among others have been mentioned likewise. Either way, the driving teams will be strong, the question for success now lays solely on the speed and durability of the car itself.
As for others in the queue, it looks as if 2014 GTLM Driver's champion Kuno Wittmer will return to the division in a limited role in 2016 with Rahal Letterman Lanigan Racing as they debut their new BMW M6, while questions center around whether Dirk Muller will return next season with Rahal, as he is another often mentioned driver in the new Ford GT project.
While most of the 2015 GTLM fleet should be back, it appears that the ex-Falken Porsche of Derrick Walker will not be retained in some form this upcoming campaign. While their absence will be noticed, it appears that Walker's two drivers from 2015, Bryan Sellers and Wolf Henzler could be back in some form in IMSA in 2016. The American-based Sellers appears to have something in the cards already, although nothing has been revealed in terms of the class or the team involved at this point.
Well, that gets you up to speed on the current grand touring climate two months out from the opening of the 2016 IMSA campaign. Later this week at OnPitRoad.com, I will delve into the latest developments on the Prototype/Prototype Challenge side of the coin.