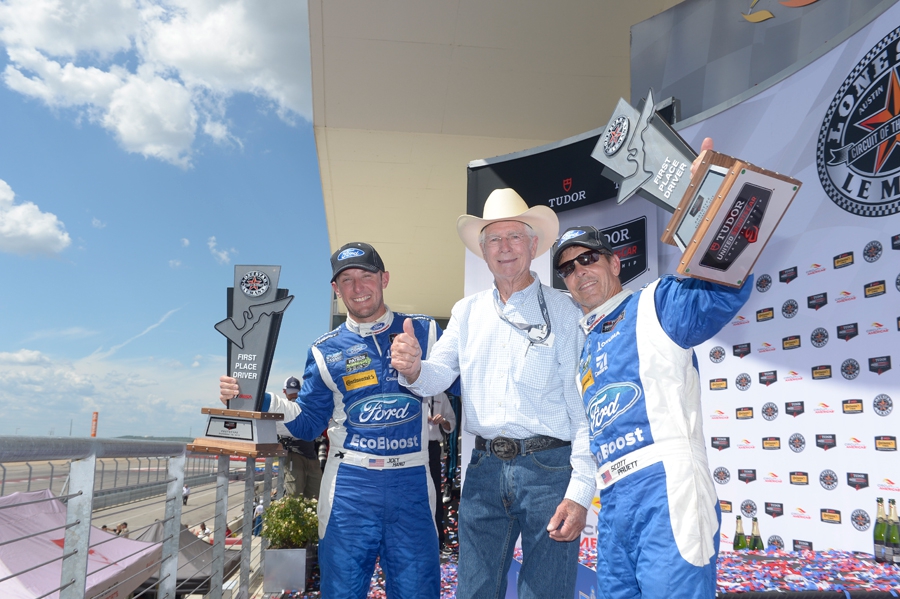 It is amazing how sometimes the actions of one person can influence a sport so much. In the case of the last ten to twelve years in sports car racing competition in North America, there may not be a more successful American driver than Scott Pruett. Already a three-time SCCA Trans-Am champion and twice an IMSA GTO (essentially what GT Le Mans is now) title holder, the California native made the biggest splash of his sports car career when he joined forces in 2003 with Chip Ganassi Racing, during the first year of the new Daytona Prototype formula.
Thirteen years, plus five Rolex Sports Car Series and five Rolex 24 at Daytona overall wins later, the now 55-year old veteran, who also won twice on the former ChampCar World Series circuit is now supposedly one of the top free agents on the sports car racing market during the 2016 IMSA silly season. Initially however, such a situation a few months ago seemed virtually impossible. When it was officially revealed this past June that Chip Ganassi Racing's operation was switching over from the Prototype division to the GT Le Mans class to run Ford's new GT challenger, it was almost a lock in the minds of most experts that Pruett would be part of the package. In addition to his success at Daytona, Pruett also claimed a GT-1 class victory at Le Mans with Corvette Racing in 2001, and with part of the deal being an appearance at Le Mans in 2016 his presence seemed assured.
However, Pruett had a different target. With the chance to become Daytona's only six-time overall winner on the horizon, the veteran suddenly began looking for a way to at least get one more chance at another Rolex chronometer. At first, the logical option was to enter Ganassi's existing Ford EcoBoost-powered Riley DP, possibly with co-drivers from CGR's NASCAR and IndyCar teams joining him in support. Instead, Pruett began to look at other existing teams and if rumors are to be believed, the American could now be a driver, for a team that recently was one of his greatest rivals.
Gary Nelson's Action Express Racing, which has won two consecutive IMSA WeatherTech SportsCar Championships, is believed to be the squad that may incorporate Pruett into its primary Chevrolet Corvette DP's driver lineup, at least for the 2016 North American Endurance Cup rounds. With AXR reportedly on the verge of losing their current third driver Sebastien Bourdais to Ganassi's Ford GT project, the addition of Pruett to join full timers Christian Fittipaldi and Joao Barbosa would seem to form yet another dream team lineup of sorts. If confirmed, this trio would enter the 2016 Rolex 24 at Daytona with nine overall wins combined, probably the most of any entry expected to participate in January.
Although rumor and reality are two different propositions, the move if done would lock up the remainder of Scott Pruett's racing plan for 2016 as he has already been confirmed to join Lexus' new GT Daytona program, when it goes online following the Le Mans break.
While the future destination for Scott Pruett has suddenly become the big story during the IMSA Prototype silly season, there are three others news makers that have also gained steam over the last few weeks.
-After just missing out on the 2015 IMSA Prototype championship, Visitflorida.com Racing is sticking with the Chevrolet Corvette DP for 2016, but a new driving duo is required. Richard Westbrook has left Troy Flis' organization to reportedly join Ganassi in GTLM, while the team and Michael Valiante have also elected to part ways. The organization is reportedly seeking overseas help to fill the roster for 2016 and while no drivers have been mentioned by name, one candidate in the running could be former Audi LMP-1 driver Mike Rockenfeller, who has driven for VFR in the NAEC events the past two seasons.
-Michael Shank Racing continues its quest this off season to add a second Ligier-Honda coupe to its fleet in 2016, however a new name has surfaced that could draw some extra attention to the outfit if the deal can be struck. A second car could be the key to the return of Mexico's Memo Gidley to the cockpit of a sports car for the first time since his terrible crash at Daytona two years ago. The veteran has made significant progress over the past year and has said he is close to being ready to return to action soon. Although he may not be the center of discussion for the second ride, American teenage prospect Matt McMurry could still be in the mix to join Gidley in this entry as well.
-After trying their luck in the FIA World Endurance Championship in 2015, Morand Racing could also be looking at making a run in at least the North American Endurance Cup rounds in 2016. The team would likely use the same Morgan LMP2 Evo open top prototype it has used this season in Europe. No drivers have been linked to the team at this point. The last time a Morgan participated in IMSA was during the 2014 season in the hands of OAK Racing, prior to the constructor focusing solely on building, rather than racing sports cars.
Stay tuned to OnPitRoad.com for further updates during the 2016 IMSA silly season.