NKNPSW: Gragson Named Sunoco Rookie Of The Year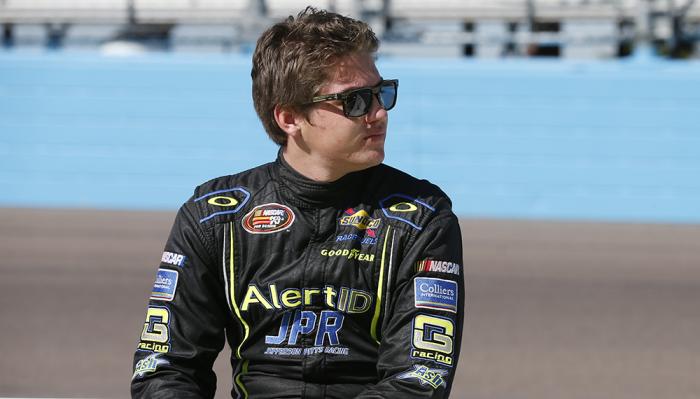 Beats Teammate Raz For K&N Pro Series West Award
DAYTONA BEACH, Fla. – Noah Gragson didn't take long in establishing himself as one of the drivers to beat this season in the NASCAR K&N Pro Series West.
The 17-year old from Las Vegas, Nevada, kicked off his rookie campaign with a third-place finish in the season opener, and proceeded to battle it out with eventual champion Chris Eggleston as well as Ryan Partridge and Gracin Raz all year.
Gragson won his first NASCAR K&N Pro Series West race on May 5 at Arizona's Tucson Speedway and sat atop the standings four different times this season en route to securing the 2015 Sunoco Rookie of the Year honors.
He finished with two wins, seven top fives, 11 top 10s, and second place in the championship standings in his first year competing in a stock car.
"I went into this season not knowing what to expect," said Gragson. "A consistent struggle this year for me was qualifying, but we were good at the end of races and my team was great at coming up with good race setups."
The Jefferson Pitts Racing (JPR) driver, became the ninth competitor to finish as the series runner-up and earn the Sunoco Rookie of the Year honors in the same year. Only two drivers have won both the title and the top rookie honors in the same year, Lance Hooper (1996) and Scott Lynch (2003).
The 2015 season saw 41 talented rookie drivers vying for the elite title in the K&N West, including Gragson's teammate Gracin Raz, who finished second in the Sunoco Rookie of the Year battle.
"There was a lot of rookie talent this year in the K&N Pro Series West." Gragson said. "It was a definite challenge to go to the track and try to beat rookies such as Gracin Raz, Ryan Partridge and Nicole Behar. I learned a lot from this season and from the rookie class. I hope to keep doing so."
Gragson's toughest rookie competitor was Raz. Prior to the finale at Phoenix International Raceway, they were separated by only one point (94-93) in the rookie standings.
"It's been really cool battling with Gracin every week," said Gragson. "We're good friends and we both wanted this award. To win it is an honor, but if I had to lose to anyone, I'd want it to be to Gracin. I think we both proved how strong JPR is and how we're one team and one family."
The highest finishing rookie in a race receives 10 points, second receives nine, third gets eight and so on. Gragson finished 14th at Phoenix – eighth among rookies – while Raz finished 24th, to win the award by four points (98-94).
Gragson will be formally recognized as the 2015 Sunoco Rookie of the Year at the NASCAR Touring Series Awards on Saturday, Dec. 12 at the Charlotte (North Carolina) Convention Center at the NASCAR Hall of Fame.