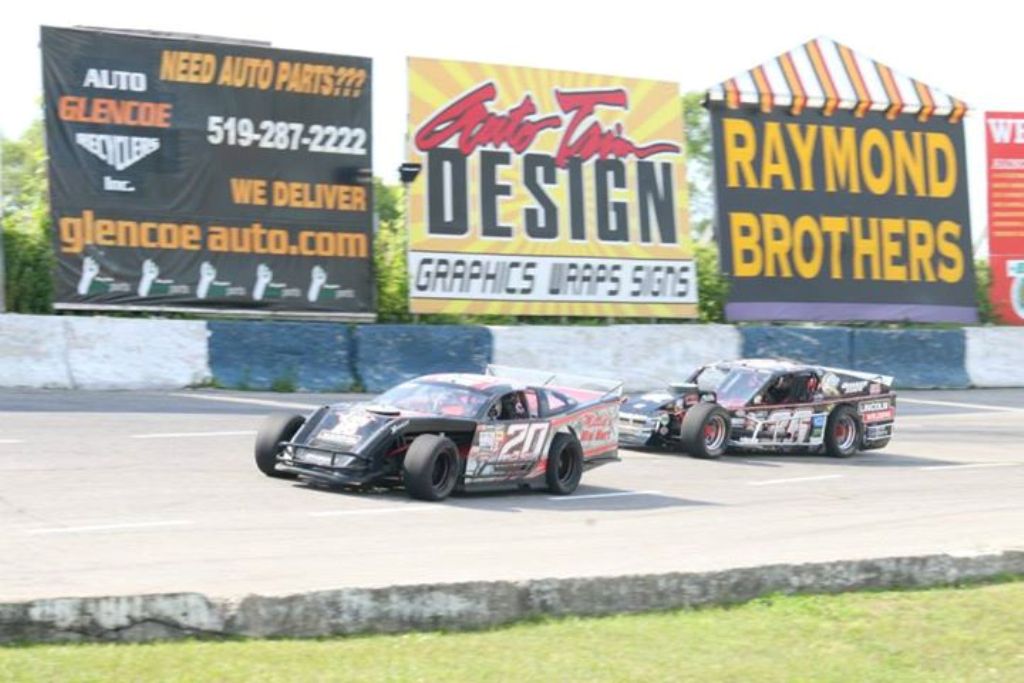 It goes without saying that each season at any track is memorable for it's own reasons as there's things that will always stand out in the mind of each driver, crew member, official and fan. Sometimes people will share the same moments, and sometimes people won't. Regardless, there are always reasons to remember a year of racing.
As we look back at the 2015 season, here are some of the most memorable moments from the Hoosier OSCAAR Modified season.
Driver Submitted Memory: All of them….lol – Gary McLean
It's no secret that Gary McLean had another incredible season – after all, he won the 2015 series championship and his fourth straight. His season statistics across the board are top-notch with seven victories and 10 top-10s in the 12 events.
RELATED: Hoosier OSCAAR Modified Season By The Numbers
Going through McLean's season, the race that stood out for me was the Velocity 250 at Sunset Speedway. McLean showed top-notch patience throughout the race, waiting for the event to come to him in making the moves when they counted and as the holes opened up. It all worked out perfectly as he was able to make the right pass at the right moment on the late race restart to seize the victory.
RELATED: Gary McLeans Scores Hoosier Modified Velocity 250 Victory at Sunset Speedway
In speaking with McLean, there was a couple that he pointed out from the season, ranging from the Rick Woolner Memorial due to the prestige and history of that event, along with the Great Canadian weekend victory at Delaware Speedway.
"The Great Canadian weekend at Delaware was pretty cool as well cause everyone said there was no way a little crate was ever going to be competitive on the 1/2 mile," he commented. "I kinda like to think we put an exclamation point on that one."
There was also the Chase for the Colours victory at Peterborough  as he won that race with a broken hand; the victory also kicked off a remarkable stretch of races that included five wins and a fifth, which certainly was important in winning the championship.
John Baker Jr. Breaks Through at Peterborough Speedway
After years of success in the thunder car ranks, John Baker Jr. made the next move of his career in 2015, moving up to the Hoosier OSCAAR Modified season.
The beginning of the season certainly didn't start how Baker would've preferred, with only one top-six finish in the first three races. However, as the year went on, he was able to find his groove, with seven top-10s through the summer, including a pair of runner-up finishes.
Everything for Baker would come together as the season came to close as he would score the victory at the Autumn Colours Classic after grabbing the lead with 11 laps to go. It also wasn't an easy fluid race for Baker Jr. as he had to restart at the back of the field after being deemed as an involved car in the initial wreck of the feature.
RELATED: John Baker Jr. Scores ACC Victory; Gary McLean Crowned Modified Champion
With Baker Jr. scoring his first career OSCAAR victory, the fans got treated to a short track favourite form of entertainment, with a Baker Jr. post-race interview.
Driver Submitted Memory: The crashes this season were ones to remember for sure, along with the close racing in all three divisions! – Wally Wilson
Wally Wilson brings up a solid point as there was excitement across the board from a positive end to a unfortunate end.
Each event featured side-by-side racing throughout the field for positions with some of the races coming down to a late-race battle, virtue of a late-race restart on a couple occasions. There were also some close finishes mixed in during the heat races, with drivers being beaten to the checkered flag by mere inches by their fellow competitor. With 19 different drivers scoring a heat victory, the diversity and growth in the division was certainly experienced.
"I'd say for the most part the whole tour has done really well this year," McLean commented at Peterborough Speedway. "They've had a lot of new teams that have come in and they're working hard to get faster every week and we've had 20 cars. I think it's going pretty good."
Though while there was top-shelf action, there was also some not so pretty moments. There was a scary moment at Sauble Speedway mid-summer when Ryan Dick would flip his modified over following contact on the frontstretch. Thankfully, Dick was uninjured and able to put another car together to run two events before the year closed out. Dan Price also had a hard wreck at Delaware Speedway that caused heavy front-end damage, but was able to get it fixed and return to the schedule with only a single-week missed. Lastly, there was also the massive pile-up on the frontstretch at Sunset Speedway virtue of lap cars and lead lap cars getting tangled up together.
John Harper Breaks Through
One of the most incredible sights to be had in racing – a brand new face in victory lane. The Hoosier OSCAAR Modified fans got to witness that in 2015 in a special way as series veteran John Harper scored his first career victory at Flamboro Speedway at the end of August.
Restarting on the front row alongside Matt Barton at the halfway point, Harper would battle back and forth with Barton over the next several lap before taking the lead and leading the rest of the way en route to scoring the victory.
Harper also proved this season that he isn't a one-hit wonder, either, scoring four other top-five finishes, including a runner-up at Sunset Speedway a week prior to scoring the victory. It goes without saying that Harper has certainly followed the rule of improving each year, and it was great to see all of his hard work pay off.
RELATED: 10th in Hoosier OSCAAR Modified Points – John Harper
Beyond the moments here, there are certainly many more that I could talk about, including some thrilling battles that we haven't touched on and other driver successes. If warranted, a part two of memorable moments could be released following the other division articles – which I can almost 99% guarantee that there will be that second article.
However, beyond this, I want you to have a say as well. Comment with your favourite memorable moments from the season. What is something that perhaps has slipped my mind that you can't seem to forget?