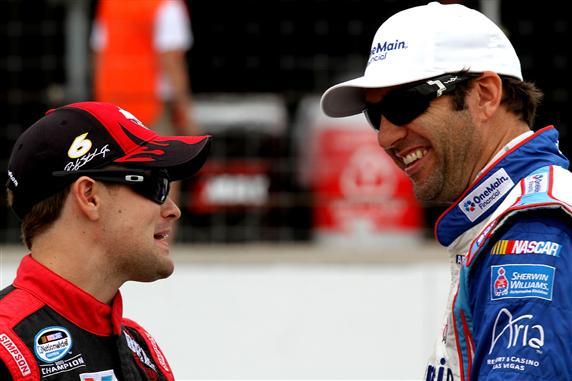 Will be Associate Sponsor of New Elliott Sadler Team
BALTIMORE, MD – The Northeastern Supply Company will mark its 23rd consecutive year of NASCAR Xfinity Series team sponsorship in 2016 by remaining with JR Motorsports for a 4th season as an associate sponsor of veteran Emporia, Virginia driver Elliott Sadler and the new OneMain Financial Chevrolet race team.
Northeastern had sponsored Regan Smith and the #7 Chevrolet Team from JRM the last three seasons. Smith registered five wins during that time frame and was a contender for the Series Championship in all three campaigns. With Smith's departure from the team, Sadler will take over as the new veteran driver. Justin Allgaier joins Sadler at JRM to drive the #7 BRANDT Chevrolet after two seasons in the NASCAR Sprint Cup Series. It gives JRM two teams competing for an Xfinity Series championship.
Sadler will have a first-year crew chief on the pit box in 2016. Kevin Meendering, a 34-year-old native of Grand Rapids, Michigan, comes to JRM from Hendrick Motorsports where he has been an employee since 1999. Meendering spent the last five seasons as the lead engineer for Dale Earnhardt, Jr. and the #88 Chevrolet in the Sprint Cup Series.
The addition of Sadler and OneMain Financial supplants Chase Elliott's move to the Sprint Cup Series beginning next season and the #9 Chevrolet. Elliott is the 2014 Xfinity Series champion and departs JRM for Hendrick Motorsports, replacing the retiring Jeff Gordon in the iconic #24 Chevy.
"The impressive list of top notch Xfinity Series drivers that our company has supported over the years continues to grow and we are excited to add Elliott Sadler to it," said Northeastern Supply President/CEO Steve Cook.
"Our customers have proven to be big race fans, and I believe offering them such talented drivers as Elliott Sadler to support that love is important. We are looking forward to having Elliott join our customer activities at the race track next season and to carry our company logo proudly on the track while competing for victories and an Xfinity Series title," Cook added.
The 40-year-old Sadler first competed in the Xfinity Series in 1995 and was considered a hot commodity as a young, up-and-coming driver then. Sadler raced full time in the Series for two years (1997 and 1998) before moving onto the Sprint Cup circuit as part of a fairly successful, 18-year NASCAR racing career. He has been a full-time driver on the Xfinity circuit in seven of those years, the last one being this current season driving Fords for Roush-Fenway Racing after stints with Richard Childress Racing (2012) and Joe Gibbs Racing (2013-14).
Sadler competed full-time in the Sprint Cup Series for nine seasons before returning to the Xfinity Series in 2011. He has claimed 10 Xfinity Series victories, 66 top five and 148 top ten finishes in 296 career starts to date and finished second in the Driver Championship Points battle in 2011 and 2012. He finished 6th in points this year.
"I'm looking forward to partnering with the Northeastern Supply team in 2016," Sadler said. "They have been a long-time partner of JR Motorsports and I'm thrilled for the opportunity to build that relationship throughout the season and to get them back to Victory Lane."
Sadler is the younger brother of former Xfinity Series driver Hermie Sadler who is a FOX-TV NASCAR race broadcaster and analyst.
About Northeastern Supply
The Northeastern Supply Company is a privately-owned and leading regional distributor of plumbing, heating, air conditioning, HVAC, water systems and hardware products in five states (Maryland, Delaware, Virginia, West Virginia and Pennsylvania) and the District of Columbia. The company features 31 sales branches, two Design Showcase locations and a central distribution warehouse in Aberdeen, MD. The company has been using the power and popularity of NASCAR stock car racing sponsorship for the last 20 years to reinforce existing business relationships and nurture new ones. The program is one of several marketing and promotional activities, plus acquisitions, that have helped to increase Northeastern Supply's business from a 5-branch, 2-state model in 1993 to its current composition.
About JR Motorsports
Based in Mooresville, NC, JR Motorsports is the management company and racing operation for Dale Earnhardt, Jr., NASCAR's 10-time Most Popular Driver and winner of more than 40 NASCAR-sanctioned races. JR Motorsports competes in multiple racing divisions, including the NASCAR Nationwide Series in which it has earned 12 victories since its inception in 2007. In 2012, the JRM late model program won the track title at Motor Mile Speedway with driver Josh Berry, giving the company its first championship. To learn more about the organization, its drivers and its sponsorship opportunities, visit www.jrmracing.