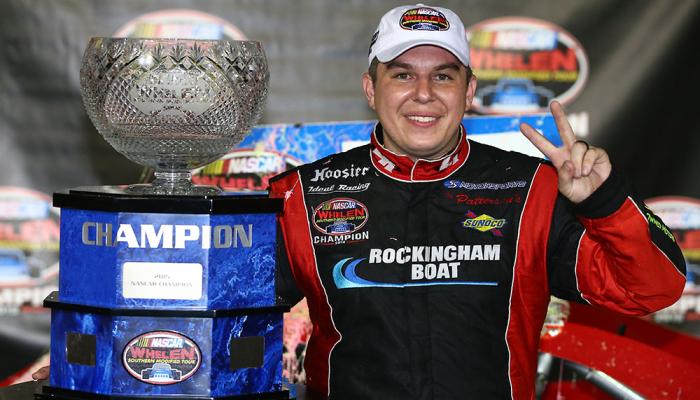 Third Driver To Win Back-To-Back Whelen Southern Mod Titles
DAYTONA BEACH, Fla. – Looking back one year ago, Andy Seuss was going through mixed emotions.
He had just won his first NASCAR Whelen Southern Modified Tour championship, recently gotten engaged to girlfriend Jenn Demarco and was preparing to accept his award along with car owner and crew chief Eddie Harvey.
Fast forward one year and while some things have changed for Seuss, one thing remains the same – he's a champion again.
Seuss married Jenn in June, rebounded from a rough start to the 2016 season and will once again step up on stage Saturday night as a NASCAR champion.
The 28 year-old credits some of those changes during the season for helping him and his team rebound this season.
"It was a great year obviously for me on and off the track especially from midway on," Seuss said. "Jenn and I got married in June and my season really turned around after our wedding so I have to give her some credit for our turnaround."
Seuss finished in last place in the season opener in March after getting collected in an early-race accident. It was his first showing at the bottom of the results since 2012 and just the fifth time in his career of 104 starts.
It didn't take long for the Harvey-led crew to help him turn things around as they drove the No. 11 Ideal Finance/Northeast Race Cars Chevrolet back to Victory Lane two weeks later at Caraway Speedway in Sophia, North Carolina.
"Eddie and all the guys on the crew did a great job getting the car ready and our team prepared to race for the win the next time out," Seuss said. "We had a great race at Caraway to get the win but then we still had some trouble."
At South Boston Speedway in Virginia a couple of weeks later Seuss was involved in another race accident and finished 16th.
After that incident, Seuss felt they might have fallen too far behind in the points standings to repeat as champions.
"Last year there was a lot of pressure on the entire team because we knew everybody was gunning for us each week when we had the lead in the points," he said. "After (South Boston accident) we just decided to focus on winning races and didn't even think about the points and that took the pressure off of us and we had a lot of fun."
The Hampstead, New Hampshire, native who now calls Salisbury, North Carolina home knew his team wouldn't stop working hard no matter where they stood in the standings.
"That's the great thing about this team in that they never give up," Seuss said. "After we fell way back in the points, someone said well you might as well take a race off and I wasn't about too because no one on this team quits and I wasn't either."
The team, led by Harvey along with Reggie Newman, Justin Wells, Jimmy Harvey, Steve Seuss, Mike Paris, T.J. Moran, Sammy Williams, Paul Farmer and Charli Brown rebounded after the accident at South Boston in April and went to work and it paid dividends.
Over the next seven races, Seuss didn't finish lower than seventh and picked up a pair of wins at Bristol and the fall return trip to South Boston. It was after the last win it dawned on him that he had a chance to join Junior Miller and George Brunnhoelzl III as a back-to-back champion.
"I didn't even realize we had the points lead until after we won South Boston in September because I honestly thought we didn't have a chance of catching up," he said. "Once we realized we had a chance we went to work even harder to close out the season and get that trophy."
Seuss finished sixth to edge George Brunnhoelzl III in the closest points battle in the history of the NASCAR Whelen Southern Modified Tour to win the title and the success he's enjoyed still amazes the second generation driver.
"I've been so blessed driving because I feel I've been fortunate enough to exceed every goal I set out to achieve when my family and I decided to come down south years ago and race," Seuss said. "I just wanted a shot to prove to myself I was able to race and compete for wins much less championships."
Seuss is second to only Brunnhoelzl in career tour wins and while he's accomplished every goal he set when he began racing in the division full-time in 2008, he's already thinking ahead for the next challenge for he and his team.
"We've decided to update our equipment and make some changes with the chassis we will run next year so we are ready for a new challenge and we're going to keep going after wins and run up front as much as possible," Seuss said. "I can't wait to get going but first we're going to celebrate a little this weekend first."
Connecticut-based Whelen Engineering is the series' title sponsor. Whelen Engineering is a leading manufacturer of automotive, aviation, industrial and emergency lighting. NASCAR tracks and pace cars are among the many showcases for Whelen products.
Car owner and crew chief Eddie Harvey (left) and Andy Seuss celebrate with their team after winning the 2015 NASCAR Whelen Southern Modified Tour championship. Getty Images for NASCAR