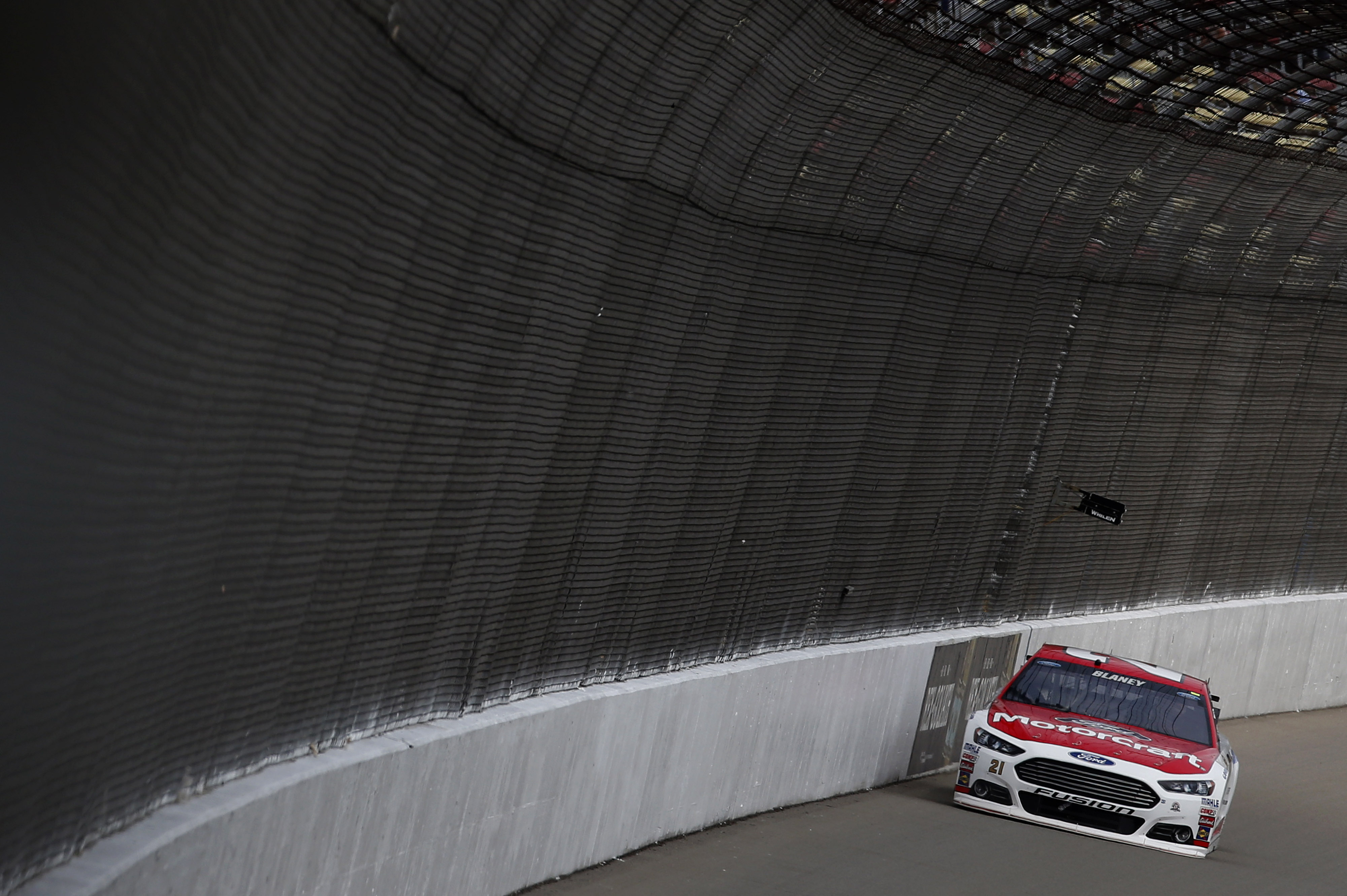 Motorcraft/Quick Lane Team Learns from Rollercoaster 2015;
Looks Forward to a Racing for a Place in the Chase in 2016
To say the 2015 NASCAR Sprint Cup season was a rollercoaster ride for Motorcraft/Quick Lane Ford Fusion rookie driver Ryan Blaney and first-year crew chief Jeremy Bullins would be an understatement.
A top-five, two top 10s, four top 15s and six top 20 finishes go with four engine failures, a crash and three qualifying rainouts in 19 attempts to make 2015 worthy of an attraction at any amusement park in Blaney's native Ohio.
DEARBORN, Mich., December 9, 2015 – To say the 2015 NASCAR Sprint Cup season was a rollercoaster ride for Motorcraft/Quick Lane Ford Fusion rookie driver Ryan Blaney and first-year crew chief Jeremy Bullins would be an understatement.
A top five, two top 10s, four top 15s and six top 20 finishes go with four engine failures, a crash and three qualifying rainouts in 19 attempts to make 2015 worthy of an attraction at any amusement park in Blaney's native Ohio.
"This was an up-and-down season for us, for sure, between having some issues on the track and rain not being our friend this year," Blaney recalled. "On the good side of things, we did have fast race cars when we are able to race. That's something to be very proud of as a part- time team."
Eddie Wood, one of the team's co-owners, said, "We were competitive this year with the Team Penske technical alliance and with Ryan and Jeremy, who had championship experiences together in the NASCAR XFINITY series."
The Wood Brothers' iconic No. 21's best finish was in the May Talladega race when it qualified third and finished fourth.
"Finishing fourth at Talladega was a great boost for our team," Blaney said.
"We went to Talladega and were able to clock in third there during qualifying," Bullins recalled. "We ran up front all day and wound up fourth. It was a good, solid day. It showed where our speedway cars are to run that strong, that's for sure."
The crew chief, however, was more impressed with the Motorcraft/Quick Lane Ford's performance at the fall Kansas race.
"The fourth at Talladega was our best result, but you have to take it with a grain of salt because it's a speedway," Bullins said. "To me, seventh at Kansas is our best result because there's so many things you can't control at Talladega. When you can run in the top 10 or top five at an intermediate track it shows more of what you're capable of throughout the day.
"At Kansas we had a really good qualifying effort: First in the second round and wound up eighth in the third round, but still we were really close to being on the front row," he continued. "We ran up front all day and finished seventh."
Making the Kansas result all the more impressive was that it came in the midst of the Chase for the NASCAR Sprint Cup Championship.
"Going to Kansas in a Chase race, where you know everyone has their best stuff and running seventh was something to be proud of," Blaney said.
Another 2015 highlight was the Brickyard 400, where Blaney and company didn't qualify well yet managed to greet the checkered flag in 12th.
"At Indy we qualified 30th, which was disappointing because we all thought we'd do better than that," Bullins said. "We played catch up all day there but the good news was we used strategy and had a good car and got up to 12th before the end of it, and we could have been better than that. I look forward to going back."
The rollercoaster ride's down segments came when engines failed during the season-opening Daytona 500, at the spring Texas race, the Coca-Cola 600 and the fall Talladega race.
"Daytona was a good weekend," Bullins recalled. "We had to race our way in through the 150s. We started 12th after finishing 6th in the 150. We had a top 10 car. We ran in the front of the pack a lot. We got some damage early on, came down pit road and fixed it. We drove ourselves back to the front and were having a good day before the engine let go.
"At Talladega we qualified ninth, again ran up front all day and in position to maintain up front, everything was going like we wanted it to, then had an engine failure so we finished 43rd,," he continued. "That was disappointing because it was a place we showed we could run up front earlier in the year and felt like we were headed for a good day."
Other misfortune visited on the Wood Brothers team during its record-setting 65th year of competition was an accident that ended the second Texas race and three qualifying rainouts that prevented the Motorcraft/Quick Lane car from competing.
Despite the difficulties, the team kept moving forward, largely due to the leadership of Bullins.
"The thing you have to do is take the weekends one at a time regardless of the outcome," he said, explaining his philosophy. "You know the next one's coming. You build from the good and learn from the bad. You don't ever get too high or too low. It makes it easier to deal with something like a blown engine especially since we didn't have that happen when we were running 42nd, we were usually up front. So you put the blinders on and go from there."
Blaney also has an attitude that reflects his crew chief. "There were some unfortunate weekends for us, but the way we rebounded from those weekends is what makes us a great team," he said. "You can't dwell on the previous week. You always have to look forward even when it's a bad week."
While Blaney admitted to making "many" mistakes during his inaugural Sprint Cup season, he looks at them as events from which to learn.
"I got caught speeding on pit road a couple times and that puts you in a bad position," Blaney remembered. "Most recently was in Texas when we had a great car and I hit the wall before lap 20 and ruined our day. That was a good learning tool for me to be patient."
Bullins is more understanding of what his driver went through in 2015.
"People don't understand how difficult it is for him to not be in the car every week and try to do this," he explained. "It's a big advantage for the guys who do this every week. You're building on what you do every week and gaining momentum. When you look at how the performance got better toward the end of the season, that's a big deal because he wasn't doing it every week. Going to Darlington and getting better every qualifying round where tire drop off is a big thing says a lot about how far he's come.
"He established himself and the team established itself as being able to be competitive and have speed," the crew chief continued. "If you have that, that's the hardest part. The rest of it is just putting races together. Everywhere we went we were a top 15 car and a lot of times we were a top 10 car. It's just a matter of building on that."
Team co-owner Eddie Wood also said he was pleased with Blaney's performance.
"We weren't necessarily expecting the maturity Ryan showed as a driver," Wood said. "He may be only 21 years old but because he's been racing since he was 8, he drives like a 35-year-old veteran. Even when we ran into bad luck on the track or with the weather, the car was always fast and it generally came back in one piece, which as an owner you appreciate a lot."
Blaney's and the team's performance in 2015 bodes well for their return to full-time completion in 2016, starting with the Daytona 500 in February.
"We're certainly heading in the right direction," Bullins said. "We're looking forward to next year and the opportunity to race those guys for a championship."
Blaney agrees with Bullins' target for next season, "That's the goal for 2016, to make the Chase. That's every team's goal. I feel like we have a really good chance with the people we have, with hard work and consistency it's a possibility."
About Motorcraft
Motorcraft® offers a complete line of replacement parts that are recommended and approved by Ford Motor Company. From routine maintenance to under-hood repairs, Motorcraft parts offer exceptional value with the highest quality and right fit at competitive prices. Motorcraft parts are available nationwide at Ford and Lincoln dealers, independent distributors and automotive parts retailers are backed by Ford Motor Company's two-year, unlimited-miles Service Parts Limited Warranty. Ask for Motorcraft by name when you visit your local auto parts store or your favorite service facility. For more information, visit www.motorcraft.com.
About Quick Lane Tire & Auto Centers
Quick Lane® provides automotive quick services for all makes and models. Quick Lane's nationwide network of more than 700 facilities, each providing the convenience of an aftermarket company (no appointment necessary, service while you wait, evening and weekend hours, competitive prices) with the confidence of a major automotive manufacturer (quality parts, factory-trained, technicians). In addition to offering trusted parts from Motorcraft, Quick Lane Tire & Auto Centers offers brand-name tires from Goodyear, Continental, Michelin and others. Quick Lane® is a registered trademark of Ford Motor Company. For more information, visit www.quicklane.com
Wood Brothers Racing
Wood Brothers Racing was formed in 1950 in Stuart, Va., by Hall of Famer Glen Wood. Wood Brothers Racing is the oldest active team and one of the winningest teams in NASCAR history. Since its founding, the team won 98 races (including at least one race in every decade for the last seven decades) and 117 poles in NASCAR's top-tier series. Fielding only Ford products for its entire history, the Wood Brothers own the longest association of any motorsports team with a single manufacturer. Glen's brother, Leonard, is known for inventing the modern pit stop. The team currently runs the Motorcraft/Quick Lane Ford Fusion driven by Ryan Blaney in the famous No. 21 racecar.