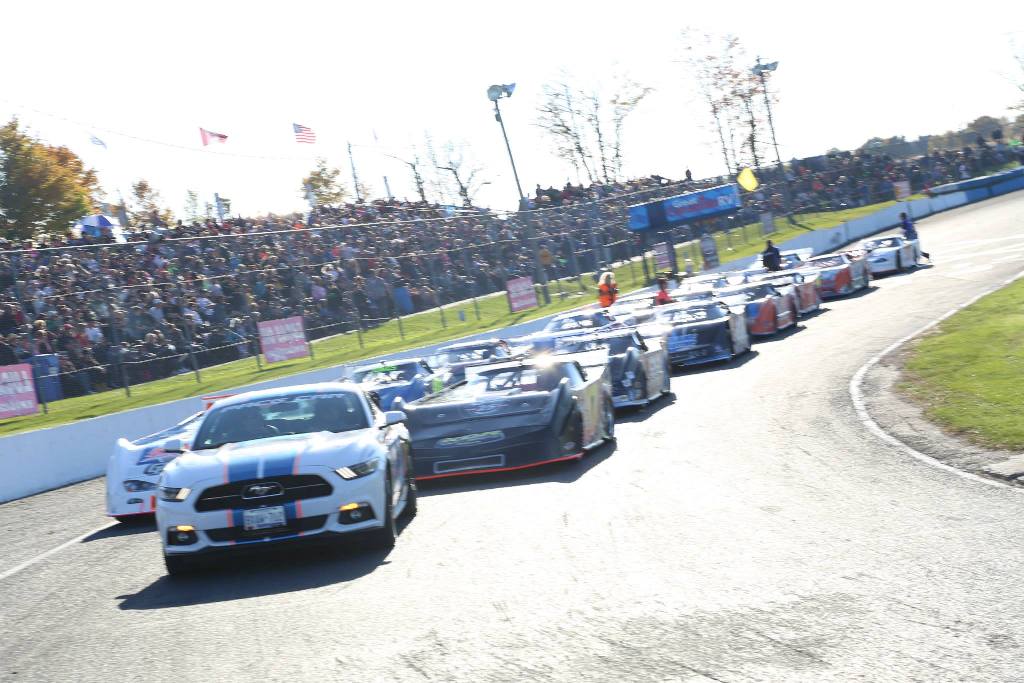 The planning has already begun for the 2016 season, and another page in the book was written today. The Ontario Stock Car Association of Asphalt Racers, simply known to race fans as OSCAAR, released their 2016 season schedule on Thursday, December 10 for competitors and fans to check out.
Set for their 26th season of competition, OSCAAR is offering a record  $241,000 in posted award for drivers in all three divisions, across a total of 36 main events. The OSCAAR Outlaw Super Late Models will run 10 races, with the Modifieds running 14 and the Midgets running 15.
The new season will kick off at Flamboro Speedway on May 21 and 22 on the Victoria Day long weekend, with a pair of action-packed days. The Outlaw Super Laet Models will run a full program on May 21 including a 50-lap feature, while the Modifeds and Midget qualify on Saturday before returning on the Sunday for their features.
Flamboro made it's return to the OSCAAR schedule last year, hosting a successful event at the end of August. The success of the event has resulted in Flamboro hosting four events for the 2016 season. One of those events is the Don Biederman Memorial, which will take place on August 6. A crown jewel event for all of the Super Late Model competitors, it is certainly a victory that all the drivers will be vying for.
As with previous seasons, each of the division champions will be crowned on Thanksgiving weekend in October as part of the Autumn Colours Classic at Peterborough Speedway, which runs across three days and features a multitude of different racing divisions. Peterborough will play a big part in the 2016 schedule, hosting each of the three divisions on multiple occasions. While the Classic is certainly the biggest race of the season, the Chase for the Colours event on July 30 will certainly mark an important date, as drivers try to finish in the top-two to start on the front row for the Classic.
Certainly between the May event at Flamboro and the October event at Peterborough, there will action for fans to take in across the province at a variety of race tracks, from the tight 1/4 mile of Full Throttle Motor Speedway and 1/5 mile of Grand Bend Speedway, to the wide space that Delaware's half-mile oval and Sauble's 1/4 mile oval.
No matter where fans take in the action, they will be delivered a show full of excitement.
2016 OSCAAR Schedule
May 2016
May 10
May 21 Flamboro Speedway – Midgets & Mods qualifying, Outlaws 50 laps
May 22 Flamboro Speedway – Midgets 25 laps, Mods30 laps
May 28 Peterborough Speedway – Midgets 25 laps
June 2016
June 3 Delaware Speedway ISMA- Mods 30 laps, $1000.00 to win
June 4 Grand Bend Speedway – Midgets 25 laps
June 11 Full Throttle Speedway – Midgets 25 laps, Mods 30 laps
June 18 Flamboro Speedway – Midgets 25 laps, Mods 30 laps, Outlaws 50 laps
July 2016
July 1 Sauble Speedway – Midgets 25 laps Mods 30 laps
July 9 Flamboro Speedway – Midgets 25 laps, Mods 30 laps, Outlaws 50 laps
July 22 Delaware Speedway – Mods 30 laps $1000 to win, Outlaws 50 laps
July 23 Grand Bend Speedway –Midgets 25 laps
July 30 Peterborough Speedway (Chase for the Colours)
Midgets 25 laps, Mods 30 laps, Outlaws 50 laps
August 2016
August 6 Flamboro Speedway Biederman Memorial Midgets 25 laps, Mods 30 laps, Outlaws 50 laps
August 19 Delaware Speedway ISMA- Mods 30 laps $1000.00 to win
August 20 Grand Bend Speedway Midgets 30 laps
August 27 Sauble Speedway – Midgets 30 laps Mods 30 laps, Outlaws 50 laps
September 2016
September 3 Peterborough Speedway – Outlaws 50 laps
September 10 Full Throttle Speedway – Midgets 25 laps, Mods 50 laps, Outlaw Exhibition Race
October 2016
October 1 Flamboro Speedway Oktoberfest Midgets 25 laps, Mods qualifying
October 2 Flamboro Speedway Oktoberfest Mods 50 laps $800.00 to win
October 7 Peterborough Speedway Autumn Colours – Mods qualifying
October 8 Peterborough Speedway – Midgets 25 laps, Mods – Outlaws qualifying
October 9 Peterborough Speedway – Mods 50 laps, Outlaws – 50 laps