ARCA: Another Rookie, Chase Briscoe Signs with Cunningham Motorsports for the 2016 Season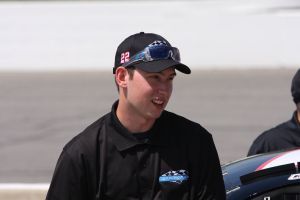 Mooresville, N. C. – December 10, 2015 – Chase Briscoe has a lot to be thankful for during this holiday season. Kerry Scherer, co-owner of Cunningham Motorsports announced today that the Mitchell, Indiana resident will pilot the No. 77 during the 2016 season. He ran his first two ARCA Racing Series' races last season with the Cunningham organization…..at Lucas Oil Raceway in July and Salem Speedway in September.
In making his announcement, Scherer said, "We are excited to have Chase run our No. 77 this season. In the two races that he ran last season, we saw exactly what he could do in our cars. The team and I look forward to running for another Rookie of the Year this season with Briscoe." The Cunningham organization has captured five of the last seven ARCA Series Rookies of the Year, without competing for that award in the other two seasons.
When asked about his newly-announced opportunity, Briscoe said, "It's absolutely amazing to know that I am going to be running full time for Cunningham Motorsports. It has made sleeping on couches the last year and a half and moving to North Carolina without my family all worth it! It's a one in a million opportunity to go from being a local Indiana Sprint Car driver to running for the championship and trying to win the Rookie of the Year to keep Cunningham's streak alive. "
Briscoe, who will turn 21 on December 15, made his ARCA debut in July at the Sioux Chief PowerPEX 200 at Lucas Oil Raceway. He finished tenth, after qualifying fifth. His second race was at Salem Speedway, just 15 minutes from his house, where he grabbed a top five finish of fifth after starting seventh. "I am truly blessed and know that God had a huge part in this. I will never be able to show how thankful I am to Briggs Cunningham and Kerry Scherer for taking a risk on me. It is very humbling and I hope to make them both proud," said Chase.
Briscoe will join his team at Daytona International Speedway, as the ARCA teams begin their 2016 season with an open test on January 15, 2016. In addition to the test at Daytona, Briscoe will also compete in the renowned Chili Bowl Nationals the following day in Tulsa, Oklahoma. Briscoe continued, "I cannot wait to get to Daytona. I have been dreaming of running Daytona ever since I was a little boy. I am sure at the test I will be smiling the first lap or two around the track. I'm so excited to see how this season goes and hopefully my team and I can get the organization its first championship."
Before Briscoe's season can start, the Cunningham organization has to close out their 2015 season. At the annual awards banquet in Indianapolis, IN, on December 12, Cunningham Motorsports will receive many awards…..the prestigious Bill France Four Crown, the SCOTT Rookie of the Year award and the inaugural Calypso Short Track Award. In addition, Chad Bryant, Tom Hessert's crew chief for 2015 and Briscoe's crew chief for 2016, will receive the Cometic Crew Chief award for the second year in a row.