ARCA: Cunningham Motorsports Fills Second Car, No. 22, with Dirt Track Ace, Kevin Thomas Jr.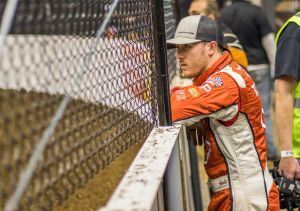 December 15, 2015 – Mooresville, NC – In a deal that was sealed just after last weekend's PRI show / ARCA Racing Series banquet, Kevin Thomas Jr., will join Cunningham Motorsports, piloting the No. 22 for the 2016 race season. In what will be one of Thomas' first couple of asphalt starts, he will be entering the asphalt world at the very pinnacle of race tracks…..Daytona International Speedway (DIS).
Co-owner, Kerry Scherer commented while making the announcement, "We are thrilled to have someone of KTJ's talent and character racing with Cunningham Motorsports in 2016. We hope to be a stepping stone on his way to a successful NASCAR career."
KTJ, as he has come to be known, will join his new team in Daytona Beach, Fla., during the ARCA Series open test, scheduled for January 15-16, 2016. He, like his new teammate, Chase Briscoe, will be testing on Friday only, as both drivers will be flying to Tulsa, Okla., for the Chili Bowl Finals on Saturday.
Kevin's first asphalt race will be the Zack Donatti Memorial Pro Late Model 100 race January 2nd at New Smyrna Speedway, followed by the Pro Late Model World Series of Asphalt Stock Car Racing championships in February during Daytona Speed Weeks. Both of these events lead up to KTJ's ARCA Series debut in what is labeled as ARCA's Superbowl. Looking forward to his debut, KTJ said, "Daytona will be completely different from anything that I have driven. With all I have to learn about the draft and racing with air, my learning curve will have to be as short as possible."
The 24-year-old driver, who has been racing since he was thirteen years old, came to the ARCA Series through the Mini Sprints, USAC Non-Wing 410 Sprint Cars, Midgets and Wing Sprint Cars. Some of KTJ's favorite highlights have included his first win at Bloomington Speedway in 2012, winning three consecutive races during Indiana Sprint Week and his win in the 2013 Haubstadt
Hustler at Tri-State Speedway. In 2015, Thomas competed in over 105 races, with ten victories and top-5 finishes in almost 50% of the races.
After the announcement, Thomas said, "I want to thank Kerry (Scherer) and Briggs (Cunningham) for the opportunity to compete for the entire season in ARCA. It's good to be a part of an organization that has the same will to win that I have." KTJ also plans to run 40-50 sprint car shows in 2016 during the off days throughout the ARCA season.