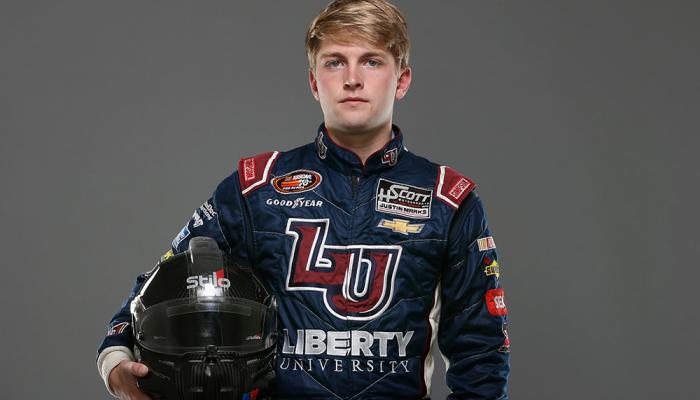 Byron Has Dream Rookie Season; Young Stars Shine Bright
DAYTONA BEACH, Fla. – William Byron kept his competition in his rearview mirror en route to his first NASCAR K&N Pro Series East championship title.
The 18-year-old from Charlotte, North Carolina, raised the trophy at Delaware's Dover International Speedway after a rainy weekend cancelled both the practice and qualifying sessions.
Byron certainly earned the elite tile, collecting four wins, five top fives, 11 top 10s and five poles in 14 starts this season.
But Byron wasn't the only talent to shine in the K&N East the season.
Bryon's fellow HScott Motorsports with Justin Marks teammate Scott Heckert continued his road course success and challenged Bryon for the top spot in the standings throughout the year. Rico Abreu and Kyle Benjamin scored their first NASCAR wins, while Austin Hill collected two victories and his first Coors Light Pole Award to also threaten Byron's chance at the title.
Twenty-four different drivers recorded a top-five finish for the second year in a row and remain the highest in the K&N Pro Series East since NASCAR lowered the minimum age in 2007.
Top Driver
William Byron: Byron transitioned into the series from the NASCAR Whelen All-American Series, where he competed in its Late Model program for JR Motorsports. He had a decent start to his season, finishing seventh at Florida's New Smyrna Speedway. He bounced back and in only his second start, he earned his first K&N East victory at Greenville (S.C) Pickens Speedway. His first eight starts produced four wins and a runner up finish, along with two pole awards. For the season, Byron had a 6.8 finishing average and completed 1729 of 1730 laps. He also led the series in laps led, leading 740 laps throughout the season. The NASCAR Next driver also made the history books, becoming the fifth driver to earn the both the championship and Sunoco Rookie of the Year honors in series history. In 2016, he will compete full-time in the Truck Series with Kyle Busch Motorsports.
WATCH: WILLIAM BYRON CHAMPION PROFILE | WILLIAM BYRON AWARDS SPEECH
Scott Heckert (Honorable Mention): The 21-year-old from Ridgefield, Connecticut, continued his road course success nabbing his third consecutive road course win at New York's Watkins Glen International. An accident at VIRginia International Raceway dashed his chances of another win when he got rear ended on Lap 46. He racked up two wins, nine top fives and 11 top 10s, including a victory at North Carolina's Bowman Gray Stadium and entered the finale at Dover only 15 points behind Byron. Heckert completed 1607 of 1730 laps and led 213, which was – you guessed it – second to William Byron.
Top Team
HScott Motorsports with Justin Marks: For the third straight season, Harry Scott has fielded the championship car. In the organization's inaugural year, the multi-car stable came back just as strong or stronger in 2015. The team had the champion, runner up, fourth, fifth and sixth in the final series' standings, winning seven of 14 races. Their most impressive performance may have come at Watkins Glen, where four of the team's cars finished in the top 10, with the lone car barely missing the cut with an 11th place finish, led by race winner Heckert. HScott Motorsports with Justin Marks will return in the 2016 season with JJ Haley and newcomers Hunter Baize, Harrison Burton and Tyler Dippel.
Bassett Racing (Honorable Mention): The Winston Salem, North Carolina, family-run team produced one win, four top fives and seven top 10s in 12 events. Dillon Bassett, 18, transitioned into the series this season after finished fourth in the NASCAR Whelen All-American Series last year and winning the UNOH Youth Achievement Award. He earned his first series' victory at Pennsylvania's Motordrome Speedway and produced a runner-up finish at Richmond International Raceway in September. Ronnie Bassett Jr, 19, returned for his second full season and tied his career best finish at Iowa Speedway in May with his second-place finish.
Rico Abreu scored his first career NASCAR K&N Pro Series win at Columbus Motor Speedway in July. Getty Images for NASCAR

Top Breakthrough Performance
Rico Abreu: Rico Abreu entered his first season in stock car racing with a lot of momentum after winning the 2015 Chili Bowl Nationals. He got off to a rocky start to his rookie campaign finishing 17th at the season opener at New Smyrna Speedway. He earned two top-10 finishes in his second and third starts before the light bulb clicked on for the 23-year-old from St. Helena, California, and in his sixth race of the season when he won his first pole award. From there he went on to earn his first victory at Columbus (Ohio) Motor Speedway and register four top-five finishes to end the season ranked fifth with one win, four top fives and eight top 10s.
Kyle Benjamin (Honorable Mention): The 17-year-old from Easley, South Carolina, competed in his first full K&N Pro East season this year. In his 13 starts this year, Benjamin earned one win, three top fives and six top 10s for a ninth place finish in the final standings. Benjamin started the season out on a high note, finish fifth at the season opener at New Smyrna Speedway. In just his third start of the season, the NASCAR Next driver earned his first NASCAR victory with his win at Tennessee's Bristol Motor Speedway after leading 81 laps and scored a runner-up finish at Virginia's Langley Speedway in June.
Top Races
NAPA 150 presented by Germain Toyota, Columbus Motor Speedway, July 4: When the series headed to Columbus Abreu was still on the hunt for his first NASCAR victory. In his seventh start, Abreu started his Fourth of July showing on top, earning his second consecutive Coors Light Pole Award. It was a decisive pass for the lead that he made on Lap 115 that ultimately delivered him his first victory. Abreu battled Grant Quinlan, who was making his K&N Pro East debut, swapped the lead eight times throughout the 150-lap event. Abreu just beat Quinlan to the finish line and the final margin of victory for Abreu was just 0.103 seconds.
UPMC Health Plan 150, Motordrome Speedway, Aug. 15: The series' inaugural visit to the .4-mile Pennsylvania oval couldn't have been more dramatic. Asphalt issues on the front stretch necessitated a pair of red flags and subsequent caution periods starting on Lap 101. William Byron led a race-high 92 laps on Lap 94, before the lengthy late-race red flags. When the race finally went back to green on Lap 120, Austin Hill charged from third to first and it looked like Bassett's first win would have to wait. However, he was able to maintain his momentum on the outside and wrestle the lead back on Lap 125 before he drove away to a 3.357-second victory. In the process, Bassett became the 100th different winner in K&N East history.
Dillon Bassett (44) earned his first NASCAR K&N Pro Series win at the inaugural race at Motordrome Speedway.