With the new season upon us, the OnPitRoad.com staff is bonding together in trying to predict what will happen across the board. This is our chance to share our predictions with you, while allowing you to see who is all part of the staff and where our focuses lie. Be sure to comment with your predictions ahead of the year.
Also, be sure to stay tuned for the next part of the predictions when they are posted. 
WRITER NAME: Matt Embury
SERIES OF FOCUS: IMSA
PROTOYPE CHAMPION: Action Express as they have been the most consistent of the Corvette DPs, which have been the dominant car in the top class since debut of WeatherTech Championship in 2014.
PROTOTYPE CHALLENGE CHAMPION: CORE Autosport as the presence of Colin Braun is too much to ignore, despite PR1's Tom Kimber-Smith
GT LEMANS CHAMPION: Porsche North America. They may lose out to Corvette Racing in the early enduros, but they gain strength once sprint race part of season begins
GT DAYTONA CHAMPION: Riley Motorsports as Bleekemolen will get enough support from teammate Keating to put them over the top in 2016.
WRITER: Ashley McCubbin
SERIES OF FOCUS: NASCAR Sprint Cup Series
ROOKIE OF THE YEAR: Chase Elliott.
He has proven that he has the talent behind the wheel as evident by winning the 2014 XFINITY Series Championship, and the reputation that he has grown as he has come up through the ranks. He is also stepping behind the wheel of one of the top rides in the sport, driving for Hendrick Motorsports. This Alan Gustafson led team was able to compete for the championship last year with Jeff Gordon, so certainly their experience and expertise should help their new youngster contend for the Rookie of the Year Award.
CHAMPION: Kevin Harvick
Kevin Harvick has proven to have the pure speed each season that has led to him being at the front of the field. He scored 13 runner-ups last season. He came up just one spot shy of winning his second championship in a row. He had the fastest car in a bunch of the races last season as evident by leading the most laps of all drivers at 2294. He is one of two drivers to score more than 20 top-fives last year, joining Logano in that category. He had the best average finishing spot of all competitors at 8.7. He scored the most top-fives of all drivers at 23. Do I need to say anymore statistics to see why this is a good choice?
CHASE FOR THE SPRINT CUP CONTENDERS (Alphabetical Order):
A.J. Allmendinger
Brad Keselowski
Carl Edwards
Dale Earnhardt Jr.
Denny Hamlin
Jimmie Johnson
Joey Logano
Kasey Kahne
Kevin Harvick
Kurt Busch
Kyle Busch
Kyle Larson
Martin Truex Jr.
Matt Kenseth
Ryan Newman
Tony Stewart
OTHER NOTABLE AND BOLD PREDICTIONS: 
Roush Fenway Racing has made some significant changes over the off-season, hiring some key new individuals to step into roles. Notably, each of these individuals has spent time at another organization in the past. Will that be the catalyst that brings change? Probably not as their drivers haven't shown enough ability to challenge the front runners over the years. The downfall of RFR began with both Edwards and Kenseth leaving, and will continue.
Kyle Larson is finally going to break through and pick up his first career victory. After coming close over the past two years, it's finally going to come together as you can only keep someone as talented as him out of victory lane for so long.
Last year there was a lot of discussion about Jeff Gordon's final season of competition. This year will mark Tony Stewart's final season. Don't expect as much hoopla as Stewart hasn't built the reputation amongst the fans that Gordon has, despite being a three-time champion and talented in his own right. Beyond that while Gordon was able to go out as a championship contender, don't expect Stewart to be at that level given how he has performed the past couple of years.
WRITER: Kala Perkins
SERIES OF FOCUS: NASCAR Sprint Cup
SPRINT CUP SERIES CHAMPION: Joey Logano – Great driver with a great team and would have won the title in 2015 if not for the Kenseth incident.
ROOKIE OF THE YEAR: Chase Elliott – He is a proven young talent and will be in top notch equipment.
OTHER PREDICTIONS:
Ryan Blaney will win the Daytona 500
Team Penske scores more wins than any other team
WRITER NAME: Roger Holtsclaw
SERIES OF FOCUS: NASCAR Sprint Cup
2016 CHAMPION: Joey Logano – On a mission for revenge from last season.
2016 ROOKIE OF THE YEAR: Chase Elliott – Probably equal talent with Blaney, but better equipment
OTHER NOTABLES AND BOLD PREDICTIONS:
Toyota to win Manufacturers Championship and break Chevys hold on the title
New low downforce package may cause some frontrunners to not run as well
PHOTOGRAPHER: Mike Holloway
SERIES OF FOCUS: NASCAR XFINITY Series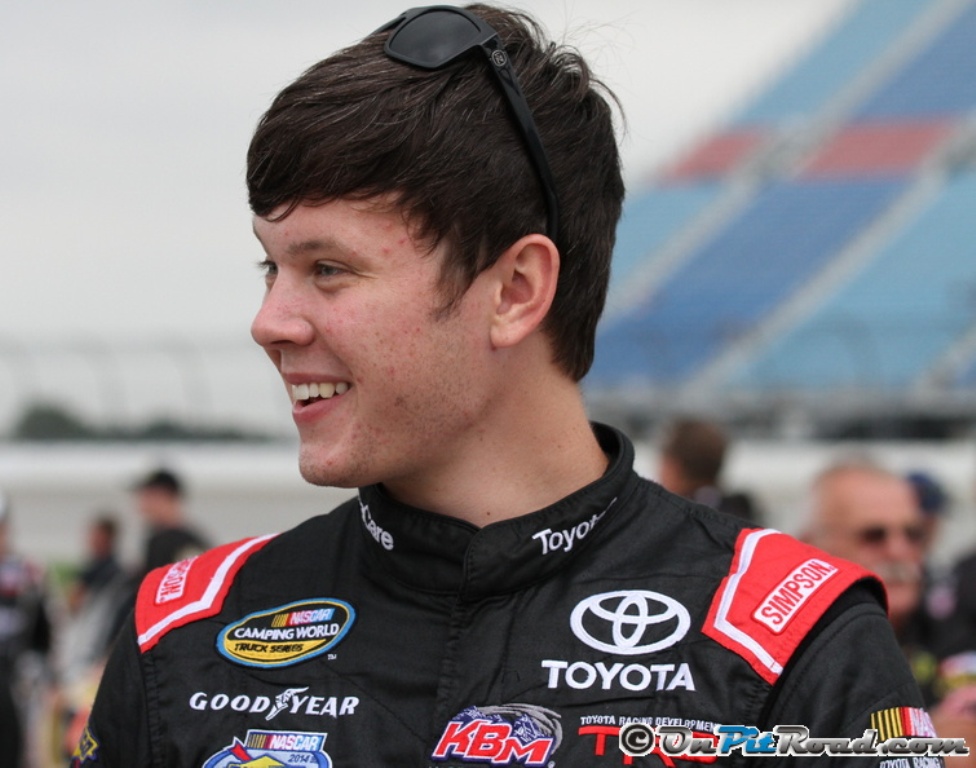 CHAMPION AND ROOKIE OF THE YEAR: Erik Jones
Erik Jones isn't kidding around when it comes to his NASCAR career. He had a breakout season in 2015 winning the Camping World Truck Series Championship driving for Kyle Busch, amassing 3 wins along the way. In 2016 he makes the switch to Joe Gibbs Racing (if that really classifies as a "switch") to drive the No. 20 Toyota in the Xfinity Series. Having scored two wins in the series already, as a part-time driver, Jones will show that winning comes naturally for him in 2016. He will receive some hefty competition from the likes of Ryan Reed, Chris Buescher and Daniel Suarez but ultimately they will all fall short as the Joe Gibbs camp with Jones behind the wheel full-time is all but unstoppable.
BREAKOUT DRIVER OF THE YEAR: Daniel Suarez
The Mexican born driver created lots of buzz in the XFINITY garage last year; he was consistent and gained on the learning curve each and every week. When he returns to Joe Gibbs Racing this season he should be ready to show the NASCAR community that he means business. Look for him to lead more laps, win races and possibly compete for a championship this year. There is a lot of potential in this young man, and it will almost certainly show in 2016.
Other notable and bold predictions:
Elliott Sadler makes the switch from Roush Fenway to JR Motorsports in the No. 1 OneMain Chevrolet. But, don't look for this move to rescue his waning career. The 40-year-old from Virginia has solid backing from OneMain, and he fills the "have sponsor, will travel" role very well, but he has fallen short with each of the last several top notch rides he has had. This year will be no different.
At the opposite end of that is Justin Allgaier. The 29-year-old Riverton, Illinois native also moves to JR Motorsports to fill the seat vacated by Regan Smith. This will prove to be a win/win for Allgaier as well as Dale Earnhardt, Jr. XFINITY is right where Allgaier belongs, and a top-notch ride like the No. 7 Chevrolet should prove to be just the right fit for him as he should win races and likely contend for the Championship.
Roush Fenway drivers Ryan Reed, Darrell Wallace, Jr. and Chris Buescher will be strong this year. In the case of Wallace and Reed, look for them to be stronger contenders than last year. They both seem to have upped their game on a consistent basis and will be more competitive this year. Same for Buescher, though as defending champion it's safe to say that he doesn't need much enrichment to get the job done. Buescher will see Cup seat time in a full-time role with Front Row Motorsports, but expect seat-time also for Reed and Wallace, especially with the status of Roush Fenway's current top tier lineup.