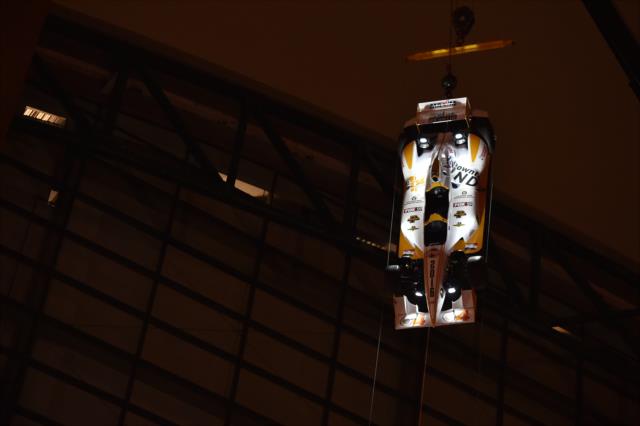 Disclaimer: The views and opinions of this article reflect that of the writer, and not necessarily the management and other contributors of OnPitRoad.com.
The decision made by KV Racing Technology's co-owners Jimmy Vasser and Kevin Kalkhoven has certainly put the 2016 Verizon IndyCar Series full time fleet in a super big pickle that is in need of a super big submarine sandwich. With virtually all of the possible full 16-race tour seats largely taken at this point, unless a major injection of personal funding comes into play, the series will feature an under 20-car field for the first time since 2007, the last season prior to the re-unification of the sport one year later. For an upcoming season that was supposed to be about celebration centering around the 100th running of the Indianapolis 500-mile race in May and the return of open wheel racing to both Phoenix International Raceway and Road America in Wisconsin for the first time in nearly a decade.
However, this is currently not the focus and with television ratings plus event ticket sales and actual attendance numbers falling once again last season, the circuit in my view is starting a period of  survival mode. Add to that, the maintaining or return of several entities responsible for starting the downward spiral has not helped matters either. Now I have not been one to gamble on the big lottery to change things (I did not buy a ticket for the $900 million Powerball jackpot case in point this last weekend), but if I did have some power, there are several things that I feel must be dealt with immediately to ensure several things are secure, so that safety improves, ratings increase, and car count returns to the healthy 25 or more numbers that were consistent prior to the severing of ties starting after 1995 and in the early stages following the return to just one sanctioning body in North American open-wheel racing. Ok, so therefore if I were in Mark Miles' shoes at this point, here's what I would do.
Scrap the aerokits: Although they have provided some brand recognition and car variance, which seemed to be the chief reasons to apply them, they have also created many negatives along with them. The opener at St. Petersberg, Florida last year turned into a yellow flag fest as minor contact led to multiple debris related stoppages, relating to broken aero kit packages on the front wings of the cars. Then there was the week of turmoil leading up to qualifying for the 99th Indianapolis 500 in May. Three accidents resulted in airborne blow-overs and while no injuries were suffered, it brought concerns on whether pursuing the track record at over 237.5 MPH and above was really worth it. And then of course to top it off, James Hinchcliffe nearly suffered a fatal accident the day after pole day, when a suspension arm penetrated the driving capsule of his Schmidt Peterson Motorsports entry and pierced his leg. The incident would bring an end to his season. And to make matters worse when race day arrived, Chevrolet powered and kit featured cars dominated the race and left the Honda runners in the dust. Even with those negatives, I still have not hit the biggest detriment: the kits raised the price of IndyCar racing full time through the roof, and with that I feel their addition has led to several multi-car teams, turning into single car operations for 2016.
Apply the overhead canopy covers: The fact that this concern has disappeared despite the fatal accident involving Justin Wilson at Pocono a few months ago just shocks me. This was a no-brainer solution and not an emotion-induced idea as many in the sport are now claiming. Flying debris is a not fluke situation, nor has it been that way ever in open wheel racing for many decades. It is a very common occurence with the way IndyCars are designed to break amount in an accident to dissipate energy and protect the drivers, and that fact has to be dealt with, and not via a prayer and a hope as it appears the current solution is. The fact Emerson Fittipaldi suggested an addition such as this as early as 1993 was a sign that this was far from a minor overreaction. And the concern about fogging up, etc. are also invalid. Those same concerns that have been raised about their inclusion, were made for instance prior to their addition in Unlimited Hydroplane racing in the mid-1980s and over the years, in a circuit where boats have become airborne, much in the way the IndyCars started to do so at the Brickyard this past May, the canopy or so-called aircraft cockpit design has saved many drivers from serious or fatal injuries in boat racing and I feel would so likewise in IndyCar. It is time to no longer make excuses or claim solely on tradition that the cover is not needed. Make the change for this season.
Increase the number of races on national TV: The switch from ABC/ESPN full-time to what is now NBC Sports Network (NBCSN) was a major gaffe as in the six years since the move, the series' belief of an expected increase in availability and viewership has yet to occur. This is not a knock on the performance of the on-air staff at NBCSN, it is just that it is tough to view their races without coughing up a large sum of money or having to go to a sports bar and hope they will put it on for you. At the apartment I reside at in Northern Indiana, NBCSN is available yes, however not on the basic offerings. In order to access it, I would have to pay an additional $150 per month, an amount not many people (even the diehard IndyCar fans like myself) would be willing to pay up. Also the ability to promote events to encourage fans to attend in person and/or create awareness is also limited via this route. If I were Mark Miles, I would push NBC Sports that if they are really interested in continuing to cover IndyCar events, that more broadcasts must be moved to the main NBC channel. The amount of events offered on the main channel during the spring and summer months is extremely limited and offering more events and I do not think would create much fuss at all. Not only would the move increase viewership, but I think it would also promote greater ticket sales and on site attendance, something the sport badly needs this season.
With a sub 20-car all but assured for the season opening race in just two months from now, the Verizon IndyCar Series is definitely at a make or break period, one in which it must show major improvement in safety, revenue, ticket sales, and ratings. Otherwise, it may come to a head where a complete tear down and rebuild will be necessary. That fact must be avoided and even employing at least a couple of my ideas I think would start to begin an upward trend and a safe and lengthy future for the sport of IndyCar racing for many decades to come.