NSCS: Logano Tops Practice as Team Penske Calls Audible to Put Blaney Up Front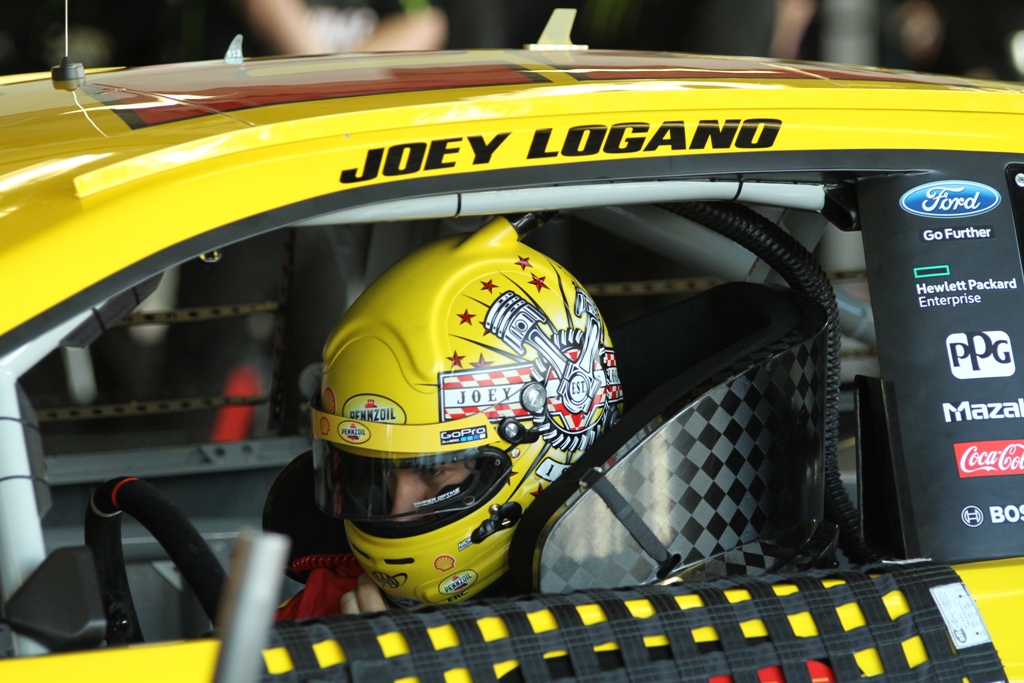 Practice was wrapping up for the day when Team Penske and Ryan Blaney with the Wood Brothers decided to go out for some drafting to pick up the three fastest laps of the day.
Less than five minutes were left on the clock when Joey Logano put up the fastest lap of the day with his teammate and 2012 NASCAR Sprint Cup Series champion Brad Keselowski in second, followed by Ryan Blaney in third.
As stated by the Wood Brothers on twitter, this was a strategy call in case of time trials and the Can-Am Duels being rained out. Having one of the quickest speeds would help put car No. 21 in the field for the Daytona 500.
@woodbrothers21 but we know a thing or two about rain and usually it does when we are around. So..

— Wood Brothers Racing (@woodbrothers21) February 13, 2016
Brothers Kurt and Kyle Busch rounded out the top-five, and they were looking at having the two fastest laps of the day until the Penske boys made a strategy call.
Much like the first session of the day, Blaney and Matt DiBenedetto were the two fastest non-charter cars, but Michael McDowell in No. 59 for Circle Sport-Leavine Family Racing was not far behind DiBenedetto, so qualifying could be tight for the two guaranteed spots tomorrow.
Full practice results can be seen below.
2016 NSCS Daytona 500 Second Practice Session Speeds
| Pos | Car | Driver | Team | Time | Speed | Lap # | # Laps | -Fastest | -Next |
| --- | --- | --- | --- | --- | --- | --- | --- | --- | --- |
| 1 | 22 | Joey Logano | Shell Pennzoil Ford | 45.934 | 195.933 | 29 | 29 | —.— | —.— |
| 2 | 2 | Brad Keselowski | Miller Lite Ford | 45.954 | 195.848 | 22 | 22 | -0.02 | -0.02 |
| 3 | *21 | Ryan Blaney # | Motorcraft/Quick Lane Tire & Auto Center Ford | 45.966 | 195.797 | 11 | 11 | -0.032 | -0.012 |
| 4 | 41 | Kurt Busch | Haas Automation/Monster Energy | 46.183 | 194.877 | 2 | 4 | -0.249 | -0.217 |
| 5 | 18 | Kyle Busch | M&M's 75 Toyota | 46.226 | 194.696 | 17 | 20 | -0.292 | -0.043 |
| 6 | 20 | Matt Kenseth | Dollar General Toyota | 46.311 | 194.338 | 14 | 15 | -0.377 | -0.085 |
| 7 | 4 | Kevin Harvick | Jimmy John's Chevrolet | 46.381 | 194.045 | 3 | 3 | -0.447 | -0.07 |
| 8 | 24 | Chase Elliott | NAPA Auto Parts Chevrolet | 46.393 | 193.995 | 1 | 1 | -0.459 | -0.012 |
| 9 | 19 | Carl Edwards | ARRIS Toyota | 46.395 | 193.986 | 5 | 5 | -0.461 | -0.002 |
| 10 | 16 | Greg Biffle | KFC Nashville Hot Ford | 46.414 | 193.907 | 7 | 7 | -0.48 | -0.019 |
| 11 | 88 | Dale Earnhardt Jr. | Nationwide Chevrolet | 46.434 | 193.823 | 1 | 1 | -0.5 | -0.02 |
| 12 | 13 | Casey Mears | GEICO Chevrolet | 46.451 | 193.753 | 1 | 1 | -0.517 | -0.017 |
| 13 | 48 | Jimmie Johnson | Lowe's Chevrolet | 46.507 | 193.519 | 3 | 3 | -0.573 | -0.056 |
| 14 | 17 | Ricky Stenhouse Jr. | Fastenal Ford | 46.518 | 193.473 | 11 | 11 | -0.584 | -0.011 |
| 15 | 3 | Austin Dillon | DOW Chevrolet | 46.592 | 193.166 | 1 | 1 | -0.658 | -0.074 |
| 16 | 31 | Ryan Newman | CAT Chevrolet | 46.612 | 193.083 | 3 | 3 | -0.678 | -0.02 |
| 17 | 44 | Brian Scott # | Albertsons Co./Shore Lodge Ford | 46.638 | 192.976 | 11 | 11 | -0.704 | -0.026 |
| 18 | 95 | Ty Dillon(i) | Cheerios Chevrolet | 46.652 | 192.918 | 3 | 3 | -0.718 | -0.014 |
| 19 | 14 | Brian Vickers | Bass Pro Shops/Mobil 1 Chevrolet | 46.68 | 192.802 | 1 | 1 | -0.746 | -0.028 |
| 20 | 27 | Paul Menard | Peak Antifreeze/Menards Chevrolet | 46.683 | 192.79 | 1 | 1 | -0.749 | -0.003 |
| 21 | 6 | Trevor Bayne | AdvoCare Ford | 46.686 | 192.777 | 11 | 11 | -0.752 | -0.003 |
| 22 | 10 | Danica Patrick | Nature's Bakery Chevrolet | 46.761 | 192.468 | 4 | 4 | -0.827 | -0.075 |
| 23 | 42 | Kyle Larson | Target Chevrolet | 46.779 | 192.394 | 1 | 1 | -0.845 | -0.018 |
| 24 | 5 | Kasey Kahne | Farmers Insurance Chevrolet | 46.799 | 192.312 | 1 | 1 | -0.865 | -0.02 |
| 25 | 43 | Aric Almirola | Smithfield Ford | 46.815 | 192.246 | 3 | 9 | -0.881 | -0.016 |
| 26 | 1 | Jamie McMurray | McDonald's/Cessna Chevrolet | 46.852 | 192.094 | 1 | 1 | -0.918 | -0.037 |
| 27 | *93 | Matt DiBenedetto | Dustless Blasting Toyota | 46.854 | 192.086 | 11 | 11 | -0.92 | -0.002 |
| 28 | 83 | Michael Waltrip | Maxwell House Toyota | 46.949 | 191.697 | 1 | 1 | -1.015 | -0.095 |
| 29 | 7 | Regan Smith | Nikko RC/Golden Corral Chevrolet | 46.976 | 191.587 | 1 | 1 | -1.042 | -0.027 |
| 30 | 46 | Michael Annett | Pilot/Flying J Chevrolet | 46.995 | 191.51 | 9 | 9 | -1.061 | -0.019 |
| 31 | *59 | Michael McDowell | Thrivent Financial Chevrolet | 47.029 | 191.371 | 1 | 1 | -1.095 | -0.034 |
| 32 | 47 | AJ Allmendinger | Kroger/Scott Products Chevrolet | 47.067 | 191.217 | 1 | 1 | -1.133 | -0.038 |
| 33 | 34 | Chris Buescher | Love's Travel Stops Ford | 47.129 | 190.965 | 3 | 7 | -1.195 | -0.062 |
| 34 | 15 | Clint Bowyer | 5-hour Energy Chevrolet | 47.217 | 190.609 | 8 | 14 | -1.283 | -0.088 |
| 35 | 38 | Landon Cassill | Florida Lottery Ford | 47.315 | 190.215 | 7 | 11 | -1.381 | -0.098 |
| 36 | 32 | Bobby Labonte | C&J Energy Services Ford | 47.466 | 189.609 | 4 | 4 | -1.532 | -0.151 |
| 37 | *98 | Cole Whitt | Toyota | 47.605 | 189.056 | 7 | 7 | -1.671 | -0.139 |
| 38 | *35 | David Gilliland | Ford | 47.705 | 188.659 | 3 | 5 | -1.771 | -0.1 |
| 39 | *26 | Robert Richardson Jr. | Stalk It Toyota | 47.706 | 188.656 | 9 | 9 | -1.772 | -0.001 |
| 40 | 23 | David Ragan | Dr Pepper Toyota | 47.718 | 188.608 | 7 | 7 | -1.784 | -0.012 |
| 41 | *40 | Reed Sorenson | CRC Brakleen Chevrolet | 48.123 | 187.021 | 3 | 5 | -2.189 | -0.405 |
| 42 | *30 | Josh Wise | Curtis Key Plumbing Chevrolet | 48.328 | 186.227 | 3 | 7 | -2.394 | -0.205 |
(i) Ineligible for Driver Points in this Series
# Denotes Rookie
* Required to Qualify on Time