NSCS: Blaney, DiBenedetto Locked-In While Six Sweat it Out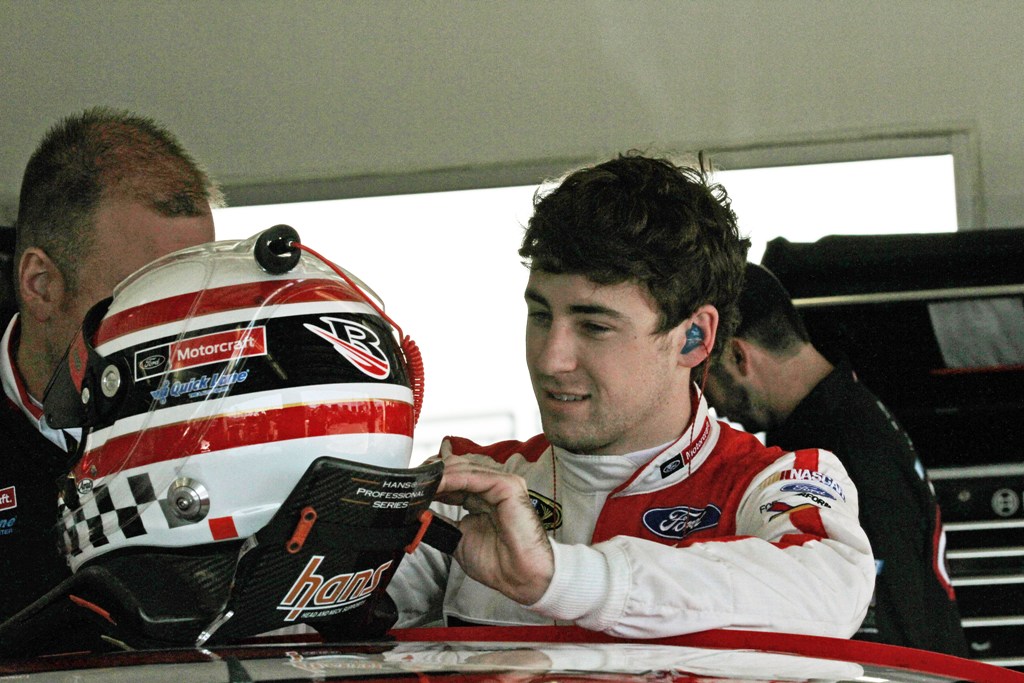 The Daytona 500 just became a little bit harder for six drivers to make, while two drivers will be resting a little easier at night heading into Thursday's Can-Am Duels.
Ryan Blaney and Matt DiBenedetto, who were consistently the two fastest "open" cars in the Saturday practice sessions, have locked themselves into the Daytona 500 by also being the two fastest non-Charter cars in Sunday's single-car qualifying session.
Blaney not only qualified for his second straight Daytona 500, he had a chance to run for the pole, just coming up short in the seventh position.
"It is nice to be locked into the race," said Blaney. "The biggest relief for us is to know you are locked in and are good to be able to race in the 500. That kind of lets us go race on Thursday a little bit more than we would have instead of playing it conservative if we weren't locked in. It is nice to have such a fast car and be locked into the race. It is a load off our shoulders for sure."
DiBenedetto ran a nearly full schedule for BK Racing last year but didn't attempt last year's Daytona 500. Johnny Sauter drove the car DiBenedetto ran for the majority of the season, so this will be his first Daytona 500.
While two of the "go or go home" drivers were extremely happy on Sunday, while six go back to the hotel feeling a little uneasy.
Michael McDowell and Robert Richardson, Jr. were the next two fastest. McDowell is in the No. 59 for Circle Sport-Leavine Family Racing since Ty Dillon is in his usual No. 95 ride. Dillon is locked-in the field as the No. 95 has a charter, but McDowell doesn't.
"The speed is good," said McDowell. "It's probably the best speed we have had down here, but it also makes it a little more disappointing too because we had an opportunity to make it in today and not have to worry about Thursday altogether."
McDowell knows he has the speed, but he also knows that with the Can-Am Duels anything can happen.
"It is Daytona, speed doesn't matter, what matters is not getting in someone else's mess."
Richardson, Jr.'s Daytona 500 deal in a fourth BK Racing car came together late. It was only announced within the last two weeks that the McKinney, TX native would make a run at the Daytona 500. He's run in the Daytona 500 twice before, with a best finish of 31st in 2010, but he hasn't raced in NASCAR since an XFINITY race at Texas Motor Speedway in 2014. If he makes the race on Thursday, it will be his first Sprint Cup race since 2012.
Also on the outside looking in are Cole Whitt in the No. 98 Premium Motorsports Toyota, David Gilliland in a third Front Row Motorsports Ford, Josh Wise in the No. 30 for The Motorsports Group and Reed Sorenson for Hillman Racing. All four drivers have been on the bottom of the speed charts throughout the weekend and will have to rely on a good run in the Can-Am Duels to qualify for the Daytona 500.
Sorenson was the slowest car in qualifying at more than a second and a half slower than Josh Wise in 42nd, so if he qualifies it will be a true Cinderella Story. Underdog stories are nothing new in the Duels. Brian Keselowski posted the slowest lap in time trials for the 2011 Daytona 500, but with the help of his brother Brad, the elder Keselowski raced his way into the Great American Race in a self-owned and underfunded car, so Sorenson still has a shot.
The races to decide the starting lineup to the Daytona 500 will take place on Thursday night starting at 7 p.m. For 38 drivers and teams, it should mean a couple days of rest and relaxation; however, for McDowell, Richardson, Jr., Whitt, Gilliland, Wise and Sorenson, it'll mean a few more sleepless nights before they know if they get to run in the Great American Race.