NSCS: Chase Elliott Will Struggle This Year, and Why That's Okay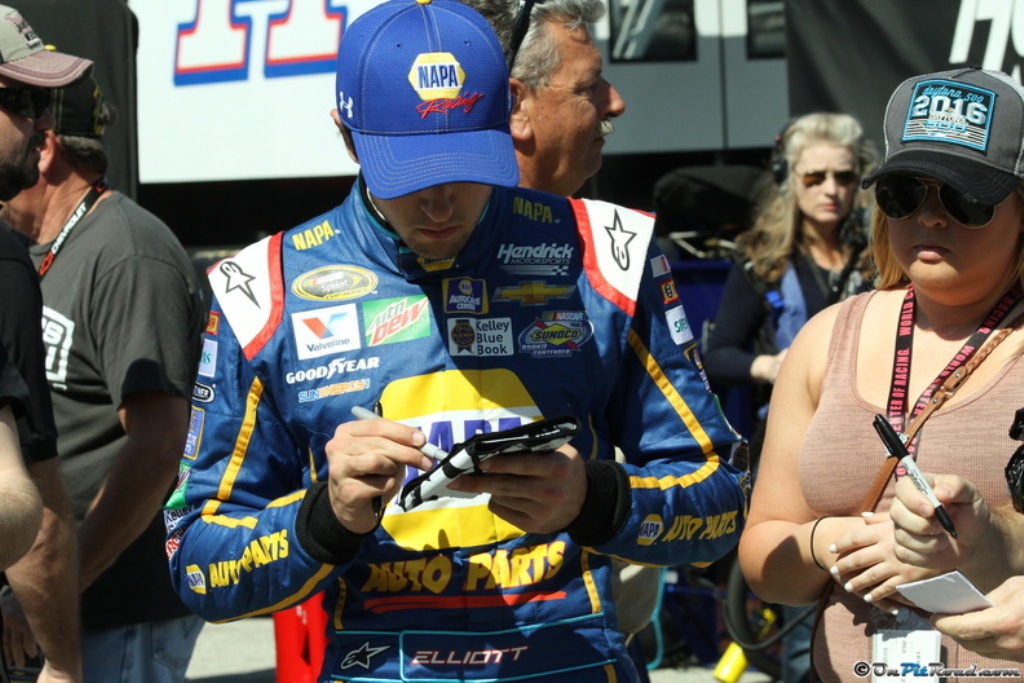 Chase Elliott's Daytona 500 debut didn't go as he and crew chief Alan Gustafson planned, but that's not a reason to worry, Elliott fans.
Elliott is thought by many to be the leading candidate for Rookie of the Year, and that sentiment was further established when Elliott won the pole for the Daytona 500, beating a lap put up by two-time Daytona 500 champion Matt Kenseth.
Elliott was heavily favoured by fans, analysts and even odds makers alike going into the Daytona 500. He felt a pressure most rookies don't feel going into the Daytona 500, and it was a pressure that was wrongfully put on his shoulders.
The pressure on Elliott was met with a crushing reality when he got loose in dirty air beside Carl Edwards on lap 20 of the race. Elliott spun into the infield grass, and when his splitter dug into the grass, it destroyed the front end of the No. 24 car, effectively ending his chance at a Cinderella Story win.
"I hate it," said a dejected Elliott. "It had been such a fun week and you hate to end the race before it even got started. Just disappointed for everybody."
Elliott would go on to finish his first Daytona 500 in 37th after spending time in the garage.
Of course, there's no doubt in anyone's mind that Elliott is a talented race car driver, but he is going to struggle this year – and that's okay.
When you look back at his five Sprint Cup races last year, you'll see three really solid, top-20 finishes, but you'll also see two poor finishes. Those two came at two of NASCAR's hardest tracks – Martinsville and Darlington. In his Cup debut at Martinsville last year, Elliott spent a lot of the day in the garage following an early crash coupled with power steering issues. He finished that race in 38th. Later on in the year at Darlington, Elliott wrecked on lap 229, and finished 41st. It was a disappointing result at a track he had previously won at in the XFINITY Series.
If Chase Elliott does continue to struggle this year, he wouldn't be the first high profile rookie with high expectations to fall short.
The man Elliott replaced in the No. 24, Jeff Gordon, was looked at as one of the sport's next big superstars when he jumped in the car at the end of the 1992 season. When 1993 rolled around, Jeff Gordon started third in the Daytona 500, and led the first lap of the iconic race. Gordon finished fifth in the 500, but the rest of that year Gordon either scored good finishes, or his crew was working on a wrecked race car. The results Elliott had in his few starts last year are reminiscent of that, and that will likely continue going into this season.
The fact is, when fans and analysts put so much pressure on a rookie driver, you can't be surprised if he lets you down.
Elliott is a future star of this sport. He won his XFINITY Series championship early in his career, and he's going to continue to win a lot of NASCAR races as his career progresses, but we need to let him mature. Take the pressure off of Elliott, and all of the other rookies for that matter, and just let them race. Let them learn what it takes to make it in this sport, and they'll be fine.
Elliott has plenty of time to win the Daytona 500, and many other races, but 2016 probably won't be that year.
Disclaimer: Views and opinions are those of the writer of this article and not necessarily held by OnPitRoad.com or its other staff members.