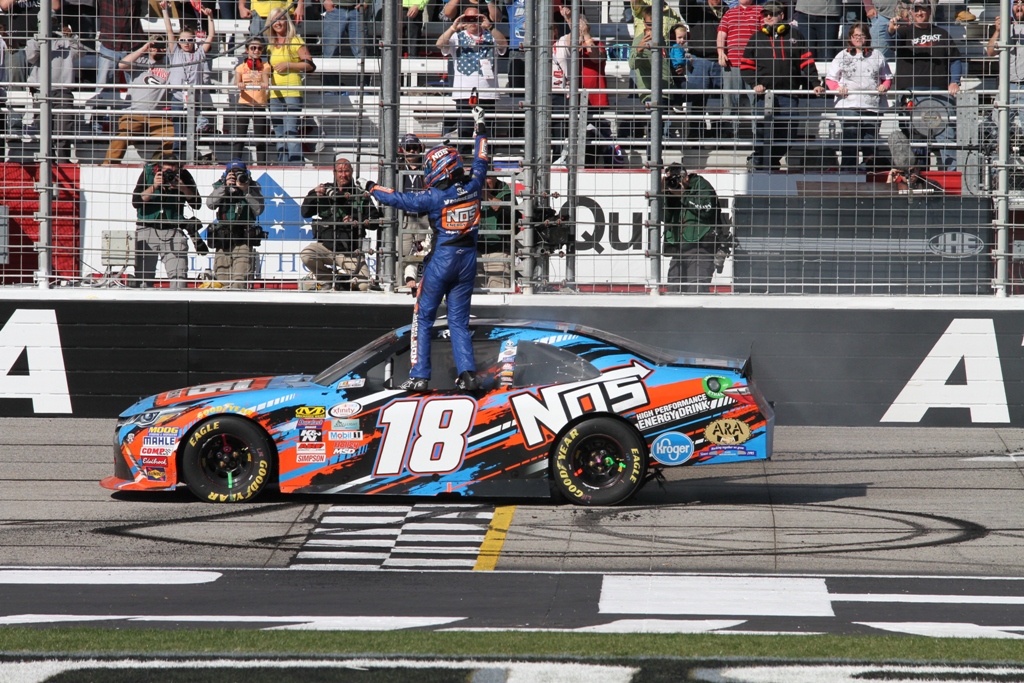 A strong weekend at the Atlanta Motor Speedway continues for Kyle Busch as he took the No. 18 NOS Energy Toyota to victory lane after a dominant victory. Busch led 119 of 163 laps before taking the checkered flag.
The win today was Busch's 77th career XFINITY Series win, but undoubtedly one of his most special. It was the first win for Busch in the series at Atlanta, and the first for Joe Gibbs Racing.
"Proud of our team," Busch said. "The NOS Camry was fast – looks real good, looks really good in victory lane. Can't say enough about JGR engines, Chris Gale, TRD. This is a pretty neat deal. Glad to get it checked off the list."
Busch led the field to the green – or at least, he tried to – Erik Jones started on the front row with Busch, and beat the No. 18 to the line, forcing NASCAR to post the No. 20 for a pass-through penalty. Busch tried to backup his teammate by stating on the radio that he spun the tires, but NASCAR would not have any of it.
Shortly after Jones served his penalty, he caught a break when the engine let go in David Starr's Toyota, which brought the caution out on lap nine. Jones was able to stay on the lead lap, which was ultimately beneficial to him in the long run as Jones would finish the race in third.
The next caution came out on lap 15 for a spin by Chris Cockrum. Brad Keselowski took advantage of the caution to pit for fresh tires. Keselowski proved how important tires were when he drove from 19th on the restart to take the lead from Busch on lap 30.
Tires have been a big topic of discussion all weekend, but there was only one major tire issue during the race when Ray Black, Jr. cut a tire down in the middle of green flag pit stops. Black's tire incident played again into the hands of Keselowski, whom was just about to pit when the caution came out.  The caution, however, hurt the chances of drivers such as Ty Dillon, Brendan Gaughan and Kevin Harvick who had already pitted and lost a lap.
Following pit stops, Justin Allgaier led the field back to green. Allgaier kept his No. 7 BRANDT Chevrolet in front of Keselowski and Busch for 15 laps until the two former series champions made their way back to the front.
Busch made his way back to the lead on lap 73, and he wouldn't look back the entire race, as he would take the win, despite a hungry Kyle Larson breathing down his neck.
Larson had a strong No. 42 ENEOS Chevrolet, but couldn't catch the No. 18 by running the high line. For the fourth time in his XFINITY Series career, Larson would finish second to Busch.
"Definitely would've gotten closer to him, but maybe not able to pass him," said Larson. "I think he was saving tires there as I was riding up near the top, whereas he was running the bottom. I thought we were a fifth or sixth-place car, but were able to finish second which is huge. Ever since we started building our own cars as we could've almost won Texas. I'm excited for the rest of the mile and a halves that I get to run"
After starting second and getting an early penalty, Erik Jones was able to fight his way back to third. It was an up and down day for the Michigan native.
"I thought we may have had something for Kyle (Busch) there, but obviously he had something quicker than us today," said Jones. "We'll keep working and the car was good. It was nice to be able to battle back from some adversity and at least have a shot at it."
Closing out the top-five was a pair of Richard Childress Racing drivers. Paul Menard finished fourth after running up front all race long, and Ty Dillon finished fifth, a solid finish after being off the lead lap for most of the race following an unlucky break during green flag pit stops.
Brad Keselowski, Daniel Suarez, Justin Allgaier, points leader Elliott Sadler and Jeb Burton rounded out the top-10 drivers. Keselowski and Allgaier led 43 laps between the two of them to close out a strong day for the pair.
Kevin Harvick entered the day as the driver who's won the last three XFINITY Series races at Atlanta, but the day didn't go the way he and crew chief Dave Elenz hoped. Harvick finished one lap down in 12th after a few overheating issues.
It was a relatively easy win for Busch today, but the story likely won't be the same tomorrow after getting his pole run stripped in qualifying yesterday. Busch will have to start from 39th in the Sprint Cup race on Sunday.