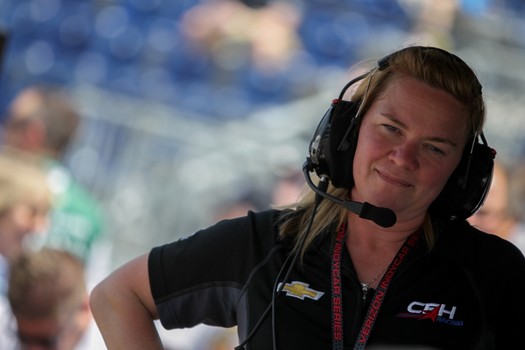 After a nearly six-year break from competitive action in the Verizon IndyCar Series as a driver, Ohio native Sarah Fisher returns to the track in 2016, but not in the role one would initially expect. No longer a co-owner in the sport after Wink Hartman pulled back support from what is now Ed Carpenter Racing, Fisher will perhaps fill an even more important role: serving as the official series pace car driver for a majority of the season.
The position, held by three-time Indianapolis 500 champion Johnny Rutherford for over two decades in both CART and IndyCar-sanctioned action, will transfer over to Fisher starting this weekend at the Firestone Grand Prix of St. Petersburg and will include all events, excluding the Phoenix Grand Prix and the 100th Indianapolis 500-mile race, in which Rutherford will handle the duties. Although the Indianapolis 500 has been known for having a large variety of celebrity pace car drivers, ranging from Hollywood celebrities to former drivers, the role is handled only at the start of the event. Once the race begins and caution periods take over, the regular series-appointed driver handles all other action, including pre-practice and qualifying track inspections, as well as promotional duties such as track tours around the circuit for special guests and dignitaries.
"Having worked with J.R. when I was a rookie (driver), and to follow in his footprints now is just an incredible honor," Fisher said. "I've lived for the sport of Indy car racing and when Jay (Frye) offered me the position to pace the field, I didn't think twice about my commitment again to the sport that I love."
The hiring of Fisher is almost in a sense a semi-resurrection of the popular PPG-sponsored Pace Car Team that handled race weekend duties in both CART and ChampCar from 1995 through the end of the circuit following the 2008 Toyota Grand Prix of Long Beach. The group was notable in that it featured an all-female team of drivers, all with ties to some form of a professional racing background, as is the case with Fisher.
Fisher's racing career began in the mid-1990s when she was a semi-regular on the World of Outlaws winged sprint car circuit, culminating in her first IndyCar Series start at Texas Motor Speedway in 1999. She joined the circuit full time in 2000, driving for Derrick Walker and began a path toward setting a multitude of records for female drivers on the circuit that largely held form for several years. Fisher is the youngest female to start in the Indy 500 at age 19, she earned her first podium finish with a third place finish at Kentucky Speedway in the same year 2000, and two years later at the same venue claimed her first pole position. Fisher also has the most starts at Indy for a female driver, with nine efforts between 2000 and 2010, with a best finish of 17th earned in 2009, her second appearance as both a driver and a car owner.
Fisher's inclusion to the relatively new staff of series officers, is the latest major hire by new IndyCar President of Competition and Operations Jay Frye, adding to a list over the last month that has also featured the addition of Dan Davis as IndyCar's Chief Steward, former drivers Arie Luyendyk and Max Papis as his assistants in race control, and Bill Pappas as Vice President of Competition and Race Engineering.
Stay tuned to OnPitRoad.com for more news and updates on the Verizon IndyCar Series.