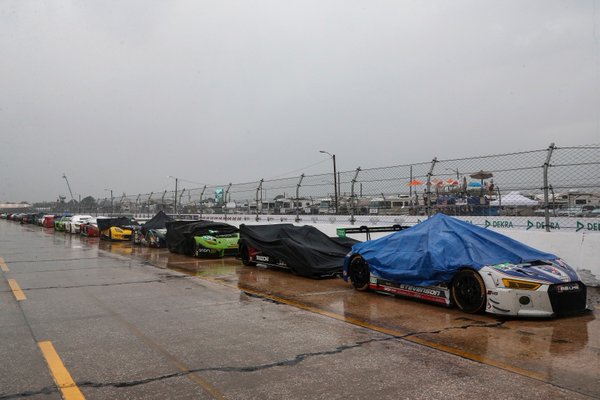 A large weather system featuring high winds, heavy rain, and lightning has brought the 64th running of the Mobil 1 12 Hours of Sebring to a halt just prior to the three-hour mark. Just after 1 p.m. local time, rain began to fall in the Sebring International Raceway area and when coupled with lightning, IMSA officials elected to stop the race around 1:30 p.m. Only 67 laps were completed by the overall race leader when the red flag was displayed.
At the time of the stoppage, Action Express Racing's pair of Chevrolet Corvette DPs were running first and second, with the No. 5 entry ahead of the No. 31. Corvette DPs also held the third and fourth place spots, as the bad weather started to take a toll on the LMP-2 eligible prototypes in terms of pace and grip on the Continental rain tires. Wayne Taylor Racing was in position number three and Visitflorida.com Racing was in position four, with early race leaders Michael Shank Racing with their Ligier-Honda coupe rounding out the top five.
In Prototype Challenge, Daytona race winners JDC-Miller Motorsports had assumed the lead just prior to the red flag, with PR1-Mathiasen Motorsports in second place.
Nick Tandy of Porsche North America took advantage of the wet weather to charge from the back of the GT Le Mans field to the lead before the red flag, passing Corvette Racing's Tommy Milner. Tandy's teammate Earl Bamber also got around Milner before the stoppage and is currently in second place.
Finally in GT Daytona, defending Sebring winners Team Seattle Porsche held the lead with their Heart of Racing Special, with Stevenson Motorsports' Audi R8 LMS in second place.
As for the rest of the day, the weather projections do not appear promising. Although the worst of the showers and thunderstorms are expected to exit the Sebring area, rain appears to be around to stay for the remainder of the timed distance, as the race clock continues to countdown during the red flag stoppage. IMSA officials around 3 p.m. had announced that they were hopeful to resume the race by 4 p.m. Sebring has access to the Air Titan track drying system and despite the persistent showers had the dryers out in an attempt to avoid pooling of water on the 3.7 mile circuit.
Stay tuned to OnPitRoad.com for further updates from Sebring.