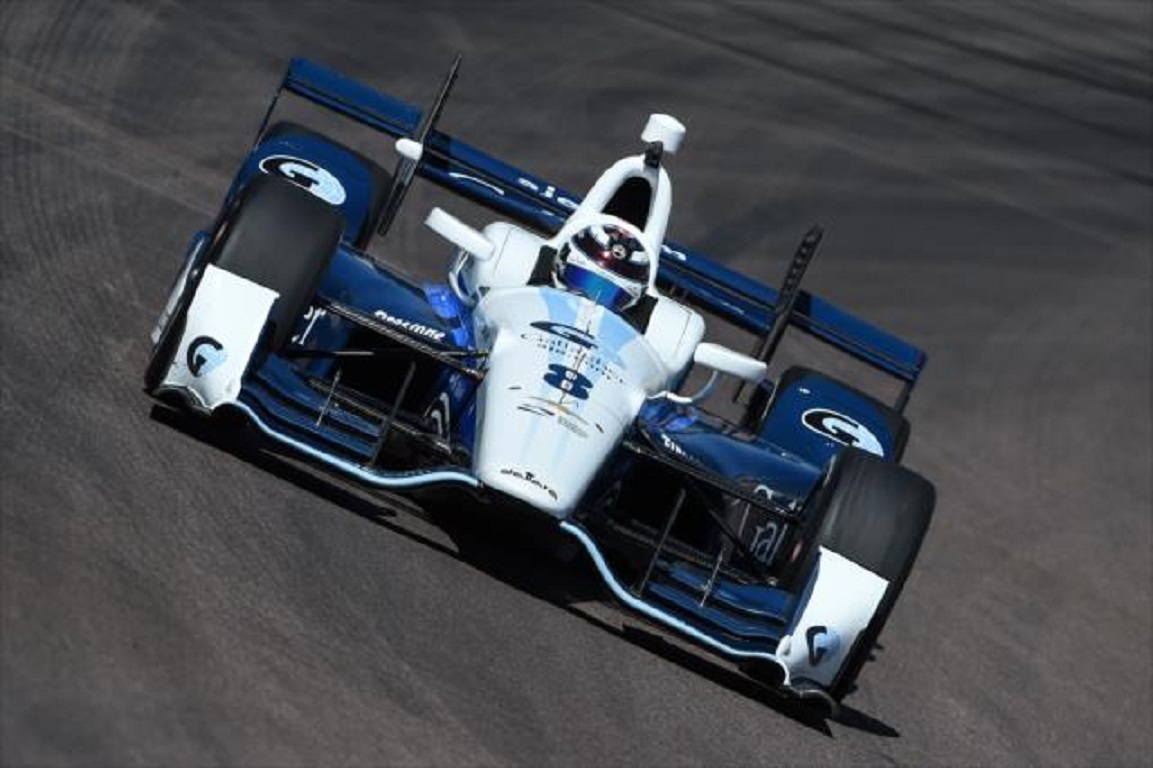 Well we certainly learned a lot about what could happen next month in last Saturday's Phoenix Grand Prix, the only oval track event on the Verizon IndyCar Series, prior to the 100th running of the Indianapolis 500, presented by PennGrade Motor Oil. While the Honda runners to bridge some of the gap between themselves and the Chevrolet-backed cars in the 250-lap event, the gap between the two engine and aero kit manufacturers in qualifying trim Friday had to be a concern for HPD looking ahead to time trials at the Indianapolis Motor Speedway in May. Any potential edge shown at a short oval seems to be magnified in greater contrast at the Brickyard and while we do not expect an epic collapse like what occurred to Lotus in 2012, it seems almost impossible to think a Honda-powered entry, even one from the strength in numbers Andretti Autosport is capable of reaching the heights of the front row on the 33-car starting grid.
While the Honda runners will represent a "Bear" market of sorts in the second edition of Indy 500 Grid-a-tology for 2016, several Chevrolet drivers could adopt the "Bull" tag. One of those is Chip Ganassi Racing rookie Max Chilton, who despite his "Ovals favor stupidity" comments after the race, managed to handle the nerves of his first IndyCar oval race impressively well. Assuming he backs up his efforts in qualifying at Indy, he appears to be on the verge of securing the cash bonus from the Indiana Dairy Association as the fastest overall rookie next month. The pace shown by Chevrolet also bodes well for Indy-only drivers Sage Karam and Matthew Brabham, as well as our new entry into the Grid-a-tology, likely KV Racing third driver target Sebastian Saavedra.
So with those parameters set, here's how things have changed post-Phoenix.
Keep in mind, until the full field is set projected, the unconfirmed drivers for this grid forecast will be listed in parentheses. All confirmed driver and sponsor information is accurate as of Monday, April 4, 2016.
FRONT ROW
Will Power, No. 12 Verizon Wireless Chevrolet, Team Penske: Only managed ninth on the grid at Phoenix, but with a week of practice on the table as opposed to just two days, the Australian should have everything figured out in advance of time trials weekend next month.
Scott Dixon, No. 9 Target Chevrolet, Chip Ganassi Racing: The two-time Indy pole winner dominated the race once the leading Penskes suffered flat tires, yet despite that Dixon only managed seventh spot on the grid in Phoenix qualifying. Still a solid bet to make front row at Indy.
Helio Castroneves, No. 3 Pennzoil Chevrolet, Team Penske: Spiderman's fifth Indy 500 pole position looks to be a bigger reality than was forecast prior to Phoenix Grand Prix qualifying on Friday night, where the Brazilian dominated the session. Backing up an effort like that is not always a slam dunk, but more pace early in the run up to time trials could convince to put the No. 3 entry at least around Dixon for P2.
ROW 2
Juan Pablo Montoya, No. 2 Verizon Wireless Chevrolet, Team Penske: Solid qualifying numbers at Phoenix, now the big question: can he back them up when we get to Indy. Jury is still out, but the effort will keep his position unchanged for now.
Ed Carpenter, No. 20 Fuzzy's Vodka Chevrolet, Ed Carpenter Racing: Pace in practice and qualifying at Phoenix showed that ECR is capable of getting further into the conversation for the pole position at Indy. While not enough to make the owner/driver the so-called favorite, the return is enough to move him up a row in Grid-a-tology part two.
Simon Pagenaud, No. 22 Menards Chevrolet, Team Penske: The Frenchmen also lacked for pace in qualifying, but turned a tenth place grid position into a runner-up finish when the checkered flag flew on Saturday night. This projection though, frowns at that speed run effort from Friday, partly the reason for us to move Carpenter ahead of him.
ROW 3
Tony Kanaan, No. 10 NTT Data Chevrolet, Chip Ganassi Racing: TK fared well in qualifying at Phoenix, however not enough to jump Pagenaud just yet in projection number two. Still poses a threat for the first two rows.
Josef Newgarden, No. 21 Fuzzy's Vodka Chevrolet, Ed Carpenter Racing: ECR's showing last weekend at Phoenix, showed that Newgarden has at least a car equal to the one he put in the shootout two years ago. This time though, a top nine effort in pre-qualifying would be tough to call an upset for the Tennessee-native.
Charlie Kimball, No. 83 Tresiba Chevrolet, Chip Ganassi Racing: From potential to probable third CGR member in terms of shootout qualifying potential. Still has work to do on time trials weekend to punch his ticket to Sunday's big bucks session, but the progress is more on the side of a Bull market than a Bear one at this point.
ROW 4
Carlos Munoz, No. 26 PintPharma.com Honda, Andretti Autosport: Honda was second-fiddle alright to Chevrolet, just a much weaker one than was initially forecast. Still with Munoz's go for it all style, the Colombian still could make the shootout, but the odds certainly took a hit across the bow.
Marco Andretti, No. 27 Snapple Honda, Andretti Autosport: The third-generation driver was quick to share his disgust and frustration after qualifying on Friday. Andretti has been touted as the pole favorite on more than a few occasions at Indy, yet has only one front row start so far in ten previous tries, ironically the same number that his father managed at the Brickyard.
J.R. Hildebrand, No. 6 Preferred Freezer Chevrolet, Ed Carpenter Racing: Like his two ECR teammates, the prospects are improving for Hildebrand, who just sneaked his way into the shootout phase of qualifying two years ago. Not convinced yet to move him ahead of the two vulnerable Andretti Autosport Hondas, but the pace scenarios indicate the team could be on the right track to further promotion up the list.
ROW 5
Ryan Hunter-Reay, No. 28 DHL Honda, Andretti Autosport: The 2014 Indy 500 champion perhaps had the worst luck in race trim on Saturday night, yet that does not equate to much in terms of this projection. Like his teammates, pace was lacking from RHR and company. Add in some mediocre runs recently at Indy likewise and the news is not promising.
James Hinchcliffe, No. 5 Arrow Electronics Honda, Schmidt Peterson Motorsports: Tough to drop the Mayor of Hinchtown too far down the pecking order since a pre-qualifying practice crash prevented him from making an attempt. Still like with the other Honda runners, the jury is out.
Townsend Bell, No. 29 Robert Graham Honda, Andretti Autosport: The Indy specialist provides one of the interesting stories on the qualifying tree. While Andretti's team provides Bell with perhaps the best ride of his career, his record in qualifying has been hit or miss. Bell was able to qualify fourth in 2011, but he has a knack for being unable to match the pace he shows in practice. For example, in 2014 he was one of the fastest cars in practice, but he only qualified 25th.
ROW 6
Max Chilton, No. 8 Gallagher Investments Chevrolet, Chip Ganassi Racing: As mentioned above, Chilton is the heir to the fastest rookie throne at this point. Not only will CGR give him the car to do it, but Chilton showed enough good vibes (scratch the post race comments of course) to get at least to this point next month.
Sebastien Bourdais, No. 11 Hydroxycut Chevrolet, KV Racing: The Frenchmen was the slowest of the Chevrolet runners in qualifying a potential iffy scenario looking ahead to next month, so Grid-a-tology was quick to mark a big downward red arrow on this entry after qualifying concluded on Friday.
Sage Karam, No. 24 Gas Monkey Garage Chevrolet, Dreyer-Reinbold-Kingdom Racing: Well maybe this the source of the young Pennsylvanian's confidence on Twitter. While DRKR is not known as a qualifying threat at Indy, the proper engine choice certainly raises their previously scheduled hopes.
ROW 7
Graham Rahal, No. 15 Steak N' Shake Restaurants Honda, Rahal Letterman Lanigan Racing: Although the second-generation driver from Ohio qualified fourth in 2009, last year's California 500 winner has struggled for pace over the last few go-arounds in Indy 500 time trials. While last year's late race charge managed to net a fifth place finish at Indy, a mid-pack qualifying run may be the best case scenario for the world's fastest steakburger this year.
Mikhail Aleshin, No. 7 SMP Racing Honda, Schmidt Peterson Motorsports: The Russian second-year IndyCar entrant posted the fastest lap of the month at nearly 233 mph during 2014's month of May festivities, however do not expect Aleshin to out-qualify his SPM teammate James Hinchcliffe. Aleshin however, could be primed for a move up the list if Honda shows potential this weekend at Phoenix, stay tuned.
Takuma Sato, No. 14 ABC Supply Company Honda, AJ Foyt Racing: Not only has Sato disappointed in Indy time trials of the past, Foyt's performance in qualifications last Friday at Phoenix provided a double whammy of sorts for the hopes of a high grid placing.
ROW 8
Alexander Rossi, No. 98 Castrol Edge Honda, Andretti Herta Autosport: Although Herta's rookie drivers have fared well recently in time trial mode at Indianapolis, Rossi's prospects are tough to judge with little to no high speed oval track experience on his resume. If he shows promise this weekend at Phoenix, it may merit a small rise on his projection, but not yet to the levels achieved by Jack Hawksworth in 2014.
(Sebastian Saavedra), (No. 17 AFS Chevrolet), KV Racing: While the Colombian has struggled with the likes of Andretti Autosport in recent years, the engine edge from Chevrolet should allow a safe entry into the field of 33, assuming the deal is set in stone as is projected by sources.
Matthew Brabham, No. 61 Pirtek Chevrolet, KV Racing: Of course, KV was not among the best of the GM-backed entries, but they still beat the Hondas in qualifying at Phoenix. Even though the third-generation Brabham has yet to turn a wheel in an IndyCar, the engine bias has convinced us to raise him up one full row this week. No pressure.
ROW 9
Alex Tagliani, No. 35 Al-Fe Heat Treatment Honda, AJ Foyt Racing: Lack of pace from the Foyt team at Phoenix, that a bit of a damper on Tag's chances. However, 25th is a position that could be easily exceeded on time trials weekend.
Conor Daly, No. 18 Honda, Dale Coyne Racing: Although the Indiana-native is technically a series rookie, he already has two month of May appearances under his belt, with unfortunately last year's cut down before the race even began due to a fire. Still, the opener at St. Petersburg showed that if the equipment is good, he could push a DCR entry further up on the grid than has been the norm.
(Gabby Chaves), No. TBA Honda, Schmidt-Peterson Motorsports: Chaves and NASCAR veteran Brian Vickers are both being tipped as candidates to fill the third and final Indy seat for Sam Schmidt's squad and it is safe to say that if Chaves is indeed the man for the job, the prospects look a lot better than taking a chance on a driver who is limited in open wheel experience. Although he only qualified 29th a year ago, Chaves fared well in his first effort at Indy earning rookie of the year honors and is capable of greater than this initial projected position.
ROW 10
Jack Hawksworth, No. 41 ABC Supply Honda, AJ Foyt Racing: Just when it seemed like Hawksworth could start making moves toward his efforts in 2014, he qualified near the tail of the field at Phoenix. Thus, he drops back to the tenth row this week.
Pippa Mann, No. 63 Komen For The Cure Honda, Dale Coyne Racing: The very popular English-based driver is likely to give it another go in the 100th Indy 500, with her fourth straight effort for DCR. Even though she struggled mightily in the race itself a year ago, she has shown some flashes of talents in time trial mode, avoiding the elimination session last year and posted an impressive 229 mph plus average run in 2014. Beyond qualifying, don't expect too much in terms of fireworks in the race ahead.
Spencer Pigot, No. 16 Mi-Jack Honda, Rahal Letterman Lanigan Racing: The Mazda Road to Indy graduate made a decent debut run at St. Petersburg in March, prior to the big accident that derailed the race for several runners. While rookies have qualified well in the past for RLLR at Indy, the limited amount of high speed oval track experience could make garnering a high grid position difficult for the newcomer.
ROW 11
(Luca Filippi), No. 19 Sonny's BBQ Honda, Dale Coyne Racing: Filippi fared well at Phoenix, but whether that's enough to keep the seat is another story. James Davison, who competed for DCR last year at Indy, has also been pointed toward this entry.
Bryan Clauson, No. 88 Jonathan Byrd's Honda, Dale Coyne Racing: The USAC and World of Outlaws sprint car racing star returns after just sneaking into the field a year ago. After showing pace prior to a pole day crash in his rookie attempt in 2012, the Indiana-native was less of a factor in the week leading up to qualifications last year and unless a major improvement in performance occurs, one can expect a similar outcome in 2016.
Katherine Legge, No. TBA Chevrolet, Grace Autosport: The ambitious all-female team concept was impressive when announced last May, but things have slowed down recently with the team yet to officially announce an affiliation for their debut at Indy. That fact could hamper them greatly entering the month of May, especially if more than 33 cars are on the entry list. The previous Indy experience for Legge may just be enough to save the team from the humiliation of not making the show, but anything beyond that could be too much to ask for at this point. If they can find the magic of the Chevrolet engine the others ahead of them might, this could be even better.
OUT
Buddy Lazier, No. 91 Wynn Vision Research Chevrolet, Lazier Partners Racing: The likely addition of KV-AFS to the grid is the scenario of doom we alluded to last week. It may well come down to Lazier, Clauson, and Legge for the final spot on the grid.
Stay tuned for further news, updates, and analysis from OnPitRoad.com on the Road to the Indianapolis 500.