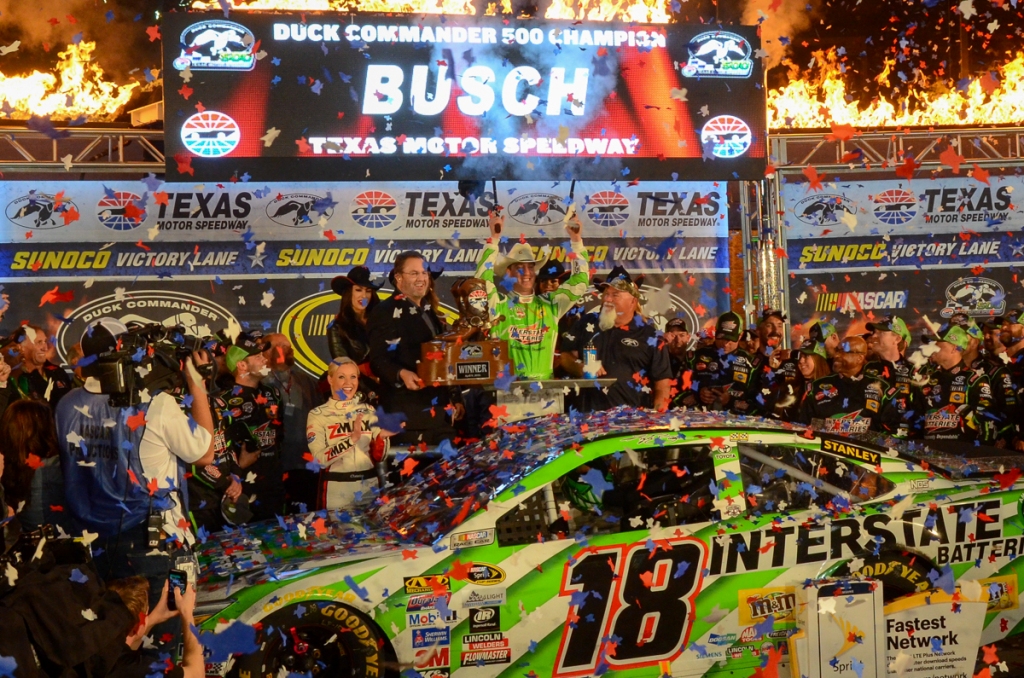 He didn't have the dominant car, but Kyle Busch drove for a dominant Joe Gibbs Racing team, and that was enough for the No. 18 to sweep the weekend and win his second Sprint Cup race in a row. The win was Busch's 36th Cup win of his career and his second at Texas Motor Speedway.
A two-hour long rain delay forced the race to start under 'green-yellow' conditions as Busch's teammate Carl Edwards started on pole alongside Team Penske driver Joey Logano.
Busch suffered race damage on an early competition caution when the No. 18 checked up on pit road and was hit from behind by Jimmie Johnson. Busch complained early of the handling in the back of the car going away, but as the race began to wound down, Busch's Toyota came back to life, allowing him to secure his second win of the weekend.
"This Interstate Batteries Camry was fast. It had really good speed in entry and the center of the corner, but we really had to work on the exit of the corner," Busch said. "The guys did a great job. Adam (Stevens, crew chief) made some great adjustments all night long. I think the race track kept coming to us as the night progressed, too."
Dale Earnhardt, Jr. finished second at Texas, a track where he scored his first career Cup win in 2000. Earnhardt ran inside the top-five all night, but tire strategy helped propel the No. 88 to a runner-up finish following a loose wheel early in the race. Earnhardt's second-place finish tied a season best from Atlanta.
"I'm really happy with the Nationwide Chevy. The guys did an amazing job putting a great racecar on the track. We're fast every week. Wins are going to come. We just have to keep doing this and it'll be our day one day," Earnhardt said.
Joey Logano finished third after starting second on the night. It was a mostly rough night for the No. 22 who struggled throughout the race. Logano ran just outside the top-10 for most of the night, but like the No. 88, Logano and crew chief Todd Gordon used fresh tires to get themselves back inside the top-five.
"We may not have had the fastest car, we obviously didn't have the fastest car, but we executed into a top-three finish, and I'm very proud of my team for that," said Logano. "We had great pit stops and great calls, so everything worked out well. Everyone did their job."
Jimmie Johnson came away with a fourth-place finish. Johnson came into the weekend as the defending race winner, but an incident on pit road with Kyle Busch caused damage to the No. 48, which made Johnson fight through adversity to put his car back in contention.
"There's a lot of fight in this Lowe's team today," Johnson said. "I'm thankful for the great equipment and the fight that these guys have because with all the damage and adversity we went through tonight, to come home fourth is really good for this Lowe's Chevrolet."
Johnson was involved in another incident with just less than 40 laps to go when he got into the back of Austin Dillon, spinning the No. 3 out. Dillon's spin caused a 13-car pileup behind him. Johnson's damage was minimal, and didn't hurt the No. 48's chances at a good finish.
"Looking at it (the damage), it's really bad. So I'm really glad we finished as well as we did," Johnson said.
Rookie Chase Elliott scored his first career top-five finish and was the last of three Hendrick Motorsports cars to finish inside the top-five at Texas. Elliott ran inside the top-10 all night, and got as high as second in the closing stages of the race, but pitted on the final caution to salvage a solid result.
"We're definitely not satisfied running fifth," Elliott said. "I feel like we have a group of guys that are capable of doing that. We'll keep digging at it. We have a long way to go with a lot of racing to go in the season. We'll keep working to get where we can roll with those guys."
The two highest lap-leaders both finished outside the top-five. Martin Truex, Jr. wound up sixth after leading 141 laps. Truex stayed out on old tires on the last two cautions, which ended up biting him.
Carl Edwards finished seventh after leading 124 laps early in the race. Edwards was running third on a midrace restart when he suddenly dropped through the field, citing a loose wheel to his team. Edwards' loose wheel mishap took him off the lead lap. Edwards eventually got the free pass late in the race, and through tire strategy, recovered well inside the top-10.
Kasey Kahne, Kurt Busch and Kevin Harvick rounded out the top-10 at the Texas Motor Speedway. Kahne's eighth-place finish was only his second top-10 of the year. The No. 5 car lost a lap early in the race, but got back on the lead lap after a late race caution, and recovered for a top-10 finish.
The Sprint Cup Series heads to Bristol Motor Speedway next weekend, a track that has been notoriously known as a playhouse for Kyle Busch. If the rest of the field wants to leave Bristol with a Chase berth in hand, they'll have to go through the No. 18 team to do it.