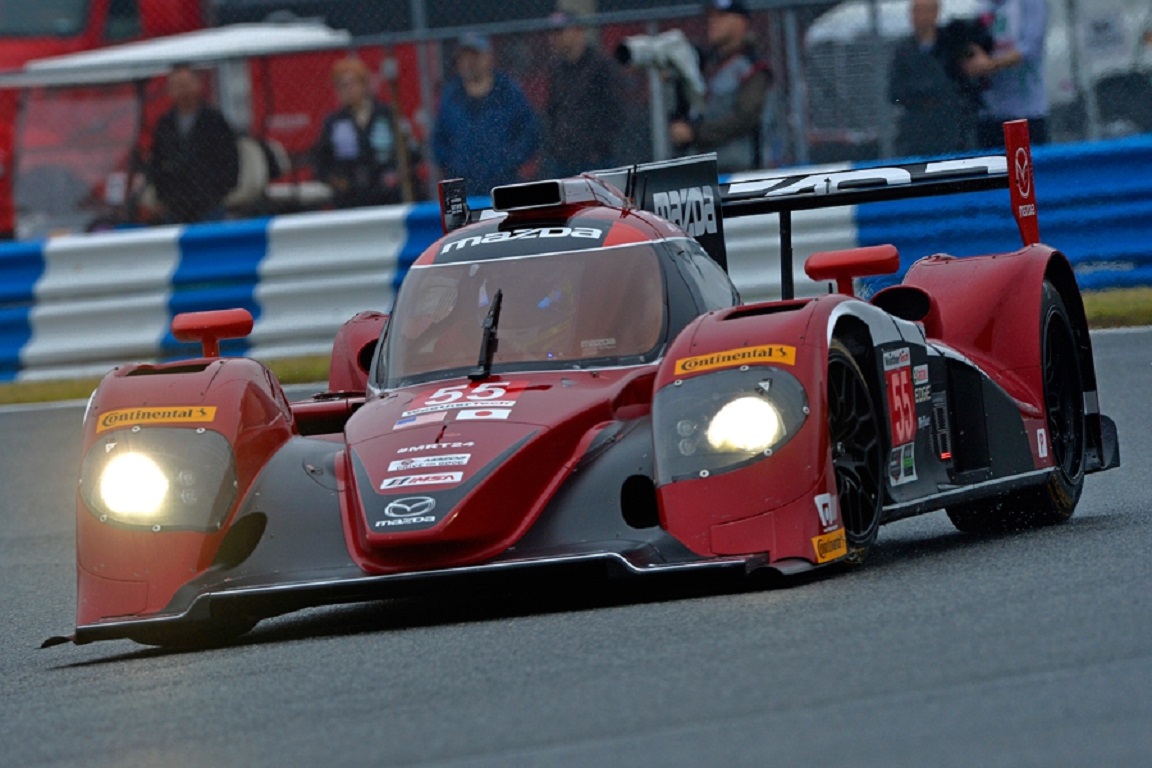 While the increase of pace for SpeedSource Mazda Motorsports' two-car team for 2016 has been noticeable since the team removed its SkyActiv-D diesel power plant, in favor of a petrol-powered I-4 turbocharged engine, on the streets of Long Beach, California on Friday, Jonathan Bomarito showed in full what this Lola B12/80 prototype is now capable of. In what some might consider a mild upset, Bomarito surprised many in attendance by posting the fastest overall lap of the first practice session, the first fast time posted by Mazda in any session since North American sports car racing merged in 2014. Bomarito circled around the 1.98 mile layout in one minute, 15.917 seconds, just edging Wayne Taylor Racing Chevrolet Corvette DP pilot Ricky Taylor by only 39 one-thousandths of a second. The former grand touring regular is no stranger to success, having claimed multiple wins in 2014 for the now defunct Dodge Viper factory team in the GT Le Mans class and prior to that claiming multiple GT victories for SpeedSource in the Grand-Am Rolex Sports Car Series.
With the impressive pace shown, the possibility of an LMP2-eligible car contending for the outright win is suddenly a reality on Saturday in the Bubba Burger Sports Car Grand Prix of Long Beach, a race that has been dominated by Daytona Prototypes the past two seasons. WTR, who claimed the checkered flag in last year's 100-minute battle were followed on the timing sheet by fellow Corvette DP runner Marc Goossens of Visitflorida.com Racing, with the sister Mazda of Tom Long in fourth. Dane Cameron in the first of the two Action Express Racing Corvettes completed the top five. Mazda has not claimed a win in Prototype competition since winning the Sports Racing Prototype (SRP) division in the 2001 Rolex 24 at Daytona with longtime Mazda entrant Jim Downing.
While an unexpected twist has been added to the Prototype division scenario, things have stayed with the current flow in recent IMSA competition in both Prototype Challenge and GT Le Mans so far at Long Beach. In PC, Colin Braun of CORE autosport was more than a second clear of the remainder of the class fleet after firing off a one minute, 17.185 second pass in the opening session. Braun and team owner Jon Bennett are seeking their second win in succession after earning a victory last month at the Mobil 1 12 Hours of Sebring. The best of the rest in session one was Starworks Motorsport's Renger van der Zande with PR1-Mathiasen's Tom Kimber-Smith and Johnny Mowlem of BAR 1 Motorsports in third and fourth.
Finally in GT Le Mans, Corvette Racing's quest for three straight wins to open 2016 is off to a strong start as Oliver Gavin topped the session at one minute, 18.533 seconds for his personal fast lap. Despite suffering a drop in turbo boost due to the latest adjustments in the IMSA Balance of Performance settings, BMW Team Rahal's Lucas Luhr managed to prevent a Corvette 1-2 in Friday's first session, placing the No. 100 BMW M6 GTLM second in class, yet only a half second off Gavin's top time. Corvette's Jan Magnussen, Porsche North America's Nick Tandy, and Ford EcoBoost Chip Ganassi Racing's Richard Westbrook completed the first five.
Qualifying for Saturday's Bubba Burger Sports Car Grand Prix of Long Beach is set for 8:30 p.m. eastern time (5:30 p.m. local time) tonight.