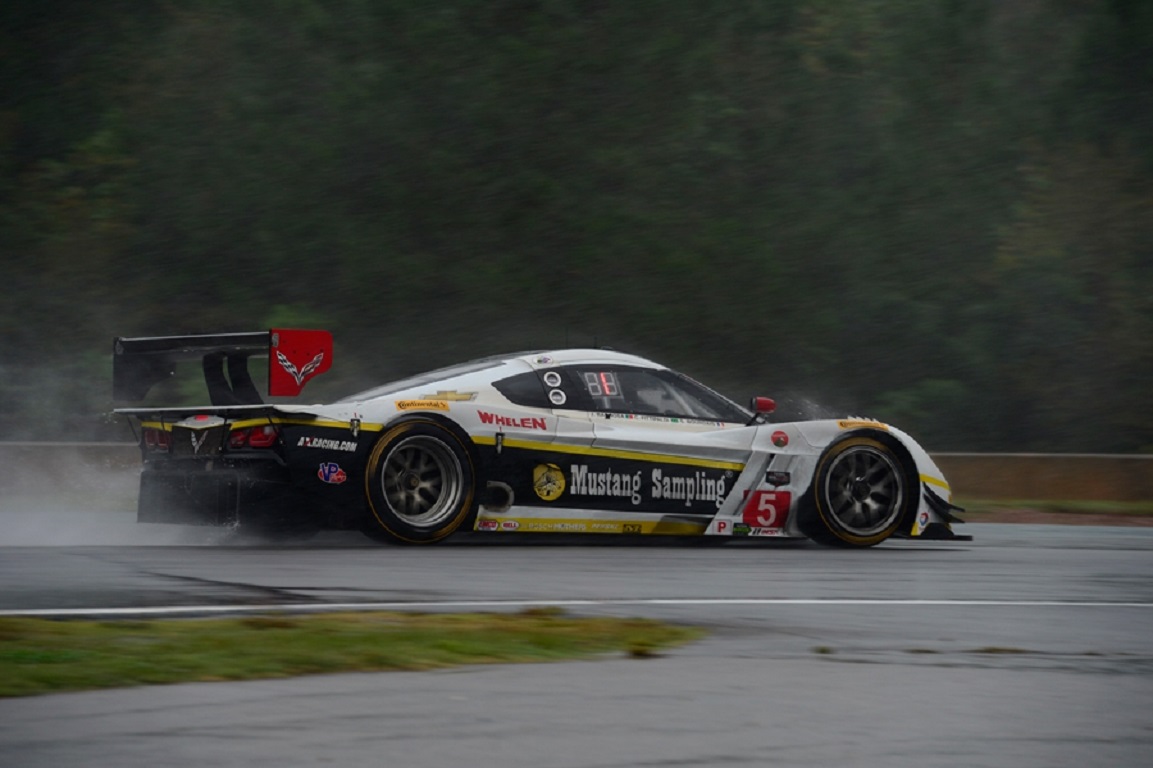 In a city where his uncle Emerson Fittipaldi competed in both Formula One and IndyCar competition, Christian Fittipaldi used the previous street circuit knowledge garnered to good form on Friday evening, as he put himself and co-driver Joao Barbosa on the overall pole position for Saturday's Bubba Burger Sports Car Grand Prix of Long Beach. After coming up empty at both Daytona and Sebring to open the 2016 IMSA WeatherTech SportsCar Championship, Fittipaldi put together a solid one minute, 14.962 second pass in his No. 5 Mustang Sampling Chevrolet Corvette DP for Action Express Racing, good enough to secure the TOTAL Pole Award by just under two tenths of a second on fellow Corvette DP pilot Ricky Taylor of Wayne Taylor Racing. WTR enters Long Beach, California as the defending champions of this event, one of two victories earned by the squad in 2015.
Beyond the front row for Saturday, the story for most of the first day of IMSA action was the improved performance from SpeedSource Mazda Motorsports' two-car entry, who topped the time charts on Friday morning. Tom Long would go on to further back-up that progress with a third place qualifying effort, within seven tenths of the pole position. The second Action Express Corvette DP with Eric Curran handling qualifying will start fourth, with the second Mazda driven by Tristan Nunez rounding out the top five. While three Corvettes are featured in the top five, the Visitflorida.com Racing entry is noticeably absent from the top of the grid. Marc Goossens had qualified third in the session, but caused a red flag stoppage after spinning his No. 90 machine at the turn 11 hairpin and stalling out. By rule, Goossens had to forfeit his fastest lap of the session meaning he and co-driver Ryan Hunter-Reay will start seventh on Saturday.
In Prototype Challenge, the qualifying session was cut short by a turn one accident involving Starworks Motorsport's Mark Kvamme and PR1-Mathiasen Motorsports Robert Alon. By IMSA rules, since the session did not run under green for more than ten minutes, the grid for Saturday will be determined by championship points earned at Daytona and Sebring. This means that despite causing the red flag, Alon and co-driver Tom Kimber-Smith will start from the pole position as they currently lead the championship standings. JDC-Miller Motorsports' Stephen Simpson and Misha Goikhberg will start alongside on the PC front row. The decision by IMSA is a frustrating one for James French and Performance Tech Motorsports, who would have claimed the TOTAL Pole Award after posting a one minute, 17.910 second lap prior to the red flag stoppage.
Finally in GT Le Mans, BMW Team Rahal's Bill Auburlen proved that he certainly has the home track advantage when IMSA's best come to Long Beach, as he secured the TOTAL Pole Award for the second straight year on Friday. Despite facing a decrease in turbo boost as part of IMSA's latest Balance of Performance settings, the California-native managed to eek out a one minute, 17.272 second run in the No. 25 BMW M6 GTLM, barely holding off Porsche North America's Earl Bamber by a mere three one thousandths of a second. A further tenth of a second back in third in GTLM was the sister Porsche 911 RSR of Patrick Pilet, with Corvette Racing's Oliver Gavin and Jan Magnussen completing the top five.
Round three of the 2016 IMSA WeatherTech Sports Car Championship will take the green flag at 7:05 p.m. eastern time (4:05 p.m. local time). Follow @MattEmbury on Twitter for updates throughout the event and log onto OnPitRoad.com after the race for a full recap of the action from the streets of Long Beach.