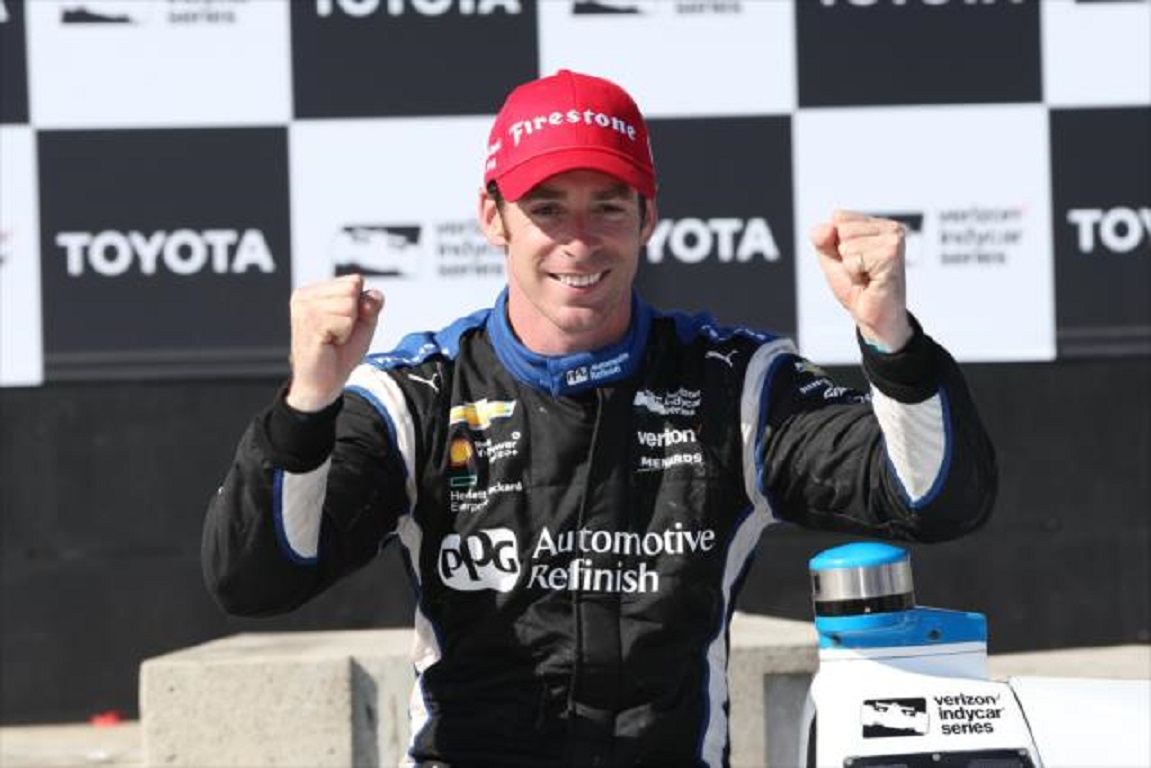 In the 24 hours since the checkered flag waved on Sunday's Toyota Grand Prix of Long Beach,  the biggest question for most teams, drivers, and fans of the Verizon IndyCar Series is simple: should race winner Simon Pagenaud of Team Penske have been penalized for cutting across the pit exit blend line in an effort to hold off Target Chip Ganassi Racing's Scott Dixon following the final round of pit stops, a move that many felt ultimately decided the race even though Dixon made some efforts afterwards to overtake, but none were successful.
The question in terms of praise or criticism, has the main focus of attention set squarely on the actions of now three-race old Chief Steward of INDYCAR Dan Davis, and his associates in two-time Indianapolis 500 champion Arie Luyendyk and multi-time Indy 500 starter Max Papis. When the trio was announced in February, the reviews were largely positive from teams, drivers, and fans. After Long Beach however, that view is now questionable. Although it is hard to put someone in the officials' shoes when an on track scenario crops up, however in this op-ed, I will attempt to do so. I will look at this from two sides. One, Davis and his associates should have assessed a drive through penalty on Pagenaud, and two, the trio made the right decision to issue only a warning for the infraction.
If you are on the side of Davis having taken the wrong course of action, one is obviously viewing the decision of not penalizing Pagenaud as the key moment of the race. One can make a claim that had the Frenchmen not cut across the blend line and had properly exited the pit lane as recommended that Dixon could have easily overtaken him for the lead and eventually going on to claim the victory. Although yes, there were other cases during the race in which other drivers may or may not have cut across the exit line as Pagenaud did, this instance meant much more toward the finality of the result as opposed to the previous occurrences. While other chief stewards in IndyCar have faced much greater criticism than Davis has so far at this point (Brian Barnhart being the most notable), it could be tough to show or feel confidence toward this trio in the races ahead, especially next month at the 100th Indianapolis 500.
If you are on the side in which you feel Davis was justified to issue just a warning, you are looking at one thing: consistency. If you are going by one thing, while it was not necessarily great that no penalties were assessed for violating the rules, at least Davis and his associates remained consistent in their decision making from start to finish and while not the most popular action, things were enforced in identical form which can be taken as a sign that everything that could be a foul is indeed being considered and not just being ignored. Also you can look at it from another angle, since Davis did not penalize the previous incidents, he may have had no other option than issuing the warning for the incident, almost a back to the wall forced action to again maintain consistency.
Keep in mind, when looking back at this scenario, not everyone was going to be viewing the decision in a positive manner anyway. If Davis had penalized Simon Pagenaud, there would have been an uproar from the Team Penske supporters, perhaps even to the same furor that occurred when Helio Castroneves was penalized for blocking at the Edmonton Grand Prix a few seasons ago. So before we summon Dan Davis to walk the so-called Verizon IndyCar Series plank, one needs to backup and realize that this is a work in progress and once more races are under their belt, this trio should be less in the headlines and more in support behind the scenes, which would be beneficial news for all parties that were affected on Sunday.
Disclaimer: The views and opinions in this article are those of the author and may not reflect the views of others associated with OnPitRoad.com