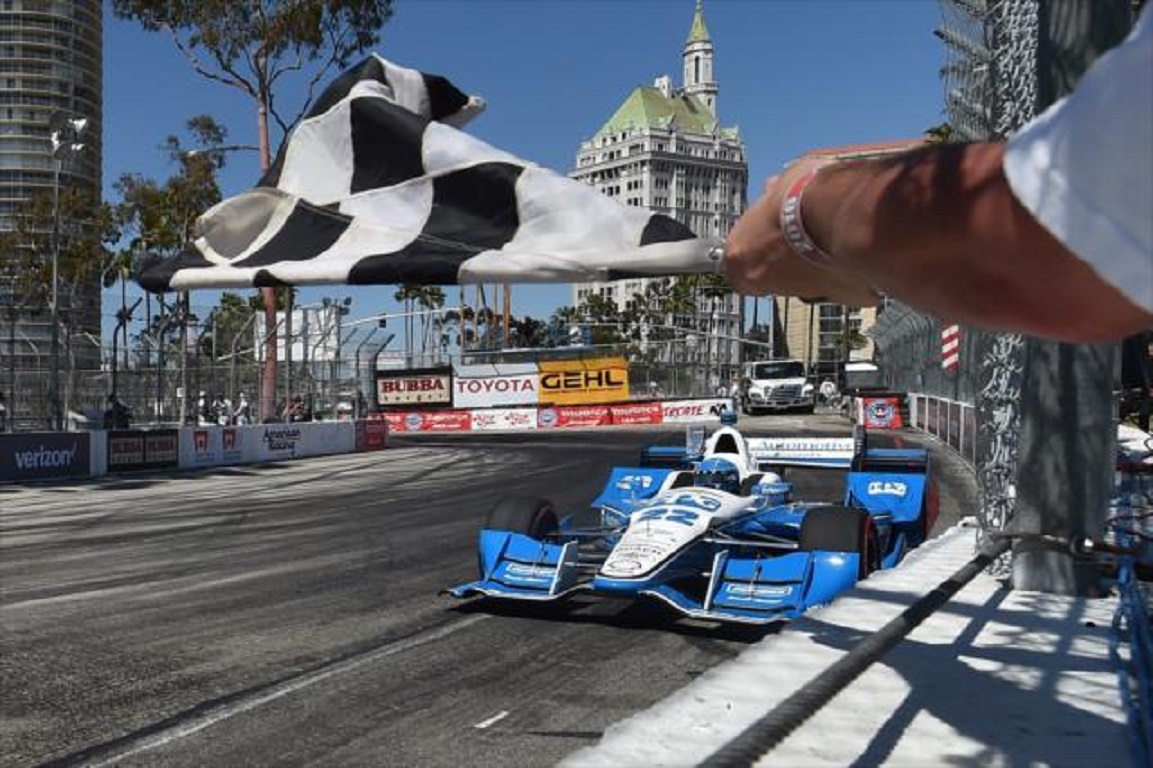 Yes it was clear after there were a majority of naysayers from both the Verizon IndyCar Series paddock, some of the media, and the current fan base toward what occurred late in the going during last Sunday's Toyota Grand Prix of Long Beach, that some sort of alteration would be made later this season to combat. Of course, the decision made only four days following the checkered flag there and just three days out from the start of the Honda Grand Prix of Alabama at Barber Motorsports Park in Birmingham is a bit of an eerie feeling at the first thought. While the addition of an electronic reader to monitor illegal cutting off of the pit exit blend line appears to be a great decision on paper, yours truly can also see where a little warning in terms of "be careful what you wish for," is also on the cards as well.
While it is understandable that many outside of INDYCAR Chief Steward Dan Davis feel a penalty on Team Penske's Simon Pagenaud was needed after the final round of pit stops on Sunday, an electronic machine would not have looked at the incident in the way Dan Davis and his colleagues Arie Luyendyk and Max Papis did. This was the same kind of warning shot that NASCAR mentioned to teams and drivers when they instituted an electronic monitoring device to focus on pit road speed limits. As they warned, unlike the human element who may perhaps give some leeway on severity of an infraction, the machine will simply make a decision: that anything illegal that occurs is a penalty without any thought on it. It may sound strange, but that lack of forethought and human element has proven costly at times in recent memory in NASCAR events.
For instance, current Verizon IndyCar Series veteran and two time Indianapolis 500 champion Juan Pablo Montoya was tagged for a minor speeding violation that cost him a victory at the Brickyard 400. The electronic system also faced stiff criticism in 2012 at Pocono Raceway when twenty-two of the forty-three drivers were busted with drive through penalties, after a late change was made in the speed zone enforcement settings. If there was some form of human element in play in at least the second incident, a major embarrassment moment could perhaps have been avoided.
Keep in mind also, it was not just Simon Pagenaud who appeared to run afoul of the blend line at Long Beach. Carlos Munoz of Andretti Autosport was warned late in the race and reportedly several other drivers cut off the line to save time exiting the pits. Just imagine how the race could have been affected last week, had Pagenaud plus all of the other drivers been immediately tagged for a penalty trip through the pits. Chances are the complaints that sprung up last weekend, would have been completely on the other side of the scale.
While it has been helpful for other racing leagues to handle penalty enforcement, electronic enforcement can sometimes be sort of too much of a good thing. That is why that despite what happened at Long Beach, Dan Davis and company need to be able to maintain some level of ability to enforce the rules, rather than have a machine override their thought process. We'll see how things go at Barber Motorsports Park on Sunday, and hopefully they will be without more controversy stirred into the pot.
Disclaimer: Views and opinions are solely those of the author. They may not reflect the views of other members of the OnPitRoad.com staff.