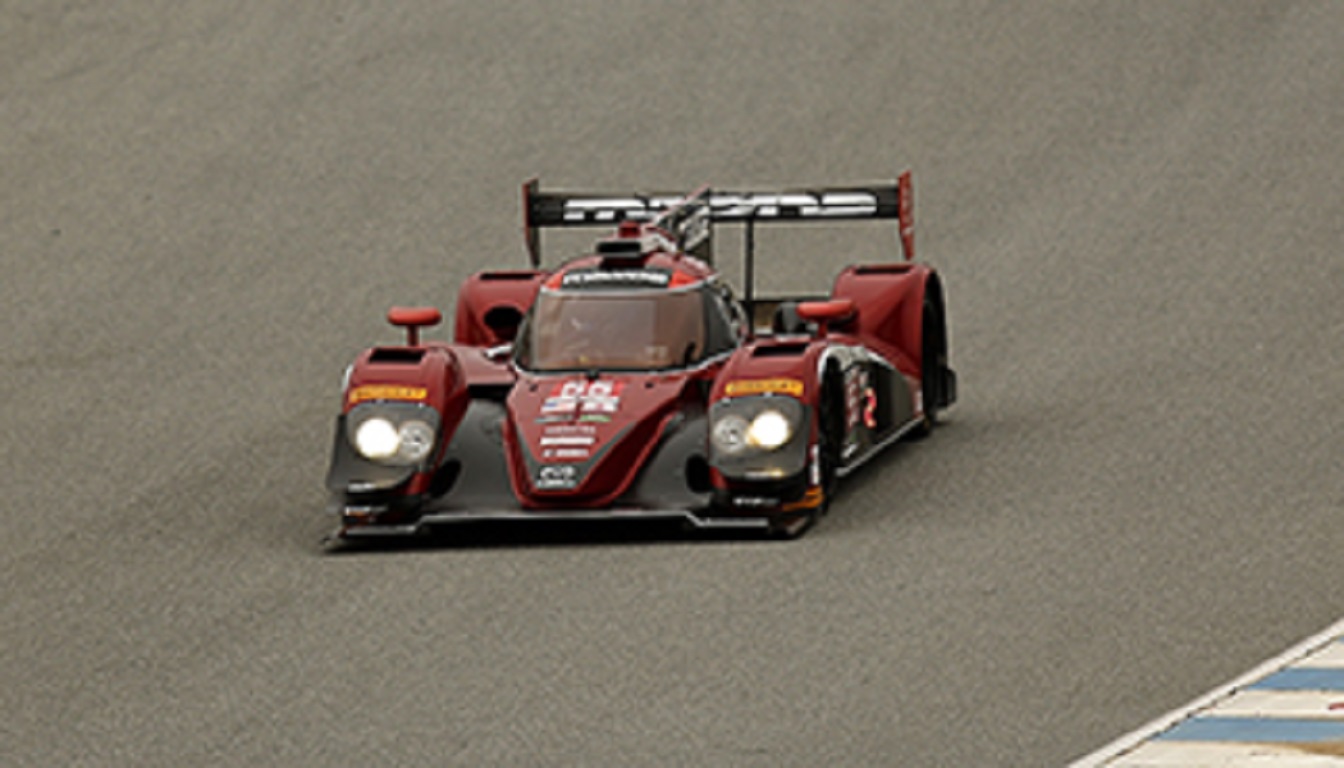 Since the undulating 2.238 mile layout in Monterrey, California is known as Mazda Raceway Laguna Seca, it only seems fitting that its manufacturer namesake is the fastest of them all after one day of practice for the IMSA WeatherTech SportsCar Championship's Continental Tire Grand Prix of Monterrey..
With driver Jonathan Bomarito leading the way, the SpeedSource Mazda Motorsports team went 1-2 on the overall timing sheet Friday, with Bomarito maxing out his No. 55 Lola-Mazda coupe at one minute, 18.139 seconds, over a half second faster than the effort that topped the morning session. also claimed by SpeedSource. Mazda, who qualified third at Long Beach earlier this month, is in their fourth race with their new I4 petrol-powered engine, after severing ties with a diesel engine type that was noncompetitive in its two seasons of action. Teammate Joel Miller was just four tenths of a second behind Bomarito, with another LMP2-eligible entry in third.
That entry of course belongs to Michael Shank Racing as Oswaldo Negri, Jr. was a further tenth of a second behind in his Ligier-Honda coupe. After dominating the Bubba Burger Grand Prix of Long Beach, the Daytona Prototypes are trailing the LMP2s so far this weekend. Wayne Taylor Racing's Chevrolet Corvette DP was best among them, claiming the fourth fastest time Friday, but was almost a full second off the pace set by Bomarito.
In the other professional IMSA division GT Le Mans, two early season back markers have flipped the order into their own favor on Friday. Scuderia Corsa's Ferrari 488 operation, in what could be their last GTLM appearance until the Tequila Patron North American Endurance Cup events resume this summer at Watkins Glen, New York was fastest in both sessions, with Alessandro Pier Guidi the fastest of their two drivers at one minute, 22. 975. Also on pace Friday was the improving Chip Ganassi Racing pair of Ford EcoBoost GTs, with Dirk Muller coming within a tenth of a second of Pier Guidi's fastest effort. After showing potential at both Sebring and Long Beach, Ford appears ready to make their first serious challenge for a grand touring class victory in Sunday's two-hour event.
Among the remaining three challengers who led the proceedings last time out at Long Beach, Corvette Racing is currently tops among them this weekend at Laguna Seca. Jan Magnussen placed the Dan Binks-prepared No. 3 Corvette C7.R just a half second off the Scuderia Ferrari, with teammate Oliver Gavin a further two tenths back. After winning at Long Beach, Porsche North America and TOTAL Pole Award winners BMW Team Rahal, will be seeking to up their pace on Saturday after running about a second off the fastest laps posted.
In the amateur divisions, CORE autosport is once again the rabbit in Prototype Challenge following Colin Braun's one minute, 19.673 second pass, nearly a half second clear of the remainder of his in-class rivals. The question of course, is will the pace matter when qualifying gets going on Saturday afternoon. IMSA rules dictate that the driver who qualifies a car in the field, must start the race on Sunday. Based on this, the No. 54 machine could slip on the grid if team owner Jon Bennett is called upon to handle qualifying.
If that indeed happens, those who could step in to take the TOTAL Pole Award include Starworks Motorsport, who saw solid pace from both of their entries. Renger van der Zande led the way in the No. 8 entry, while Ashley Freiberg in just her second PC start showed marked improvement over her debut at Long Beach in the sister No. 88 to place third overall in PC Friday. While CORE and Starworks are on pace, championship leaders JDC-Miller Motorsports were a bit off of it. The best laps from either Stephen Simpson or Misha Goikhberg were nearly two seconds behind Braun's Friday hot lap.
Finally in GT Daytona, Porsche's fleet 911 GT3-Rs seem to have the edge so far at Laguna Seca. Alex Job/Team Seattle's pair of Porsches topped the timing reports after Friday, with Mario Farnbacher a coupe of tenths of a second faster than teammate Leh Keen. Farnbacher's maxxed out at one minute, 25.390 seconds for his personal best. Recent Laguna Seca winners Park Place Motorsports were also within range of the top with Jorg Bergmeister posting the third best time.
Outside of Porsche, Sebring winners Scuderia Corsa were next on the list with Alessandro Balzan going fourth fastest, with Turner Motorsport's BMW M6 of Jens Klingmann, and Change Racing's Lamborghini Huracan of Spencer Pumpelly rounding out the top six.
Keep in mind, Sunday's Continental Tire Grand Prix of Monterrey, will feature two separate two-hour races. The amateur categories (Prototype Challenge/GT Daytona) will start their event first, and later in the day the professionals (Prototype/GT Le Mans) will get their chance.
Stay tuned to OnPitRoad.com for continued coverage of the IMSA WeatherTech SportsCar Championship.