NXS: Elliott Sadler Wins Talladega in Controversial Fashion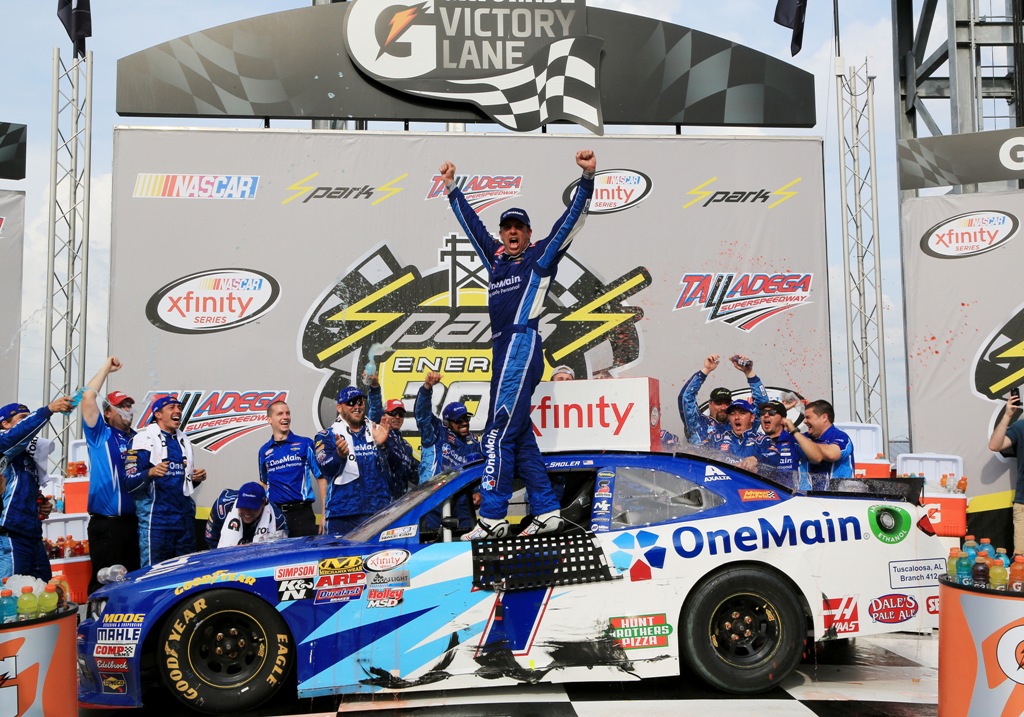 Elliott Sadler had a pretty good day. He turned 41 today, and turned his No. 1 One Main Financial Chevy into victory lane at Talladega, despite not technically leading any laps.
The race started with Joe Gibbs Racing teammates Matt Tifft and Daniel Suarez on the front row. Suarez led the first two laps before Tifft drove around him for the top spot. Tifft would go on to lead 22 laps in the race.
The first big wreck of the day happened just over 30 laps in the race when Garrett Smithley got into the back of Chris Cockrum turning him around. Cockrum collected Gase, and the two took a violent hit into the inside wall. Both drivers were checked and released from the infield care center.
Shortly after the restart, Brandon Jones took the lead. The young Richard Childress Racing rookie seemed to have a strong car early on after leading 36 laps.
A caution came out with 30 laps to go for a spin by Ryan Reed. As the field was getting set to restart, NASCAR posted leader Joey Logano for a damaged roof rail. NASCAR required the team to call Logano into the pits to fix the damage. Logano gave up the lead to Austin Dillon, but would soon make his way back up through the field.
A caution for debris with 10 to go, and another caution for a spin by Jeb Burton with three to go set up an overtime finish marred in controversy. Logano led the field on the final lap going into the tri-oval when Sadler turned him. Logano was sent hard into the outside wall where he collected Blake Koch. The caution lights came on, and at the point of caution, Sadler was deemed to be in the lead.
Although the caution was out, the drivers were less than 200 feet away from the start-finish line, and raced to the checkered. Due to damage, Sadler dropped below the yellow line, and couldn't maintain speed. Rookie Brennan Poole and Justin Allgaier raced to the line as Poole appeared to win, with Allgaier in tow.
A few minutes passed and both Sadler and Poole thought they had won as they waited at the start-finish line. Finally, Sadler was declared the winner of his 11th career race.
"I was able to make a move to the top, and he made a great block, and then I came back to the bottom under him," said Sadler. "I'll be honest with you, there's a lot of races I thought I have not done a good job as a driver, but I felt like saving that car today through the grass was kind of crazy. It was a little bit of luck, but I was wheeling it inside of it too."
Sadler applauded NASCAR for taking their time to review the finish and decide the winner.
"I'm glad NASCAR took their time and looked at it," said Sadler. "I was kind of just anxious  sitting there on the start-finish line, just 'man, I really like to win this race', and I know the 48 car would too, but he's gonna be around a long time, and we felt like we needed it, so it was a great birthday gift."
NASCAR credited Allgaier with second followed by Poole, Jeremy Clements and Brendan Gaughan rounding out the top-five. Third and fourth-place finishes were career-bests for Poole and Clements.
Austin Dillon wound up sixth followed by Daniel Suarez, Matt Tifft, Chase Elliott and Aric Almirola.
After leading the most laps early on in the race, Brandon Jones finished 19th. A slow final pit stop under green dropped the No. 33 back in the pack, and they could never recover.
Joey Logano was credited with a 27th-place finish after being 200 feet away from second XFINITY Series win at Talladega. Logano called the crash a "racing thing."
"We crashed pretty hard," said Logano. "It is just typical superspeedway racing in the XFINITY Series racing for the win at the end. I know Elliott (Sadler) is a great speedway racer and he knew what he had to do to win the race and I knew what I had to do to try to keep him behind me. He went to make the move on the top and then he pulled it down to the bottom and got it underneath me and then I was a little late to the block. He was already there. Around I went and hit a bunch of other stuff along the way."
With his win, Elliott Sadler joins Erik Jones as the only two drivers guaranteed with a Chase spot. Sadler and Daniel Suarez are now tied for the point lead going into Dover International Speedway in two weeks.