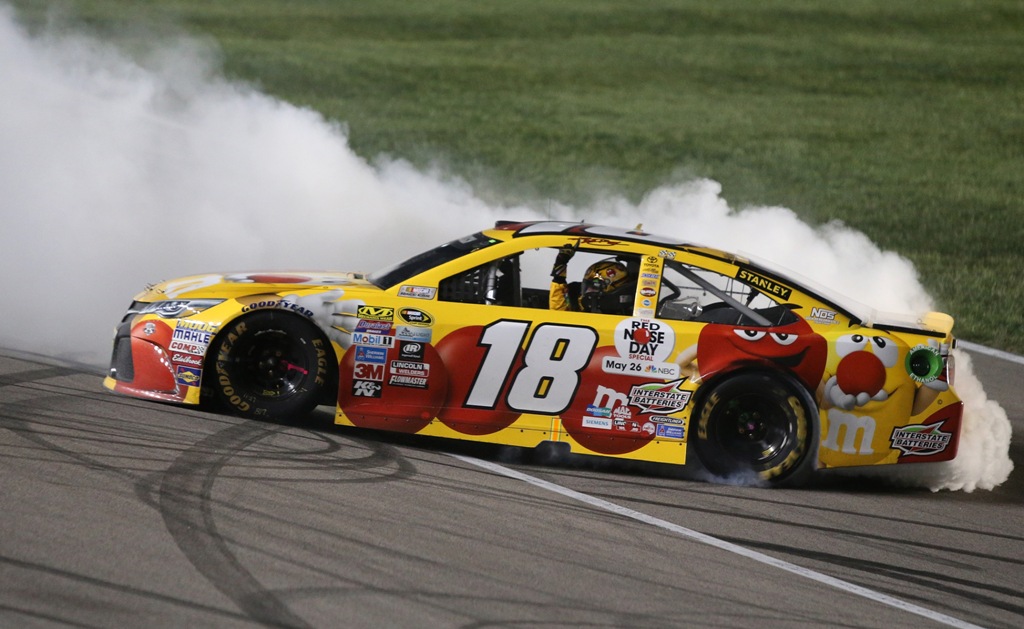 Kyle Busch might have won last weekend's Go Bowling 400 at Kansas Speedway, however he has lost a key cog in his No.18 M&M's team for this weekend at Dover International Raceway.
Adam Stevens, crew chief for Busch's No.18 Toyota, has been suspended for one race by NASCAR after a lug nut issue was discovered in post race inspection following last week's race at Kansas.
Stevens was also fined $20,000 and placed on probation by NASCAR through December 31st. Busch's left front tire changer Josh Leslie was also suspended for one race and put on NASCAR probation through December 31st.
According to NASCAR Sprint Cup Series Managing Director Richard Buck, an infraction with the lug nuts was discovered post race. After Talladega, NASCAR mandated that teams must secure all lug nuts and wheels in a secure manner and that all five lug nuts must be installed during post race inspection.
The No. 18 was penalized under sections 12:1 (actions detrimental to stock car racing), 10.11.3 (pit road equipment) and 12.5.3.4.1 (which outlines the P3-level penalty) of the NASCAR Rule Book.
In a statement released early Wednesday evening, Joe Gibbs Racing said:
Joe Gibbs Racing announces today it will not appeal the penalty issued by NASCAR earlier this afternoon to its No. 18 team.

The 18 team utilized unaltered stock lug nuts during Saturday night's NASCAR Sprint Cup Series race at Kansas Speedway and each wheel had all five lug nuts attached to the wheel at the conclusion of the race.  The team does acknowledge that not all lug nuts were tightened to the wheel.