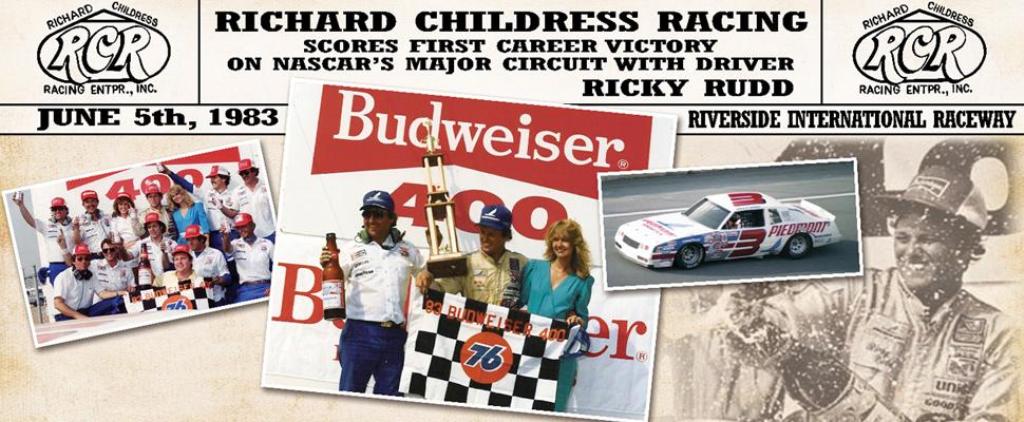 Richard Childress Racing will honor Ricky Rudd's first NASCAR Sprint Cup Series win for the organization with two paint schemes resembling Rudd's winning car at Riverside International Speedway in 1983 for the Darlington Raceway weekend in September.
NASCAR and Darlington Raceway began doing "The Tradition Continues" throwback weekend last year, where teams run paint schemes reminiscent of cars from the past. Several paint schemes for this year's running have already been released, including Dale Earnhardt, Jr.'s tribute to Buddy Baker, and Casey Mears' tribute to Smokey Yunick.
The Nos. 3 and 31 Chevrolets of Austin Dillon and Ryan Newman will each feature similarly stylized numbers, and paint schemes of the No. 3 Piedmont Airlines car that Rudd took to victory lane for the first time. It was the first of 105 Sprint Cup wins for the organization.
Dillon's No. 3 car will have the same red, white and blue-colored paint scheme that Rudd had, with American Ethanol serving as sponsor, while Newman's car will feature a similarly stylized number font, and a throwback Caterpillar logo.
"RCR appreciates the support from our loyal partners, American Ethanol and Caterpillar, to celebrate this throwback race weekend and our first win as an organization," RCR President Torrey Galida said. "Our partners have been the lifeblood of RCR and the key to success over the past 47 years. This should be another fun race weekend with a mix of old school and new school."
Childress, who was a driver himself before retiring in 1981, credits Rudd for the beginning of RCR's success.
"Ricky's win in 1983 was a special one because it catapulted RCR into one of the elite performance organizations in NASCAR," Childress said. "Every time I think back to that afternoon in California, I think about how far we've come as a company. This will be a great opportunity to pay tribute to our past."
RCR says that a throwback paint scheme for Paul Menard's No. 27 Chevrolet will be released at a later date.