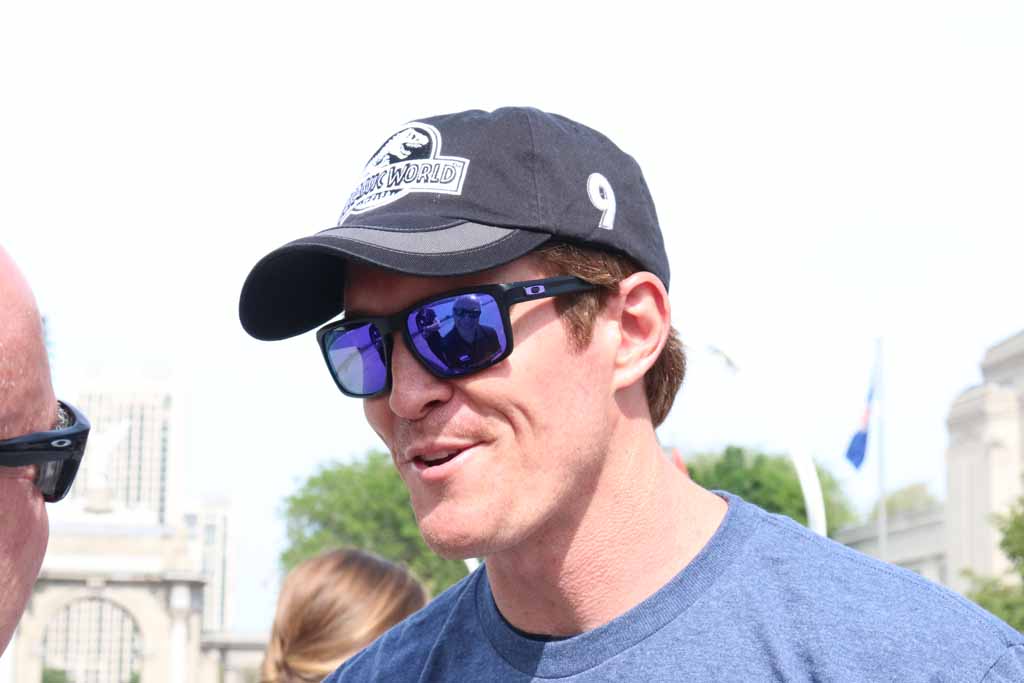 To get ready for the 100th running of the Indianapolis 500 presented by PennGrade at the Indianapolis Motor Speedway, the owners of the track have been doing renovations to the 107-year old track. The project, which they are calling project 100, cost about $90 billion dollars for the refurbishment.
To complete the refurbishment, reigning IndyCar Champion Scott Dixon crowned the newly renovated gate 1 entry to the track. Dixie got inside a basket lift earlier this afternoon and proceeded to remove the checkered flag that waved above the IMS wing and wheel logo atop the old gate 1, then he rode a scissor lift so that he could bolt the final letters to spell Indianapolis Motor Speedway above the new main entry way. This moment was just in time for this weekend's Angie's List Grand Prix of Indianapolis as well as the 100th Running of the Indy 500.
"This is an important moment for us," J. Douglas Boles, IMS president stated. "We've been working since September to try and get this Project 100 completed. Gate 1 is where hundreds of thousands of people are going to come through here, really beginning tomorrow through the 100th Running of the Indy 500 on May 29."
They removed the old sign above the old gate 1 by crane and is being placed in storage. The new Gate 1 will open, and as a welcome to race fans at the roundabout that connects 16th Street, Crawfordville Road and Main street near the IMS administration building.
Dixie, who has lived in Indianapolis for 16 years, is a four time IndyCar Champion and won the Indianapolis 500 in 2008 and is very horned to be a part of this historical moment.
"The mecca of motor racing is right here with the Indianapolis 500 and the Angie's List Grand Prix," Dixie said. "I feel very privileged to be part of something like this and kind of out with the old and in with the new. "The improvements they've made to the speedway have been just tremendous and a big thank you to the Hulman George family, Doug and everybody involved that's made this possible. … For me to put a couple bolts in and take a flag off, I just feel very privileged to be a part of it."
Project 100 started in 2013 and the improvements made to the track have been a new scoring pylon, high definition video boards, new track fencing around the facility and reconstruction to the main grandstand along the front stretch of the 2.5 oval to include additional rows of seating as well as elevators and stadium seats. This project was done to create a fan-focused experience with entertainments option and to further establish IMS as an iconic sports and entertainment facility.