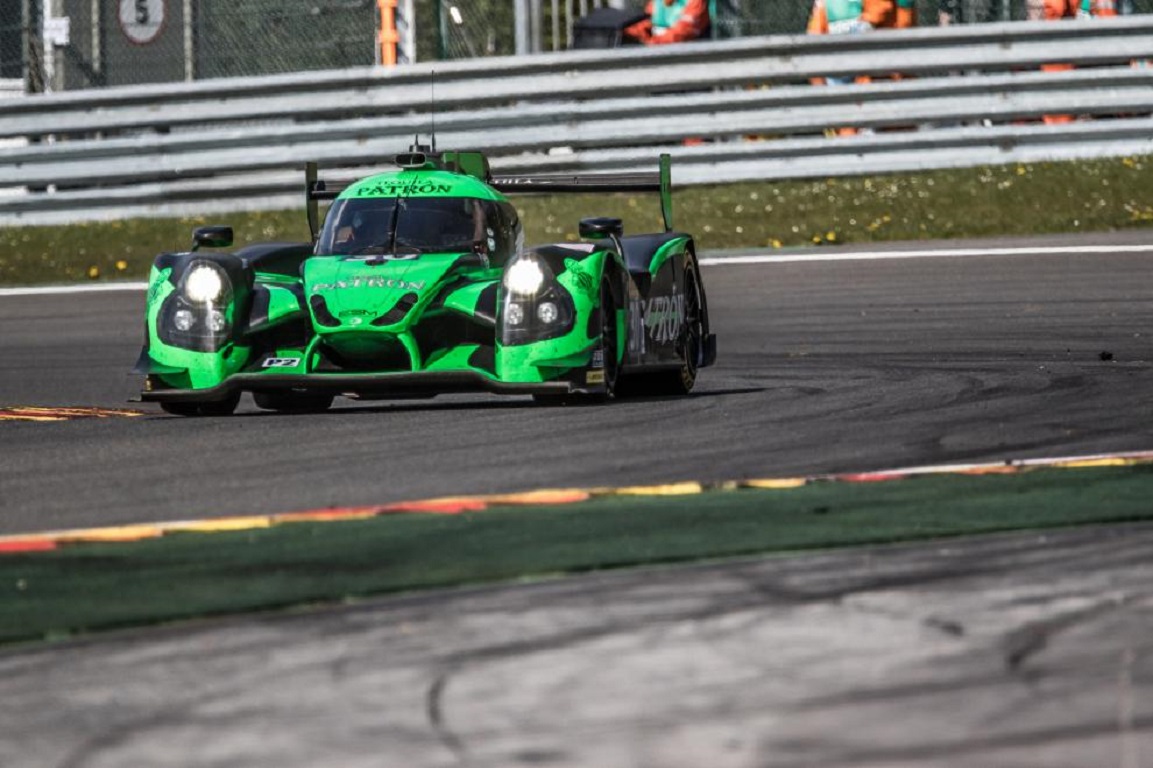 There are more questions than answers facing the teams with American ties on the entry list in the lower LMP2 division looking ahead to the 84th running of the 24 Hours of Le Mans in less than two weeks from now.  Although there seems to be a fair bit of evidence pointing towards the ORECA 05 coupe having an edge over the Ligier JS P2 coupe at Circuit de la Sarthe, most notably a dominating performance by KC Motorsport Group in winning the event a year ago, the question is how big is the gap in reality.
If it is indeed similar to what was advertised during the official test day on Sunday, teams like Signatech Alpine, G-Drive, and KCMG could control the proceedings from start to finish on race weekend. If teams such as Extreme Speed Motorsports, Michael Shank Racing, among others were indeed concealing its own full out pace, we could still see some drama in just ten days from now. With that in mind let's weigh the situation for  each of the Stars and Stripes runners.
Michael Shank Racing's first foray to Le Mans started well enough, third driver Laurens Vanthoor posted the eighth fastest lap of the day and showed that even without their larger IMSA-only engine, the older Honda power plant can still be competitive. The bad news for MSR; after thrashing for pace at Detroit, the team will need to work harder still to get ready for inspection and scrutinizing this upcoming weekend in downtown Le Mans. This fact comes up following Oswaldo Negri's hard crash at the first Mulsanne Straight chicane late on Sunday, resulting in significant front end damage to their Ligier. Although team boss Michael Shank says the team hopes to shake down the repaired car on Tuesday on the shorter Bugatti circuit at Le Mans (since the public roads will not be available for usage this week), the incident could force a more conservative approach in terms of qualifying to avoid a similar fate. Negri suffered no injuries in the accident, but the confidence of the veteran Brazilian has to be shaken a bit looking ahead to race week.
The presence of Vanthoor is a major break for MSR, as its IMSA regulars Negri and John Pew are very limited in experience at La Sarthe, and it showed as they were each well off the pace of several LMP2 drivers prior to Negri's accident. While running at the finish is the ultimate target for MSR's debut in France, a high result could be tough to come by if issues continue to get in its way.
Extreme Speed Motorsports prior to Sunday looked to be the best shot for the Americans to challenge at this year's 24 Hours of Le Mans, based on overall wins at the Rolex 24 at Daytona and the Mobil 1 12 Hours of Sebring. Add to that after switching to Nissan V8 power for its own Ligier coupe, the squad claimed two more runner-up finishes to open up the FIA World Endurance Championship slate.
Of course, Le Mans can often be a different story to tell too. While its star driver Pipo Derani was the fastest member of the team on Sunday, he only managed to post the 13th fastest time out of the 23 runners in LMP2, not a normal placing for a driver of his talents. Equally troubling was the fact that the other five drivers were even further off the pace on Sunday. If there was some caution thrown out on Sunday, expect ESM to bounce back quickly when qualifying begins next Wednesday. However, if there is a performance gap between the ORECA and Ligier coupes, it could be backed up by the fact that Silverstone FIA WEC race winners RGR Sport by Morand, even with Filipe Albuquerque on its squad, was also off target on Sunday, just behind the best from Derani.
Krohn Racing did however, show some potential on Sunday as Niclas Jonsson did output decent pace when compared to the other Ligier coupe runners, putting the team's own lime green-liveried Ligier-Nissan entry close behind ESM's lead car. Although the switch from the less reliable Judd engine used last year is a step in the right direction, more positive steps from team owner Tracy Krohn continues to be a needed adjustment as it has so far been a parachute holding the team back from perhaps maxing out to its true potential in terms of earning higher results at the finish.
The same story also seems to be playing out for Riley Motorsports' one-off run in Greg Murphy's operated ORECA 03R open top entry. Although lead driver Jeroen Bleekemolen has won in LMP2 at Le Mans in 2008, it has been awhile since Marc Goossens has driven a prototype at La Sarthe, while Ben Keating is a major novice in this division, with most of his sports car resume being based around grand touring machinery such as the Dodge Viper he runs in the IMSA WeatherTech Championship. Getting to the finish on race weekend, may be the only hope for a high result for the team at this point, who of course back in February had hoped to be running a Viper at Le Mans this year and not necessarily a prototype.
While Sunday was far from a dooms day outlook toward the twice around the clock race ahead in less than two weeks from now, improvement is clearly required if any of the above listed teams is to make a serious challenge at either a class win or a podium result.
Disclaimer: Views and opinions expressed in this article of these of the author and may not reflect those held by other members of the OnPitRoad.com staff.